About this Event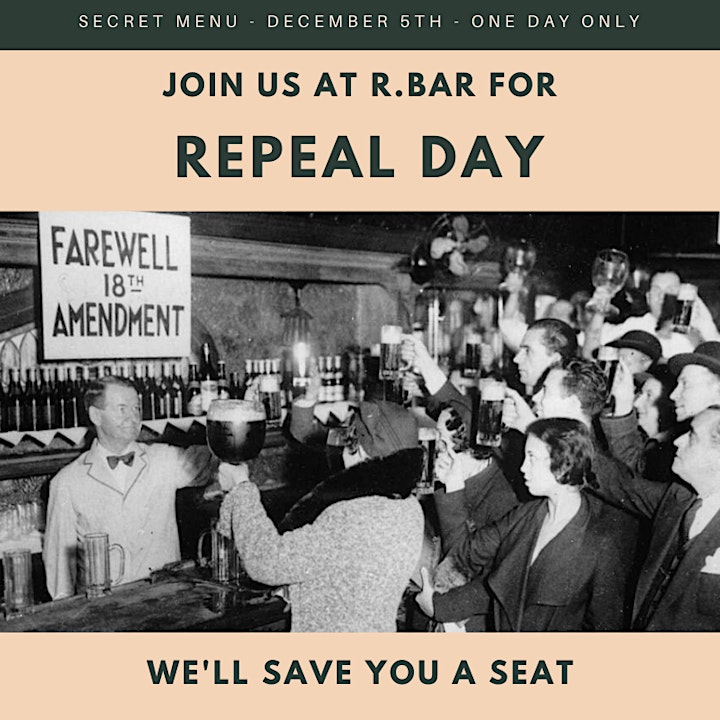 Join us on December 5, 2019 at r. bar for Repeal Day. For one day only, we're celebrating the repeal of the 18th Amendment with a special and secret bar menu!
What is Repeal Day?
This was the day that Prohibition ended and America was free to consume alcohol once again. On January 16th, 1919, Congress passed the Eighteenth Amendment, outlawing alcohol. It didn't really go over well with our nation and in 1932 Franklin D. Roosevelt ran for President on a platform that included the repeal of Prohibition.
On December 5th, 1933, Prohibition was repealed restoring the American right to a celebratory drink.
RepealDay.org says it best, "We celebrate Repeal Day because December 5th marks a return to the rich traditions of craft fermentation and distillation, the legitimacy of the American bartender as a contributor to the culinary arts, and the responsible enjoyment of alcohol as a sacred social custom."
Celebrate this amazing day by joining us at r.bar. Split a bottle of wine with a loved one. Order one of our Prohibition cocktails. Buy a shot for a stranger. Enjoy the night and drink responsibly.
Admission to R.House & r.bar is FREE. You must be 21+ to order and purchase alcoholic beverages.
Subscribe to our email list for first access to events & tickets: http://bit.ly/RHouseEmails
ABOUT R. HOUSE:
R. House is Baltimore's launchpad for outstanding food and creating community.It is the place to come together. It's a food hall, but more than that, it's a community. We believe in being neighbors, not guests; we see possibilities, not limitations. This is your gathering place, your kitchen table, your office, and your front stoop. This is your house, our house, R. House.
ABOUT R. BAR:
To take a seat at r.bar is to take a chance on a new spirit, to take a chance on meeting a new friend, and to take the chance you won't leave 'til last call. r. bar features stellar cocktails, craft beers from Baltimore and beyond, and wines to pair with each stall. Pick your potion, and we'll serve it up — or on the rocks. Welcome to your bar, my bar, r. bar.