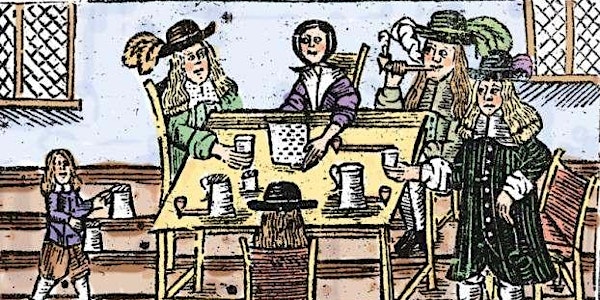 Repast from the Past: A Taste of 17th-century New England
When and where
Location
First Church Boston 66 Marlborough Street Boston, 02116
Description
From jello molds to Tang to Frito pie, American cooking has a long and colorful history. At this very special tasting event, you can taste for yourself what was delicious in Puritan Boston.
Your host for the event will be Kathleen Wall, culinarian at Plimoth Plantation. Kathleen will tell us about the food that the Puritans brought with them from England, and the new foods they found in Massachusetts: corn, pumpkin, molasses and rum were almost completely unknown at home. Suddenly a new approach to farming, cultivation and cooking was needed.
While we taste, Kathleen will outline more of the surprising food history of the early Puritans. Learn why lobster was disdained and why clams were only a food of last recourse when people were going hungry.
We're also delighted to welcome the creations of Chef Marc Sheehan and the team at Loyal Nine. This innovative new Cambridge restaurant specializes in authentic 18th century New England fare, but for our event they will try their hand at 17th century cooking.
Tastes to try (no forks allowed - they weren't popular until the late 1600s!):
Thirded bread - a third each of rye, wheat and corn

Fresh pumpkin spread

Indian pudding

Pease Porridge with Marinated Cape Cod Mussels, Buckwheat, and Husk Cherries (from Loyal Nine restaurant)

Period beverages available for an additional fee
Advance purchase is required for this unique event. Repast from the Past is a part of Boston Charter Day 2015.
NEW! You can try this at home: our just-published recipe book The Pleasure of the Taste: Recipes from 17th Century Massachusetts will be available at the event.
Bring home this collection of recipes from all walks of 17th century Massachusetts life, from Native American succotash to Puritan Bostonians' pippin tart. Meticulously researched and written for use in today's kitchens, you can taste for yourself what was delicious in the 17th century.
About Boston Charter Day:
Each year, the Partnership of Historic Bostons commemorates the naming of Boston, Dorchester, and Watertown on September 7, 1630 and holds a series of free public history events about the early days of Massachusetts Bay Colony. The theme for 2015 is Food and Drink in 17th Century Boston. For a full list of events, please visit www.historicbostons.org.