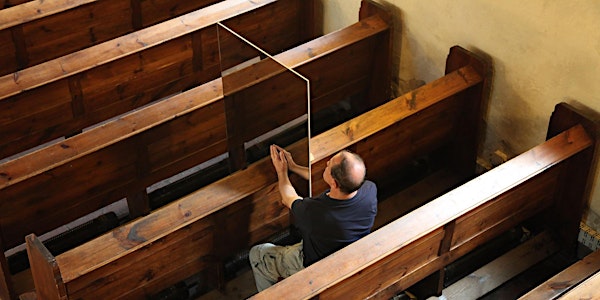 Repairing the Invisible: Kader Attia
Repairing the Invisible: Kader Attia, in conversation with Souleymane Bachir Diagne
When and where
Location
Maison Francaise East Gallery, Buell Hall Columbia University 515 West 116th Street New York, NY 10027
About this event
Kader Attia will present his film Reflecting Memory (2016, 48 min.), followed by an in-depth dialogue with Souleymane Bachir Diagne about the idea of "repairing the invisible" in his art and how notions of repair emerge in relationship with art, language and memory.
Kader Attia is an internationally prominent French-Algerian artist who lives and works in Berlin and Algiers. Born in 1970, Kader Attia, grew up in Paris and in Algeria. Preceding his studies at the École Supérieure des Arts Appliqués Duperré and the École Nationale Supérieure des Arts Décoratifs in Paris, and at Escola Massana, Centre d'Art i Disseny in Barcelona, he spent several years in Congo and in South America.
Souleymane Bachir Diagne is Professor at Columbia University. An alumnus of the École Normale Supérieure, he holds an agrégation in Philosophy (1978) and he took his Doctorat d'État in philosophy at the Sorbonne (1988) where he also took his BA (1977). Before joining Columbia University in 2008 he taught philosophy for many years at Cheikh Anta Diop University, Dakar (Senegal) and at Northwestern University. His field of research includes history of logic, history of philosophy, Islamic philosophy, African philosophy and literature. He is the author of African Art as Philosophy: Senghor, Bergson, and the Idea of Negritude (Seagull Books, 2011), The Ink of the Scholars: Reflections on Philosophy in Africa, (Dakar, Codesria, 2016), Open to Reason: Muslim Philosophers in Conversation with Western Tradition, (New York, Columbia University Press, 2018).
Kader Attia's experience with different cultures, the histories of which over centuries have been characterized by rich trading traditions, colonialism and multi-ethnic societies, has fostered Kader Attia's intercultural and interdisciplinary approach to research. For many years, he has been exploring the perspective that societies have on their history, especially as regards experiences of deprivation and suppression, violence and loss, and how this affects the evolving of nations and individuals — each of them being connected to collective memory.
His socio-cultural research has led Kader Attia to the notion of Repair, a concept he has been developing philosophically in his writings and symbolically in his oeuvre as a visual artist. With the principle of Repair being a constant in nature — thus also in humanity —, any system, social institution or cultural tradition can be considered as an infinite process of Repair, which is closely linked to loss and wounds, to recuperation and re-appropriation. Repair reaches far beyond the subject and connects the individual to gender, philosophy, science, and architecture, and also involves it in evolutionary processes in nature, culture, myth and history.
In 2016, Kader Attia founded La Colonie, a space in Paris to share ideas and to provide an agora for vivid discussion. Focusing on decolonization not only of peoples but also of knowledge, attitudes and practices, it aspires to de-compartmentalize knowledge by a trans-cultural, trans-disciplinary and trans-generational approach. Driven by the urgency of social and cultural reparations, it aims to reunite which has been shattered, or drifted apart.
Kader Attia's work has been shown in group shows and biennials such as the 12th Shanghai Biennial; the 12th Gwangju Biennial; the 12th Manifesta, Palermo; the 57th Venice Biennial; dOCUMENTA(13) in Kassel; Met Breuer, New York; Kunsthalle Wien; MoMA, New York; Tate Modern, London; Centre Pompidou, Paris; or The Solomon R. Guggenheim Museum, New York — just to name a few. Notable solo exhibitions include "The Museum of Emotion," The Hayward Gallery, London; "Scars Remind Us that Our Past is Real," Fundacio Joan Miro, Barcelona; "Roots also grow in concrete," MacVal in Vitry-sur-Seine; "The Field of Emotion," The Power Plant, Toronto; Museum of Contemporary Art, Sydney; "Repairing the Invisible," SMAK, Ghent; Museum of Contemporary Art, Sydney; "Sacrifice and Harmony," Museum für Moderne Kunst, Frankfurt/Main; "The Injuries are Here," Musée Cantonal des Beaux Arts de Lausanne; "Contre Nature," Beirut Art Center; "Continuum of Repair: The Light of Jacob's Ladder," Whitechapel Gallery, London; and KW Institute for Contemporary Art, Berlin.
Kader Attia's work has been featured in numerous group shows, biennals, and solo exhibitions (see here for full list). In 2016, he was awarded with the Marcel Duchamp Prize, followed by the Prize of the Miró Foundation, Barcelona, and the Yanghyun Art Prize, Seoul, in 2017. His new exhibition, Mirrors of Emotion, is visible in New York, at Lehmann Maupin, September 10 - October 26, 2019, more information at: https://www.lehmannmaupin.com/exhibitions/kader-attia5
This event is co-sponsored by Columbia Maison Francaise and Columbia University School of the Arts.
Seating is on a first-come, first-served basis. Please arrive ahead of time to secure a spot.
IMAGE: Réfléchir la Mémoire / Reflecting Memory (film still), 2016, single-channel HD video projection, color, dimensions variable, duration: 45 minutes, 56 seconds. Courtesy the artist and Lehmann Maupin, New York, Hong Kong, and Seoul.