Repair the World Shabbat Suppers: Live the Legacy
Description
Unsure of what to do with your three-day weekend?
Interested in exploring the legacy of Dr. Martin Luther King (hint: why you're getting that extra day off)?
Or maybe you're looking for a good excuse to host a party?
This January, look no further than your kitchen table.
Repair the World is partnering with the Points of Light Institute's annual Sunday Supper campaign (and YOU!) to host Shabbat Suppers all over the country the weekend of January 18th to celebrate the legacy of the Reverend Dr. Martin Luther King.
What is a Shabbat Supper?
Shabbat Suppers are Friday night dinner parties where hosts invite as many people as they can to their homes for food and meaningful discussion. This year, Repair the World is giving you the tools to explore one of the defining civil rights issues of our time: education inequality.
How can I get involved?
Sign up to become a host, and we'll help you make it happen. Repair will act as your personal event planner by sending out email updates, hostin' host calls, and sending out a real, live toolkit via snail mail.
These toolkits will include a comprehensive discussion guide that gives you the tools - from questions, to ground rules - to host a dynamic conversation around education and the legacy of Dr. King. They will include a t-shirt (just for you!) and additional Repair the World Swag and give-aways for your guests. All toolkits will come with an access code so you and your guests can view the new documentary Brooklyn Castle - before it comes out on DVD!

Why focus on education inequality?
The facts speak for themselves.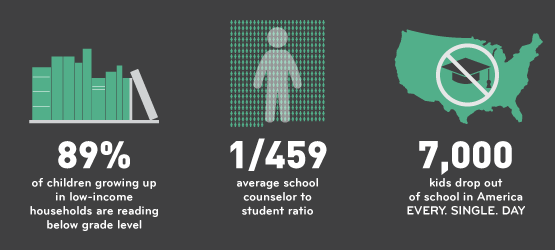 What if I don't really do shabbat?
The Sabbath means different things for different people (and for different groups of Jews), and we get that. If you don't "do" shabbat because you're not Jewish, we would be honored if you wanted to give the tradition a try by hosting a Shabbat Supper of your own, even if it's on a Saturday or Sunday. If you're Jewish and haven't really experienced Shabbat before, or don't celebrate regularly, incorporate whatever tradition is meaningful for you. If you're shomer shabbat and don't feel comfortable hosting a gathering like this on a Friday night, we would love for you to choose a date and time that fits and respects your observance.
What if I really, really want to host one but I live in a tiny New York City studio apartment?
Look, we've all been there. Bring your guests down to earth (or to the floor) by hosting a small indoor picnic for a handful of friends - or whoever can fit. Shabbat Suppers aren't intended to be glamorous, three-course meals (but if you want to go there, awesome)! Shabbat Suppers are really about celebrating the legacy of Dr. King - and that can be done over takeout chow mein or homemade pot pie, in a giant community center or in your tiny New York City studio apartment.
But what if I seriously can't host one?
Email campaigns@weRepair.org with your city and state, and we'll put you in touch with someone in your area who can! Please do not sign-up through Eventbrite. This sign-up is for hosts only!!
P.S. Are you a Birthright Alum or a Moishe House resident? You might be eligible for funding to host a Shabbat Supper! Click HERE to sign-up.