Rep. Zoe Lofgren Keynotes: Video Streaming on Digital Devices: Will Broadba...
Description
To Register for Future IP Breakfast Events Please go
to http://ipbreakfastseries.eventbrite.com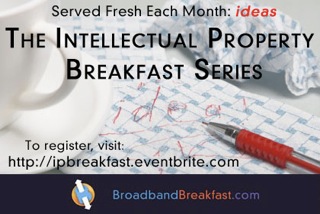 BroadbandBreakfast.com presents
The Intellectual Property Breakfast Club
Event
Video Streaming on Digital Devices:
Will Broadband Clash With Copyright?

Broadband is changing the way we watch TV. Indeed, many people aren't watching "TV" -- we are watching Netflix, Hulu and other premium content on Androids, iPads, and Slingboxes that are connected over Wi-Fi or mobile connections.
But will copyright preclude what broadband enables? A recent legal spat between Time Warner Cable and Viacom, over an iPad app streaming video content, may be a harbinger of troubles to come.
Additionally, the National Broadband Plan of the Federal Communications Commission continues the agency's push for CableCARD-style competition. But will the advent of AllVid really do anything to help make TV everywhere?
Join the Intellectual Property Breakfast Club for a stimulating and controversial discussion!
Keynote:
Rep. Zoe Lofgren (D-CA)
Zoe Lofgren has been a Democratic member of the United States House of Representatives since 1995, representing the 16th District of California which is based in San Jose, the "Capital of Silicon Valley." A lifelong Bay Area resident, Lofgren earned her BA at Stanford University and her law degree at Santa Clara University. Rep. Lofgren is one of the top members of the House involved in high-tech issues. She is well known in high tech policy circles for her successful bipartisan efforts to decontrol encryption technology. She also sits on the Subcommittee on Intellectual Property, Competition, and the Internet and is well regarded for her work on patent reform, copyright, digital rights, net neutrality, and high skilled immigration. She also was a key supporter of the "e-rate", which provides internet access to schools and libraries. She is also the author of legislation to impose a moratorium on state and local cellular taxes and of the Immigration Driving Entrepreneurship in America (IDEA) Act of 2011, which allows American companies to attract and retain highly-skilled foreign graduates of American universities in Science, Technology, Engineering and Math (STEM) fields. She is the Chair of the California Democratic Congressional Delegation, and is also a member of the Committee on Science, Space, and Technology and the Committee on House Administration.
Panelists:
Brandon Dorsky, President, SUPERGOODMUSIC
Brandon Dorsky is the President of SUPERGOODMUSIC, a company through which he manages talent, licenses music, produces (and streams) live events, blogs and creates intellectual property. Brandon has been instrumental in breaking the careers of young recording artists, including Foster The People, The Stone Foxes and others. He is also an attorney licensed to practice in the state of California - where he specializes in intellectual property contracts and represents a variety of intellectual property creators, owners and licensors. Before launching SUPERGOODMUSIC, Brandon produced a feature length documentary, worked in the intellectual property department of Pillsbury Winthrop Shaw & Pittman and also as a clerk for United States District Court Judge Denise Page Hood. Brandon obtained his undergraduate degree from the University of Michigan and his Juris Doctorate from the University of Southern California.
Paul Glist, Partner, Davis Wright Tremaine, LLP
Paul Glist is a partner and Co-Chair of the Communications, Media & Information Technology Practice at Davis Wright Tremaine, where he concentrates in cable, communications, media, privacy and security, and information technology. Since 1978 he has worked with major cable companies and cable associations on legal, regulatory and strategic issues that have emerged as the industry has developed. Paul has been involved in many groundbreaking efforts in telecommunications and cable law and has helped develop the legislation, regulation and case law shaping these industries. He is a frequent speaker and panelist for the Practising Law Institute, and university, law school and communications industry programs.
Victoria F. Phillips, Professor, Washington College of Law
Professor Phillips teaches communications and intellectual property law and is the Director of the Glushko-Samuelson Intellectual Property Law Clinic. She also helped found and is a faculty director of the law school's Program on Information Justice and Intellectual Property (PIJIP). Before joining the WCL faculty in 2001 to help launch these programs, she was Chief of the Legal Branch of the Mass Media Bureau of the Federal Communications Commission and counsel in the Office of General Counsel. There she worked on a wide range of media policy proceedings including those related to broadcast ownership, broadcast public interest obligations, digital television conversion, children's television, public television and political programming. Before joining the FCC she served as the Assistant General Counsel of the National Endowment for the Humanities, practiced communications and intellectual property law at Wiley, Rein and Fielding in Washington D.C. and clerked for Edward S. Northrop, U.S. District Judge in Baltimore, Maryland. She currently serves on the Board of Directors of the Washington Area Lawyers for the Arts (WALA) and on the Membership, Outreach and Training Committee of the AALS Section on Clinical Legal Education. In Fall 2008 she served as a Visiting Associate Professor of Law at Georgetown University Law Center.
Robert Schwartz, Partner, Constantine Cannon
Robert Schwartz is a partner in the Washington office of Constantine Cannon LLP. After serving in the Intellectual Property Section of the Justice Department's Antitrust Division, he has represented consumer electronics and other technology companies and coalitions on copyright, telecommunications, antitrust and trade issues. He's contributed to the drafting of the Semiconductor Chip Protection Act, the Audio Home Recording Act, Section 304 of the 1996 Telecommunications Act, and Section 1201 of the DMCA, and is a founder of the Copy Protection Technical Working Group. While at times battling with the movie and recording industries over public policy, he has produced three record albums. 'Tain't Whatcha Do, released in May, is the first to feature the Bob Schwartz Quartet, which plays frequently in saloons and for private events.
------------
The event will be moderated by Drew Clark, Chairman and Founder, BroadbandBreakfast.com, a news and events company building a community around broadband stimulus, the national broadband plan, and intellectual property.
Drew Clark has a long-standing reputation for fairness and depth in his reporting. He worked for the National Journal Group for eight years, ran the telecommunications and media ownership project of the Center for Public Integrity, and was Assistant Director of the Information Economy Project at George Mason University. He has written widely on the politics of telecom, media and technology for a variety of publications, including the Washington Post, GigaOm, Slate, and Ars Technica. Drew launched BroadbandCensus.com in January 2008 as a means of providing objective information about broadband speeds, prices, availability, reliability and competition.
This event is on the record and open to the public.
For News and Events on BroadbandBreakfast.com follow us at
http://www.twitter.com/broadbandcensus
Event Details
Title: Video Streaming on Digital Devices: Will Broadband Clash With Copright?

Date: Tuesday, September 13th, 2011, 8 a.m. - 10 a.m.
Where: Clyde's of Gallery Place, 707 7th Street NW, Washington, DC 20001
The breakfast begins at 8 a.m., followed by a discussion, beginning shortly after 8:30 a.m. and ending by 10 a.m.
The event will be hosted by Drew Clark, Chairman and Publisher of BroadbandBreakfast.com.
The Intellectual Property Breakfast Club is a "widely attended event" under House of Representatives Rule 25, clause 5(a)(4)(A).
-----

For individuals outside of Washington, or those whose schedule doesn't permit attendance in person, archived webcasts of Broadband Breakfast.com's events are available for free on BroadbandBreakfast.com.
BroadbandBreakfast.com seeks sponsorship of our events from interested companies and organizations. We especially encourage organizations to sponsor a package of multiple events — such as one of our upcoming topical series. For details on sponsorship opportunities, please contact Sylvia Syracuse at 646-262-4630 or sylvia@broadbandcensus.com. The Broadband Breakfast.com is a program of Broadband Census News LLC.
Follow us on Twitter at www.twitter.com/broadbandcensus
_______________________________________________________________________________________
The Intellectual Property Breakfast Club is Sponsored By: