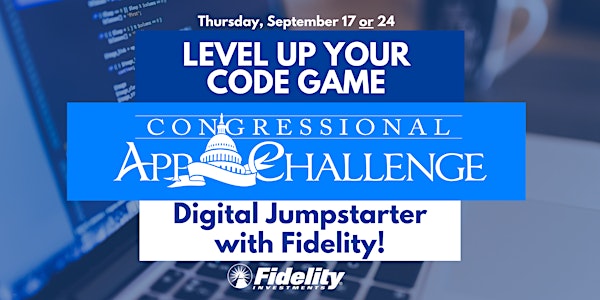 Rep. Price's Congressional App Challenge Digital Jumpstarter with Fidelity!
Are you a student with an app idea to bring to life? Collaborate with fellow students and mentors from Fidelity to help Jumpstart your app!
About this event
All Middle and High School students in North Carolina's Fourth Congressional District are invited to join us for Congressman David Price's Congressional App Challenge Digital Jumpstarter in partnership with Fidelity Investments on Thursday, September 24, from 2:30 - 4:30 PM. Local science, technology, engineering, and mathematics (STEM) experts will join students to facilitate virtual workshops that will assist and prepare students to compete in the Congressional App Challenge.
Any middle or high school student in the Fourth Congressional District is invited to attend free of cost, and no prior coding experience is necessary! Due to the current health conditions nationwide, ALL of this year's Congressional App Challenge events will be hosted virtually.
Students have until October 19, 2020 to submit a project to the Congressional App Challenge. App Challenge submissions will be judged by a panel of local STEM leaders from industry and academia, and finalists will have the opportunity to pitch their app to a panel of judges at the Virtual Awards Ceremony & Pitch Competition on November 12, 2020. All App Challenge participants, parents, teachers, and administrators will be invited to join Representative Price at this event, and the details will be provided to participants upon submission of their app. The winners of the competition will have their app featured on the U.S. House of Representatives website and displayed in the U.S. Capitol!
Congressional App Challenge Background
The Congressional App Challenge is designed to promote STEM education and to inspire and encourage young talent to explore STEM, coding and computer science through hands-on practice.
Eligibility
Open to Middle School and High School age students who attend school or live in the Fourth Congressional District.
Students may only compete in one district.
Students may compete as individuals or in teams of up to four. If competing as a team: at least two of the teammates must be eligible to compete within the district in which they are submitting.
Submission Requirements
To participate in the App Challenge, students must submit their apps by October 19, 2020. The app students create may cover any topic, but they must be original and appropriate.
How to participate in the Congressional App Challenge:
1.Registration Form. Students must complete a sign-up form to verify their eligibility at CongressionalAppChallenge.us. If students are competing as part of a team, the registration form must include participation information of each student.
2. App Information. Students will be asked to answer a series of questions including: title of the app, the coding language used, what they were trying to accomplish and why, an explanation of the difficulty they faced in programming and how it was overcome, and what improvements the students would make.
3. Demonstration Video. Students must create a 1-to-no-more-than 3 minute video, post it on YouTube or Vimeo, and submit the link on the Congressional App Challenge submission form. The video must be set up to public view. Videos that are longer than 3 minutes will be penalized per the judges' discretion. Example videos from previous competition winners can be found here.
4. Exit Questionnaire. The questionnaire will be emailed to students after final submission.
Judging
A local panel of judges will decide the winner of the App Challenge at the Virtual Awards Ceremony & Pitch Competition on November 12, 2020. More information will be provided to students after they submit an app.
Questions?
Please visit https://www.congressionalappchallenge.us/ to learn more about the Congressional App Challenge. You can also contact Arturo Reyes in Congressman Price's office at Arturo.Reyes@mail.house.gov or 919-859-5999.