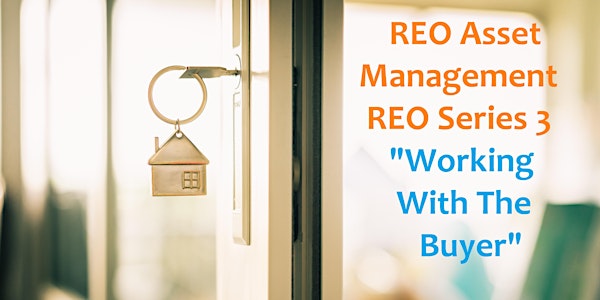 REO Series PART III Working with the REO Buyer - 3 HR CE ZOOM
A buyer interested in purchasing a REO property must be "ready, willing and able". More steps are involved in the buying process. Be ready!
About this event

LIVE VIDEO STREAMING - Meeting ID # 879 9953 9741 - $15
REO Asset Management Series - Part III
Working with the Buyer Interested in an REO Property
3 Hours CE Credit
Part III - Buying REO properties is actually very similar to buying a general home. However, there are a few things you need to know. It's not the kind of purchase where buyers and their agent would want to just wing it.
The property will be sold "As-Is" no repairs will be made by the bank. Buyer's offer must have a letter of commitment from their lender to be considered and the title is conveyed by a special limited warranty just to name a few differences.
The REO asset management company will provide additional procedures such as inspection of the property, finance and appraisal contingency, seller concessions, and specific closing details.
It's typical for an REO offer to be reviewed by several individuals and companies which means it could take days to get a response. Once approved, the buyer must be ready to close quickly.
Patience is essential. If your buyer is in a hurry to buy, an REO property might not be for them.
Let's discuss all the details in working with the buyer.
You must take all 2 pre-requisite training which are free CE classes provided by Virtual Properties Realty - Duluth, GA along with 4 of the REO Asset Management series (Cost $15 per class) to obtain your certificate, logo and bank roster.
To register for the other classes: www.classeswithcathy.eventbrite.com - You can take these classes in any order.
Education Partners
Virtual Properties Realty – Duluth, GA
O'Kelley & Sorohan Law Firm, HomeStar Financial
Ohlson & Medlock Law Firm
3 Hour Live Video Zoom Class | Continuing Education
My CE Class, LLC - School #5914
Cathy McDaniel | classeswithcathy@gmail.com
Text: 404-550-0775 |www.classeswithcathymcdaniel.com