Pre-register for soccer and goalkeeper camp in Renton, WA and receive discounts on soccer balls, goalkeeper gloves, and soccer equipment
About this event
To register for the Soccer Camp please click the links here:
Click To View Goalkeeping Gloves Here by GK Icon, One Sport, and Calma goalkeeper glove brands.

By pre-registering, please be aware that you are not registered for the soccer or the goalkeeper camp for Renton, Washington. You must register through the aformentioned links in order to participate.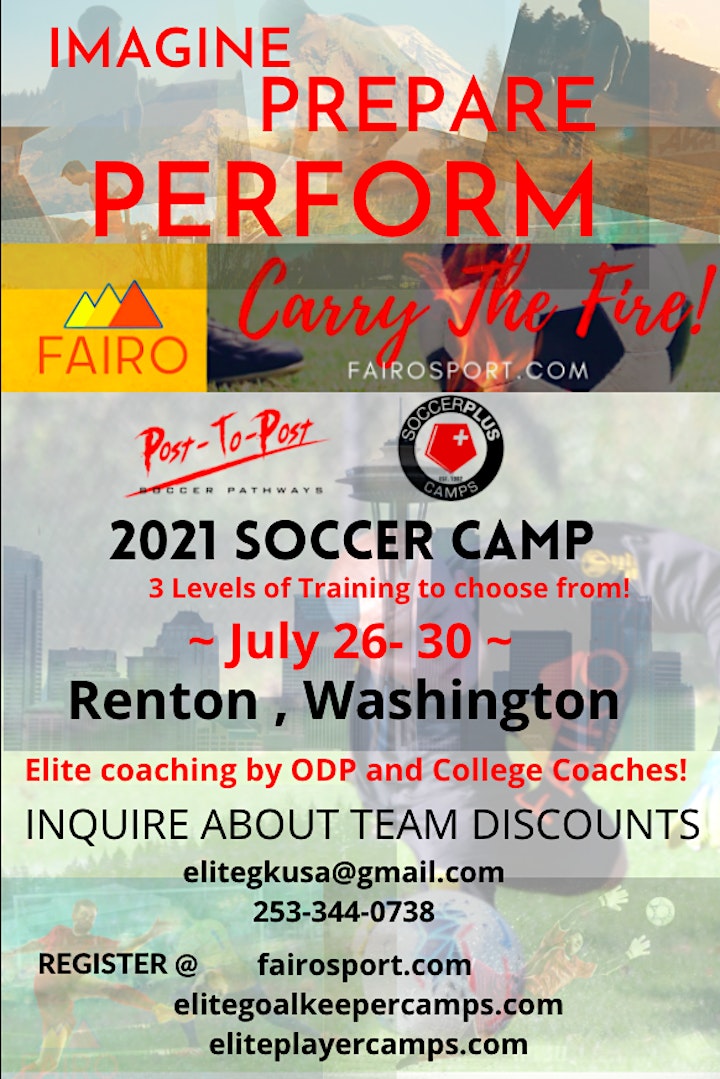 By registering through this link, you will receive a code, and are eligible for a pair of goalkeeper gloves at a 20% discount .
This is solely through Fairo Sport and is not affiliated in any way to the goalkeeping glove brands GK Icon, One Sport, or Calma, or the soccer camps Soccer Plus, Post to Post or Challenger Sports.
If you have any questions regarding this offer please contanct Fairo Sport :
Phone: 253.344.0738
Email: elitegkusa@gmail.com
Organizer of Renton, Washington | 2021 Soccer Camp
Welcome to FAIRO Sport- Elite Goalkeeper Camps where we are inspired to work together with Soccer Clubs and Goalkeeper Academies from around the world to build a strong network of independent soccer coaches that take player development seriously.

 

 
Director Stephen Swanger has a proven success record of building coaching and product brands in the Pacific Northwest since 2016 and has coached 1000's of goalkeepers throughout his career.
Elitegoalkeepercamps.com
is founded on the philosophy that independent coaches and players have to work together to increase accessibility for players to quality coaching and products for all communities to increase opportunities and pathways to success by providing free websites to coaches and student athletes who seeking to grow their own soccer brand.
If you  have any questions please contact director Stephen Swanger by email: elitegkusa@gmail.com