Description
Rent Well, a program of Transition Projects was created in 2009 and is a 15-hour tenant education program taught by certified instructors who are affiliated with current Rent Well community partner agencies. Students of the program are mostly low-income individuals that may have barriers to either becoming or staying stably housed.
During this class, instructors teach students how to:

Identify potential screening barriers
Understand how and why a landlord will screen them
Review important personal records; such as credit, civil, and criminal reports
Create an individualized plan for stable housing
Build a household budget that makes paying rent a priority
Review rental agreements to understand common terms and expectations
Understand the landlord's perspective
Communicate effectively with neighbors and landlords
Be knowledgeable about moving-in and moving-out of rental units in a professional manner
Understand the eviction process and how to avoid it
Maintain a clean, safe, and healthy home
If you are either looking to teach this course at your Rent Well affiliated community partner agency or just want the basics of tenant's rights and protections, the Tenant Educator Academy is for you.

What the Tenant Educator Academy offers:
The Tenant Educator Academy has two different tracks depending on the level of knowledge that you want to get out of the course.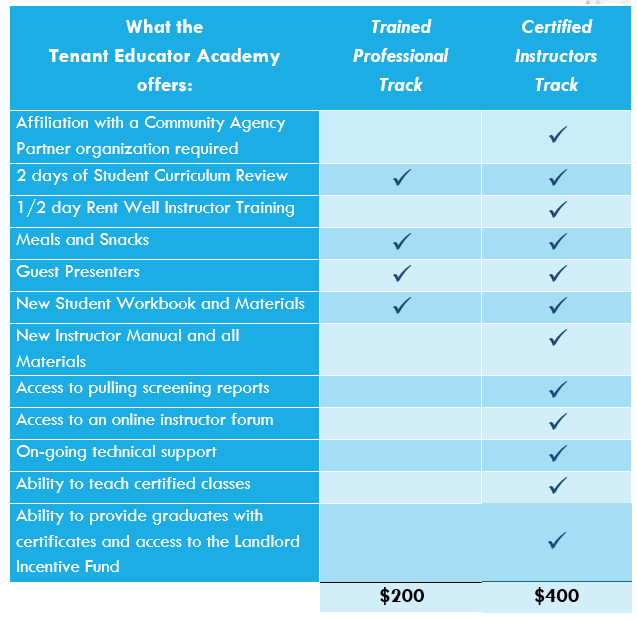 Registration, Fees, and Deadlines:
Course sizes are capped at 30 people and seats are reserved once the application and registration fee are paid for/by an individual affiliated with a community agency. Event registration and payments can complete through our Eventbrite page. A cancellation fee will be charged for any cancellations made within 7 days before the training. Registration fee is $200 for the 2-day Trained Professional Track and $400 for the 2 1/2-day Certified Instructor Track.

Portland's Oct 2019 - Train the Trainer
Monday, March 16th, 1 pm - 5 pm
Tuesday, March 17th, 9 am - 5 pm
Wednesday, March 18th, 9 am - 5 pm
Transition Projects
East Portland Offices
12151 NE Halsey Ave
Portland, OR 97220