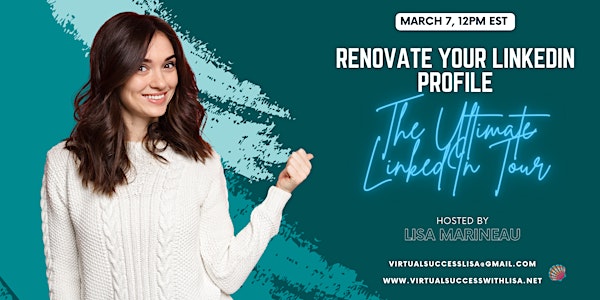 Renovate Your LinkedIn Profile - The Ultimate LinkedIn Tour
LinkedIn Profile Creator and Trainer, Lisa Marineau will take you on the ULTIMATE 60-minute guided tour of LinkedIn
By Lisa Marineau | LinkedIn Profile Creator & Trainer
When and where
Date and time
Tuesday, March 7 · 9 - 10am PST
About this event
Lisa Marineau, LinkedIn Profile Creator and Trainer will take you on the ULTIMATE 60-minute guided tour of LinkedIn to discover the necessities of an engaging profile and reacquaint you with this quality platform.
During this interactive, informative tour of LinkedIn:
-We will explore every section of your LinkedIn profile from top to bottom allowing you to make real-time updates
-We will explore visibility and security features.
-We will explore the 10 must haves for every LinkedIn profile.
-We will explore how to create posts including documents, images, videos, etc..
-We will explore your network and how to conduct searches.
-We will explore messaging, invites and notifications.
-We will explore how to create a LinkedIn newsletter and publish articles.
-We will explore the Creator Mode along with LinkedIn Live and Audio Events.
-We will explore messaging DOs and Don'ts
-We will explore LinkedIn event pages.
-We will explore how tp add certifications, give recommendations and ask for recommendations;
-AND so much more!
Whether you are a new to LinkedIn or you are out of practice navigating LinkedIn, our goal is to get you comfortable using LinkedIn.
*Stay until the end where Lisa will reveal a FREE gift valued at $49.99!
ABOUT LISA
As a freelance lead generator, Lisa has helped 260+ businesses to create their personal LinkedIn profile strategy. Hands-on with full DIY support along every step of the way. She helps her clients build up their online reputation, increase their engagement AND increase their targeted connections, while also showing them how to better grow not only their connections, but their tribes and master the art of communication in a virtual world. And Lisa does this all with her simple step-by-step, tried, trusted and true "Know-Like-Trust" (a little KLT) system. Which in today's world, is your selling currency.
A WORD FROM ME
I understand the nuances of being an entrepreneur. ​I have worked in the networking arena for 30 plus years. BUT, like you I always found it difficult and struggled to grow my team and find individuals that shared my same vision and passion. This is what led me down the path of not only envisioning, but bringing to life my own business, Virtual Success With Lisa.​I understand what it takes to not only create, but BUILD a successful network business. It's not only what my dreams were built from, but my PASSION in life. ​I have worked with Entrepreneurs, Professionals and small business owners sharing my passion and knowledge of the importance of building AND nurturing a Powerful Network.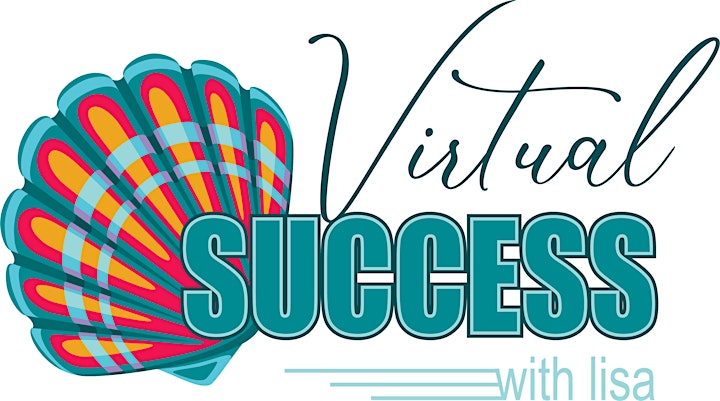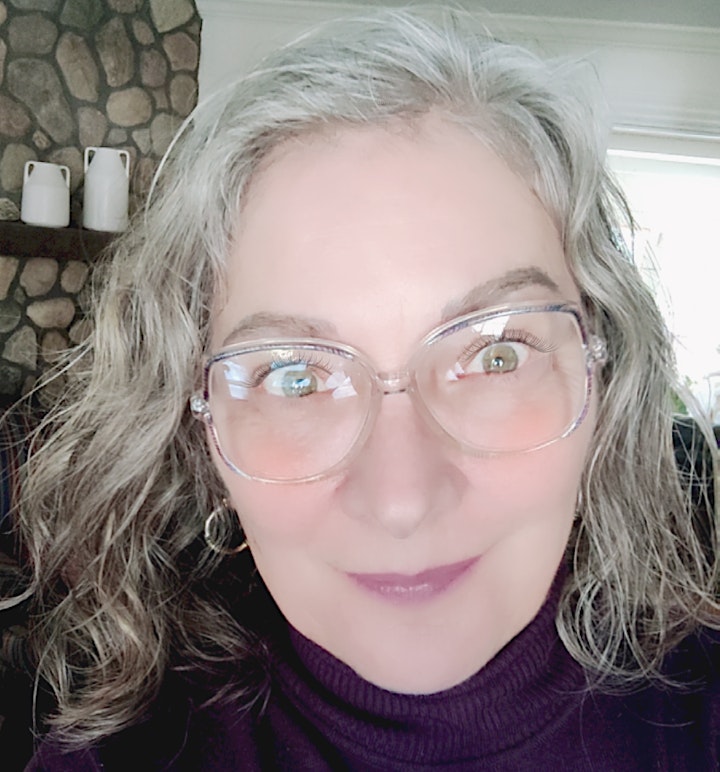 Lisa Marineau is a wife, mother, and rescue dog mom. She enjoys spending time with her family and dogs. When she is not working you can either find her courtside or in the bleachers watching her sons play basketball and baseball.
Frequently asked questions
About the organizer
Grow Your Professional Network and Expand Your Reach with Virtual Success With Lisa!
At Virtual Success With Lisa, I specialize in creating and optimizing LinkedIn Profiles that help professionals stand out from the crowd.
My services are tailored to each individual, and I strive to help create a profile that reflects your unique professional identity and values.
​ I am passionate about helping clients succeed in the digital age, and I strive to provide easy-to-understand advice and support for those looking to make the most of their profile. Whether you're just getting started or looking to optimize your existing LinkdProfile, I'm here to help!
Unlock Your Digital Potential With Lisa - Virtual Success Is One Click Away!
Virtual Success With Lisa is your go-to source for creating and optimizing your LinkedIn profile. She understands the importance of having a strong online presence and are here to help you make the most of your Linkdprofile. She provides her clients with tailored solutions to help them create an effective LinkedIn profile and maximize their potential to reach the right people. With her help, you can take your online presence to the next level and increase your business's visibility.