Real Life Theology: Fuel for Faithful and Effective Disciple Making
About this event
Attend the RENEW.org 2021 National Gathering on November 3rd in the Nashville area. You will gain inspiration and the vision for solid, practical, biblical teachings that focuses on making disciples of Jesus. Speakers will include Corey Trimble, Carol Swain, Bobby Harrington, David Young, and more. Every attendee will get a copy of the new book Real Life Theology: Fuel for Faithful and Effective Disciple Making. A boxed lunch is included with admission.
AGENDA (all times are Central Time):
*The day will be filled with praise and prayer with Shodankeh Johnson
8:00 AM – Registration
8:30 AM – Why Real Life Theology Matters with Bobby Harrington
9:00 AM – A Caution with Jonathan Storment
9:30 AM – Christian Convictions with Chad Ragsdale
10:00 AM – Breakout Session 1
Jim Putman - The Revolutionary Disciple
Ellen Radcliff - How to Have the Transgender Conversation
Brett Andrews - The Renew Church Planting Movement
Matthew Bates - The Gospel Precisely
Robert & Kerry Cox - Reaching College Students Today
11:00 AM – God's Word with Orpheus Heyward
11:30 AM – Countercultural Living with Carol Swain
Noon – Lunch (Provided)
1:00 PM – Lost without Jesus with Nate Ross
1:45 PM – Breakout Session 2
Dave & Sydney Clayton Discipling Your Own Family First
Rick Atchley - The Importance of Biblical Preaching
Anthony Walker - What African American Christians Want You to Know
Angel Maldonado & Daniel McCoy - Reaching High School and Youth Today
David Roadcup & Mike Eagle - Leading Your Church in a Prayer & Fasting Journey
2:45 PM – Authenticity with Corey Trimble
3:30 PM – Holy Spirit with David Young
4:15 PM - 5:00 PM - A Special Prayer Time with Itam (I.T.) Antigha, Tony Twist, Josh Brooker, and Bobby Harrington
For more details, go to https://renew.org/2021-program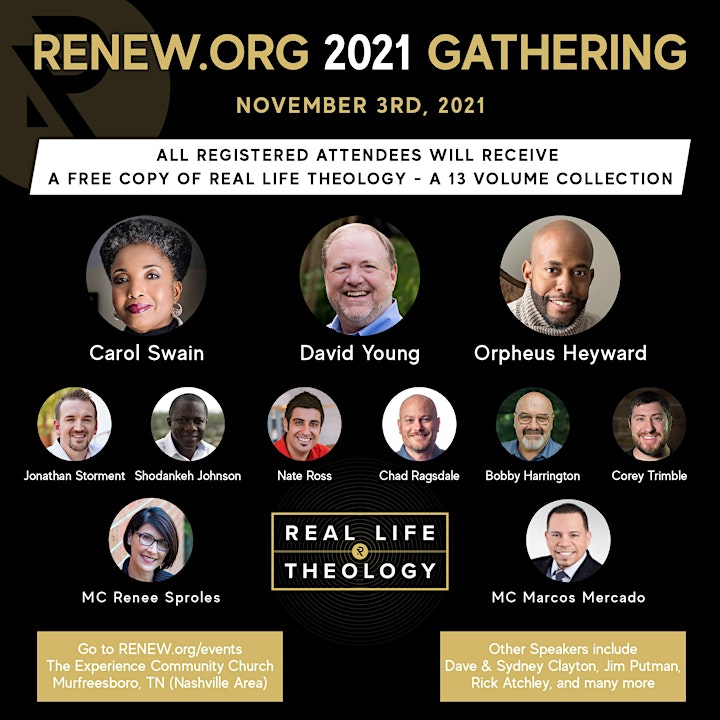 Organizer of RENEW.org Gathering 2021: Real Life Theology
Renew.org seeks to raise up millions of disciples that make disciples that plant churches that make disciples among all ethnicities, generations and nations of the world. We want everyone to have a chance to say "yes" to Jesus, no matter what.
We renew the teachings of Jesus to fuel disciple making!