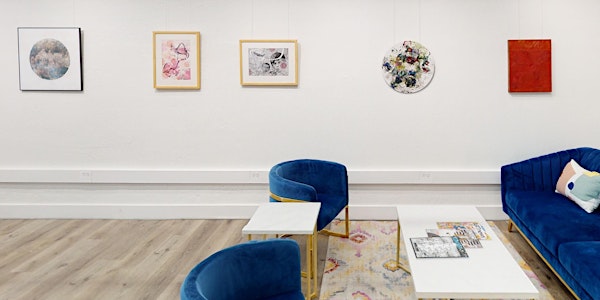 RENEWAL: A Small Works Group Show - Mimosa Sunday!
Join us for our Mimosa Sunday closing reception, celebrating an exhbition which features artists from around the world with diverse mediums
When and where
Location
Gallery 1202 7363 Monterey Road Gilroy, CA 95020
About this event
Don't miss the last chance to see RENEWAL: A Small Works Group Show, an exhibition showing a diverse array of artists from around the globe. This exciting show features various mediums such as sculpture, paintings, embroidery, photography and more. In this small works show, all the artworks are under 24x24 inches and under $1,000, making it an accessible show for new and veteran collectors alike.
The collection of works represents growth, and renewal in the time after the lock down. Amy Hibbs, Yulia Shtern, Laurie Barmore and Jennifer Blalack, celebrate their renewal with flashes of expressive blues, and sprays of silver. Katherine Filice, Linda Frueh, Molly Sullivan, Hero and Emily May continue to explore new avenues in their practices bringing fresh processes and results to their portfolio. Edward Alfano, Anna Thomasdotter, Dani Vinokurov, Helen Bellaver and Natalie Ciccoricco refine and focus on their current methods and styles with their works. Samantha Viotty's work embodies her renewal as she embraces her new path in life with Yogis of Lake Atitlán, 2021. Erin Rappleye and Abby Bettencourt continue to transgress the lines between craft, fine art and art objects.
The closing reception will be January 30th, 12-3 pm.
Stop by to meet some of the participating artists at the closing reception while sipping on a mimosa! We will have complimentary beverages and hors d'oeuvres to enjoy at the reception.
Check out our 3D tour online here.