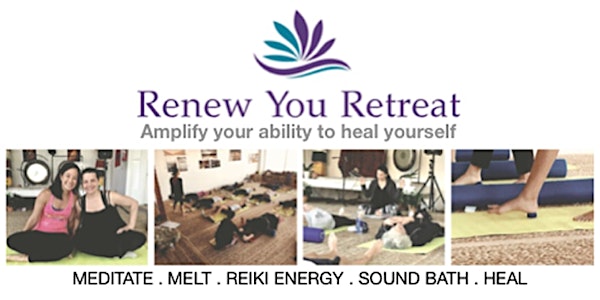 Renew You Mini Retreat + Sound Bath
Location
Santa Monica Yoga
1640 Ocean Park Blvd
Santa Monica, CA 90405
Refund policy
Contact the organizer to request a refund.
Eventbrite's fee is nonrefundable.
Be willing to be willing to be relieved of stress and chronic pain. Become a RENEWED YOU in just a few short hours!
About this event
Renew You: A Mindful Melt Reiki Mini-Retreat layers Mindfulness Meditation, the Melt Method, Reiki Energy Healing and Sound Healing.
At Renew You Retreats, you can expect to tap into your body's natural ability to heal yourself. We set intentions to relieve ourselves of stress and chronic pain, and we give you the tools to continue on the path of your optimal physical, emotional, and spiritual health and healing.
The addition of the soundbath is a group expansive, immersion into sounds, created through various instruments such as metal & crystal singing bowls, bells, chimes, gongs and rattles, to relax the mind & body as well as deepen our meditation. This soundbath will mainly feature quartz crystal singing bowls.
The quartz singing bowl is one of the most dynamic forms of sound healing. Studies have shown that their sounds have a powerful impact on the muscles of the body, mental activity, as well as the nervous, circulatory, and digestive systems. When the sounds from the bowls ring into our bodies, our cells, our total being moves to the rhythm of the soundwave. This puts us in harmony with the soundwave and assists in returning us to an optimum healthy state of being.
Unique to Renew You, we layer profound techniques that have been instrumental in our own healing, as well as the healing of our clients. We continue to layer science-backed healing modalities, furthering the relaxation and rejuventation.
After we set our intentions and meditate in, we continue with reiki. Reiki is a simple, natural and safe method of spiritual healing and self-improvement that everyone can use. It has been effective in helping virtually every known illness and malady and always creates a beneficial effect. It also works in conjunction with all other medical or therapeutic techniques.
Upon achieving peace and tranquility, you continue to Renew You, flowing into MELT Method, a breakthrough self-treatment technique, to eliminate chronic pain and erase the effects of aging and active living with an understanding of how to prevent pain and move with greater ease! Melt is used to purge the body of the stuck stress that gets stored in the body, causing pain, discomfort, and tightness. This, too, is layered with the crystal sound bath and one-on-one reiki.
You will leave this mini retreat pain and stress-free, re-energized, re-vitalized and re-motivated! And with the added sound bath, you will experience a deepened and renewed calmness.
Christine Kwok of Balanced Strength (http://balancedstrength.life) and Henri Hebert of Inspiring You (http://inspiringyou.co) and Dominic Moore partner to bring you a retreat of health and healing and deepened relaxation to reduce stress and eliminate chronic pain to lead you back into the flow of your #WholeHealth to a Renewed You!
What to bring and wear: Wear comfortable clothes that you can move around in (as if going to a yoga or stretch class). You will need to remove your shoes, in the studio, so socks are optional. Yoga mats and other props are provided. You are welcome to bring your own yoga mat, blanket(s), and healing crystals. There is a water dispenser at the studio, and we encourage you to bring your own refillable bottle.
Parking details: There is street parking on Ocean Park Boulevard, 17th and 18th Streets. Plan to arrive early to allow time to park and walk to the studio, on the south side of the street.