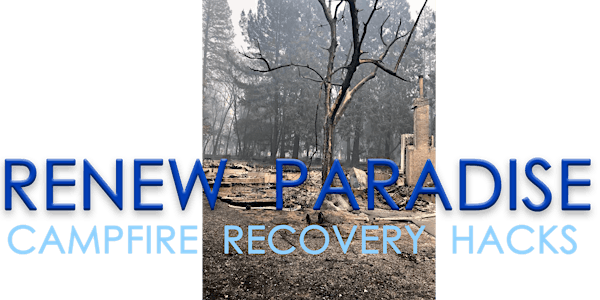 Renew Paradise: Community Hack Days
Description
Trying to think of how you can help with the recent catastrophic fires?
So is everyone else! There's no publically available, master list or map of resource needs and opportunities, and there really hasn't been anything like that for any other disasters. So we're going to fix that!
Join us for a month of community actions to streamline the disaster relief process and also renew the areas outside Paradise, CA recently affected by the Camp Fire. We are looking for resourceful hackers and volunteers to assist locals and nonprofits who are working directly on recovery, renewal and rebuilding efforts for locals in Butte County.
IN THIS SERIES OF RESOURCEFUL EVENTS PROJECT TEAMS WORK TOGETHER LIVE & REMOTE TO SOLVE HARD CHALLENGES AFTER PARADISE & MAGALIA WERE DESTROYED.
SAN FRANCISCO AREA Swarm begins kickoff Dec 1 at 1PM
12/1: Impact Hub in the Mission, 1885 Mission St. near BART 1-5PM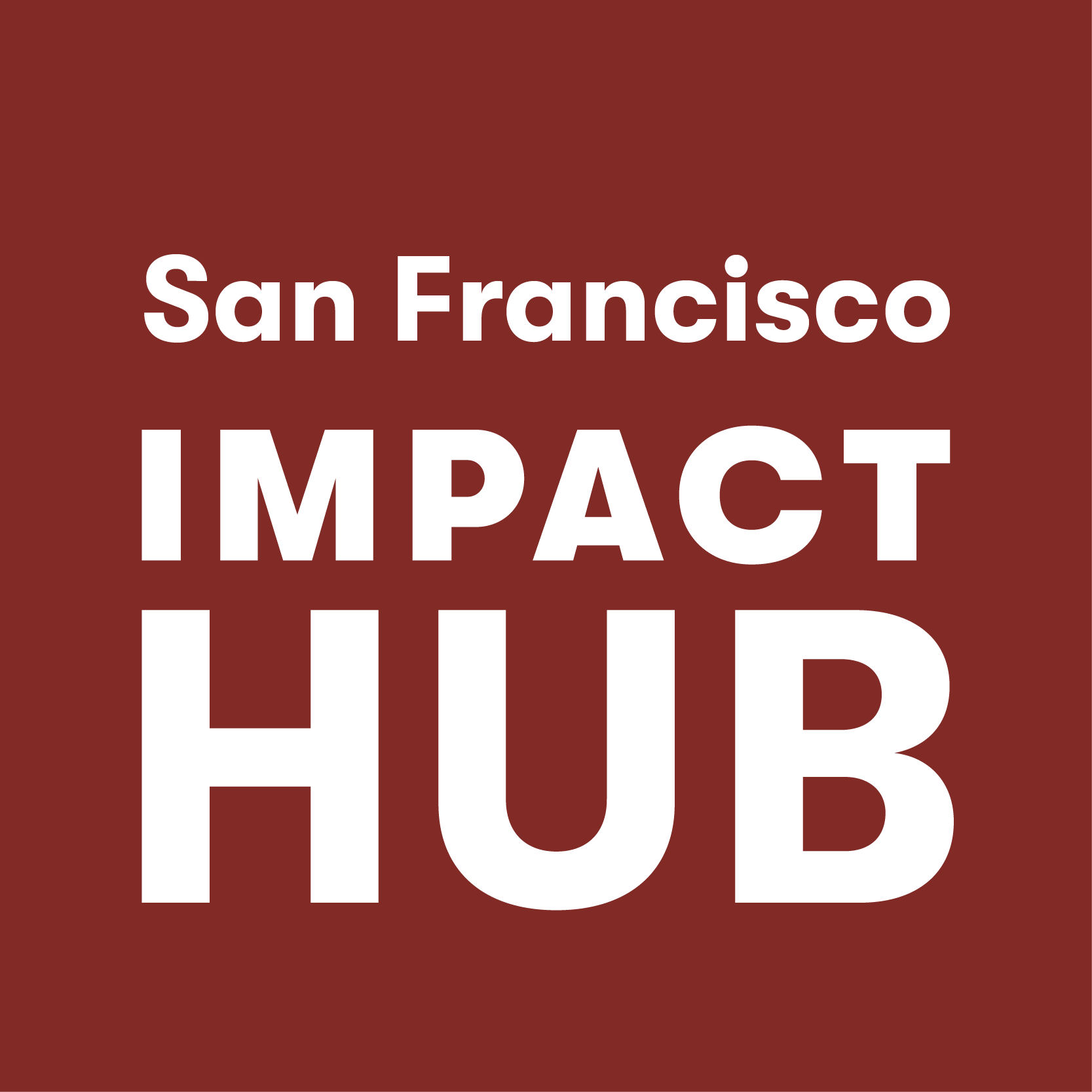 Join us in San Francisco at the Impact Hub to meet people and projects looking for partners. Impact Hub is located at 16th Street at Valencia and is walkable from the 16th Street BART Station.
Community Swarm begins with teams connecting around key areas: remediation, recovery, rescue, rebuilding, resourcing teams on the ground and regenerative solutions for cleantech and emergency response.

Agenda for the afternoon:
Situational Awareness Live and Remote
Speaking with Locals about Immediate & Long Term Needs
Crisis Mapping and Response 101 Support from Field Innovation Team and disaster responders.
For remote participants,
Zoom Meeting: https://burningman.zoom.us/j/691311857

12/2: Community Resource Mapping Dec 2 1-5PM at The PORT WORKSPACES at
344 20th Street Oakland, CA near Lake Merritt & BART (note OAKLAND SUNDAY ADDRESS)

Join us for community Resource Mapping in Oakland at the Port Workspaces, walkable from the 19th Street BART in Oakland. Collaborative teams build on the previous day's work to help resource local efforts in Butte County focused on remediation, village redesign and rebuilding efforts along with transit of RVs and trailers to locals. This information will feed open source crisis response tools for now and the future.
After kickoff weekend, project teams collaborate in person and remotely through their own choice of online Swarms - Project-based teams meeting virtually via Zoom & Mozilla HUBS. These virtual meeting rooms are ongoing spaces and teams are encouraged to use our central sites on Devpost and Github to upload their open source discoveries and case studies on the ground through these actions.

URLs open Dec 1 with prizes to be announced at the end of December for project teams, judged by locals to Paradise and experienced disaster responders.
Professionals from all disciplines are welcome and some of the challenges we are tackling will need helpful pros in such fields as: data science, AI, drones, rapid structure building, permaculture, remediation, materials science, logistics, XR/VR/AR, design and systems integration, software and app development, community resource mapping and all sorts of volunteers from all fields and sectors are welcome.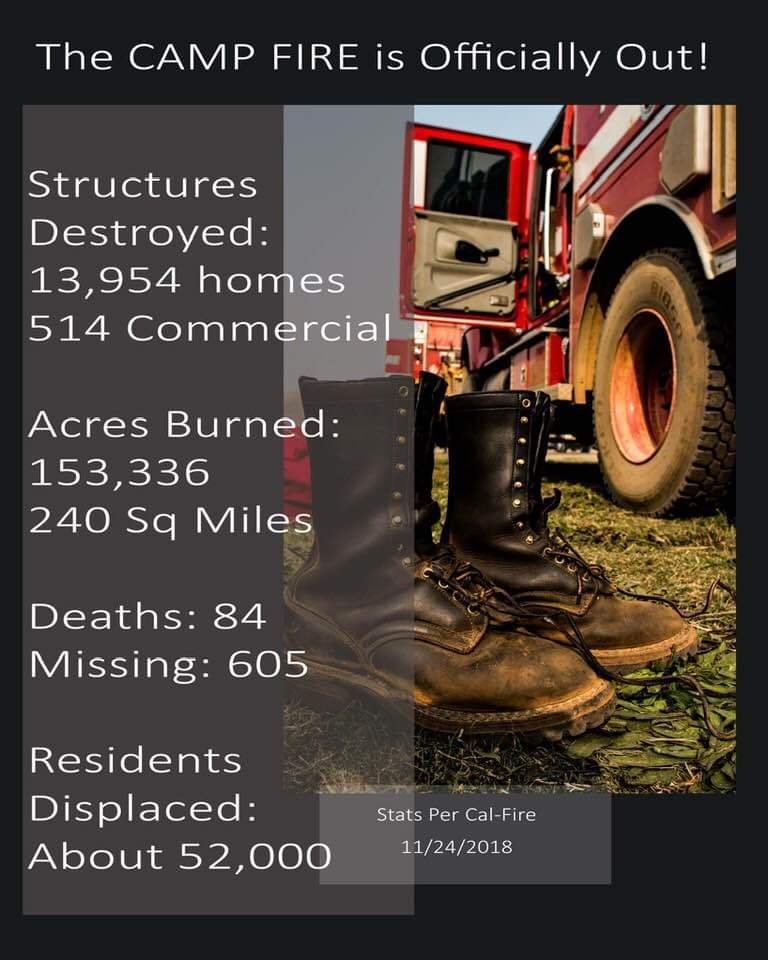 Do-Tank Dec 14-17 OutsideParadise/LA/SoCal caravan of supplies
Starting in mid-December teams will be deploying to assist local volunteers (some are already there!) helping to work on issues with soil, water, shelter, emotional support, food, immediate and emergency services along with community resources that need to be distributed to 50,000 displaced people. Please note on your registration if you want to join us in the Chico area for on-site project work during the month of December so we can plug you in with project teams looking for your skills. Be sure to share any skills you want to work on with local efforts here and via Devpost.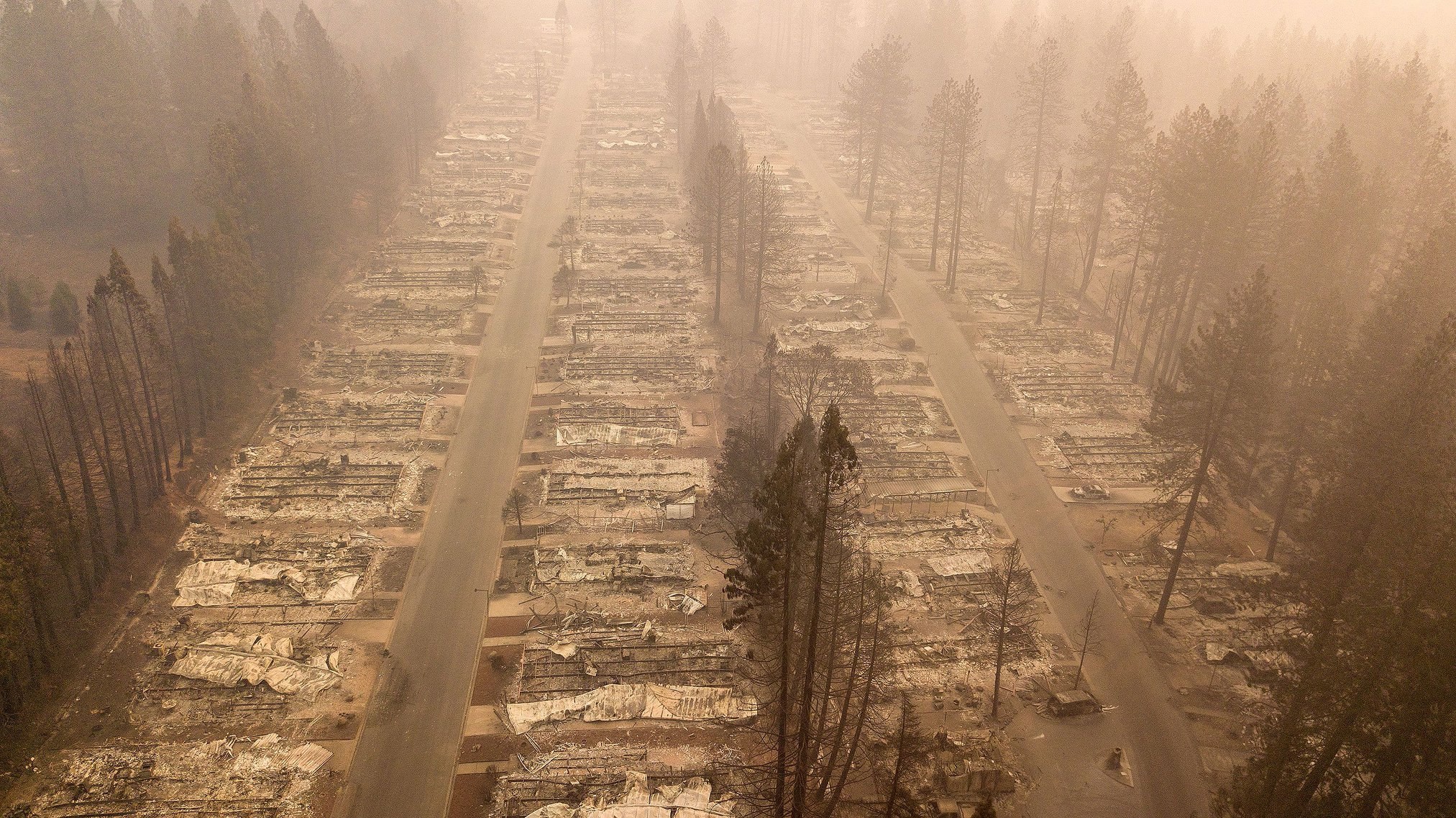 Teams are asked to submit project briefs by December 22nd for consideration for prizes to be judged the 23-28th. Projects that show creativity, resiliency, great use of collaboration and hard or soft tech to solve local challenges will be awarded additional support and all project briefs will be made available as an open resource for future crisis teams. Special thanks to our colleagues facilitating the Do Tanks and Hacks from Field Innovation Team and OurLabs along with Light Lodges, Burners without Borders, Impact Hub SF & Port Workspaces.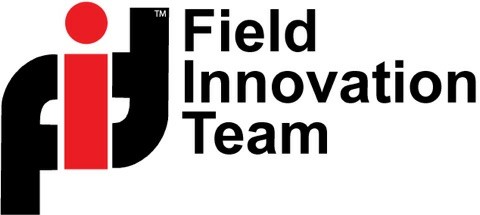 PROJECT AREAS:
Rescue - Education around timing of donations and volunteers, aggregation of current information, ranking system for info, emergency and crisis response tools
Recovery - Use of AI and new tech tools for rapid response and recovery efforts, emotional and physical support systems (finding problem areas or mapping?)
Remediation - Data science and environmental sciences supporting efforts in permaculture, cleantech, water, knowledge pamphlet/website on how to do fire area remediation
Resource Mapping - DATA! APPS! TOOLS! How to assess, respond effectively and connect dots?
Restoration - Permaculture soil endeavors + Treetop and local efforts (mushrooms, straw bales, efforts that can be executed with a plan that is not wasteful?)
Redesigning the Village - Rapid shelters, drone/360/village and site planning challenges with architects, engineers and remote volunteers
Regenerative Solutions - ExO local cleantech, P2P systems for internet/energy/storage

Thank you to our hosts - Impact Hub in San Francisco, The Port Workspaces at Kaiser Mall Lake Merritt and along with our project partners at Field Innovation Team, Burners without Borders, CivX and Fastrack Institute and tech/product sponsors.
RSVP now and join us at http://renewparadise.devpost.com to bring a project to fire victims in December so we can help you build best teams for fire response and renewal efforts.