Event Information
Refund policy
Contact the organizer to request a refund.
Eventbrite's fee is nonrefundable.
This CLE event tackles subjects that a Kansas Legislative report highlighted as ways of reforming utility ratemaking and energy policy.
About this event
Here's a more detailed rundown.
HISTORY AND CHALLENGES OF RENEWABLE ENERGY STANDARD IN MISSOURI - We will dig into the nearly thirteen-year experience Missouri has had with the RES. From the voluntary proposal offered by the Legislature in 2007 to proposed changes being considered in 2022 - with lawsuits and amendments all throughout.
SECURITIZATION: HOW CONCEPT CAN HELP CONSUMERS WITH UNFORESEEN COSTS AND BENEFIT CLEAN ENERGY EFFORTS - NRDC's Ashok Gupta will look at the ratemaking mechanism designed to avoid unforeseen costs (like revenue lost to a pandemic or the closure of a coal plant) that offers a cost-neutral approach. But we'll also talk about why some people still don't like it.
DEREGULATION AND PERFORMANCE-BASED RATES: SOUNDS GOOD.
DOES IT WORK- The Missouri's Office of Public Counsel Chief Economist Geoff Marke will talk about the concept of restructured utility states as well as PBR concepts and whether those work for the general public at large. The answer is: maybe?
MAXIMIZING INDOOR HEALTH QUALITY THROUGH ENERGY EFFICIENCY - In this era of people being inside their homes and apartments A LOT, what concerns should we have about indoor air quality? Moreover, how can energy efficiency measures positively impact these health considerations? (This section will be free to the entire public.)
KEEIA V. MEEIA: THE BENEFITS AND CHALLENGES OF ENERGY EFFICIENCY
INVESTMENT EFFORTS IN THE SHOW ME STATE - Perhaps the most significant difference between the states is how Missouri has shown how energy efficiency can work to the advantage of utilities and to the public, particularly low-income customers. Why has this been such a challenge in Kansas when they have virtually the same law? We check it out.
THE IRP PROCESS: IMPLEMENTATION AND BENEFITS - Missouri has successfully used the Integrated Resource Planning as a way of preparing for policy years ahead. How it works and why it works will be the topic of the hour.
OVERVIEW OF KANSAS SUPREME COURT CASE ON SOLAR DEMAND CHARGES - The Kansas Supreme Court handed down a huge victory for clean energy by overturning a KCC decision to allow solar customers to be charged differently than every other customer. We look at the case and what it means moving forward.
BIAS AND DIVERSITY IN THE UTILITY REGULATION AND THE UTILITY SUPPLY CHAIN - PSC Advisor Charlene Ketchum will be looking over the topic of how utility companies should look at their vendors as a way of opening up opportunity to a diversity of businesses. While not unique to Kansas or Missouri, this should be a helpful presentation to lawyers and procurement professionals working in any area.
For more information, please contact James Owen at james@renewmo.org.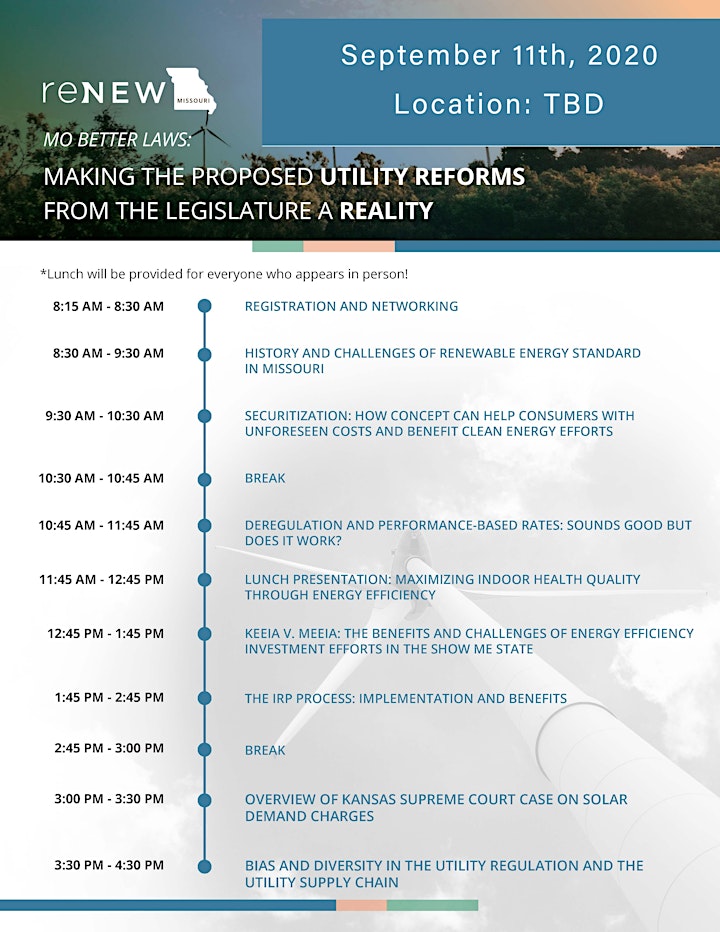 Date and time
Location
Refund policy
Contact the organizer to request a refund.
Eventbrite's fee is nonrefundable.
Organizer of Renew Missouri's End-of-the-Year CLE: The Kansas-Missouri Policy Showdown