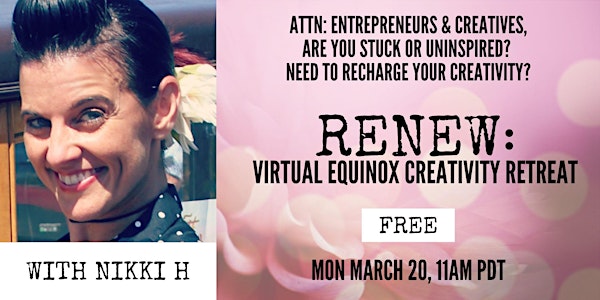 RENEW: Equinox Virtual Creativity Retreat for Entrepreneurs & Creatives
Are you feeling burnt out, stuck or lacking inspiration? Do you need a chance to step back, restore and recharge your creative energies?
Date and time
Monday, March 20 · 11am - 3:30pm PDT
Refund Policy
Contact the organizer to request a refund.
Eventbrite's fee is nonrefundable.
About this event
Join us for a luscious and playful half-day Spring Equinox creativity retreat online, celebrating the Equinox and celebrating your creativity. This retreat is designed to help you reset, restore and rejuvenate so that you can reactivate your creativity and find renewed inspiration for your work (and everyday life).
This retreat will be full of engaging activities, reflective exercises and group discussions. You'll be guided through a variety of practices, from guided meditations to creative exercises, centered around the energy of Spring Equinox and the theme of RENEW. We will celebrate new beginnings and growth and explore new possibilities for your creativity, your life and your work.
This retreat is designed to be accessible to everyone, no matter where you are in the world. All you need is an internet connection, Zoom and a willingness to engage with the process. No special supplies or skills are necessary. All you need is something to write with and something to write on.
However, if you wish to bring special supplies, please do. Having the freedom to work on your own creative projects is very important and I get that. I encourage you to bring your own projects and ideas to RENEW and you'll have the opportunity to work on them in our time together. You can bring your own personal creative projects or you can bring a business project (perhaps you'd like to create content or brainstorm a new course or marketing plan - you can do that!) I will provide guidance and support to make progress on your projects and help you overcome any creative blocks should they arise.
Whether you're a writer, artist, dancer, chef, crafter, creative entrepreneur or any other type of creative, this retreat will provide you with a supportive environment to explore new ideas and work on your projects. Plus, you'll have the added benefit of connecting to a supportive community of like-minded entrepreneurs and creatives, all committed to helping each other thrive.
Investing in yourself and your creativity is one of the most important things you can do for your work and your life. Join us for RENEW and take your creativity to the next level!
Questions?
Email me at findyourdelight@gmail.com
If you're curious about working with me, here's what one workshop attendee said:
"As a modern day muse, Nikki uses her creativity workshops to inspire the poetess, dancer, artist, musician, painter, writer - creator - within each and every one of us. You will never find yourself bored, uninspired, stuck, overwhelmed, passionless if you are in one of her programs because she is The Source of Inspiration, knows how to activate it inside of you and teaches you tools to do it on your own. My deep respect to you Nikki, Modern Day Muse, I am truly honored to know you."
-Olja A, Leadership Mentor
Wanna know more? Here's my bio:
Nikki H has thrilled audience members and event guests for over 20 years as a dancer, choreographer, instructor and producer with experience in over 20 dance styles. Not afraid to be bold or embrace the unusual, this sassy bombshell is on a mission to inspire and delight as a modern-day muse and creativity coach. With her signature encouraging and playful attitude, Nikki has a knack for breaking down concepts, step by step, in a way that's both easy to follow and highly entertaining. She is a captivating speaker and MC, the creator of the "30 Day Creativity Boost" and an international bestselling co-author of the book "ONE: Your Wellness Guide to Body, Mind & Soul". Nikki is also known for her burlesque and cabaret inspired workshop, "Discover Your Inner Bombshell". Nikki's work has been seen in Huffington Post, UsWeekly, NBCNews.com and more and she frequently guests on podcasts. Nikki has a degree in Aerospace Engineering from University of California, San Diego where she was the speaker for her commencement ceremony.