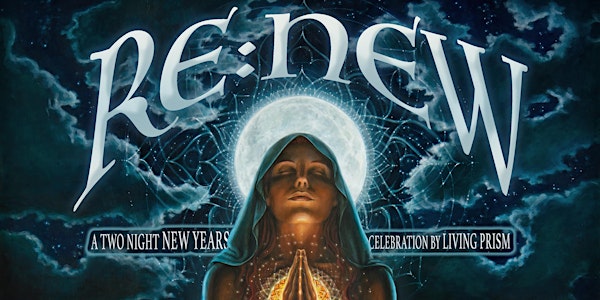 Re:New - A Magical New Years 2022 Celebration by Living Prism
Join us for Portland's most electrifying New Years Celebration featuring hypnotizing stage performances, live art, libation lounges & more!
When and where
Location
The Bossanova Ballroom 722 East Burnside Street Portland, OR 97214
Refund Policy
Refunds up to 30 days before event
About this event
◅◅Living Prism Presents▻▻
• • • • ⫷ Re:New ⫸ • • • •
◅◅ New Year Activation ▻▻
• • • • • ⫷ 2022 ⫸ • • • • •
Love • Expansion • Renewal
Beneath the wintertide sky, we gather in this electrically charged union to awaken a new year. Allowing the power of possibility to release that which doesn't serve us, we open ourselves to prismatic melodies, resonant visions, juicy dancing, and the limitless potential that 2022 embodies for us in body, mind, and spirit. ♡
Rejuvenating tea lounge, art gallery, stage performers, intention altar space, photobooth, live painters, artisan vendors, surprises, and electrifying live music.
⫷⋆⋆⋆⋆⋆⋆⋆⋆⋆⋆⋆⋆⋆⋆⋆⋆⋆⋆⋆⋆⋆⋆⋆⋆⋆⋆⋆⋆⋆⋆⋆⋆⋆⋆⋆⋆⫸
⫷ Dec 31, 2021 | NYE ⫸
~ 8pm-4am ~
◅ Lizzy Jeff ▻
◅ David Starfire ▻
◅ Equanimous ▻
◅ Shelajit ▻
◅ Enigma Beats ▻
◅ ĐÅR ▻
◅ Kællum ▻
⫷ Jan 01, 2022 | NYD ⫸
~ 8pm-3am ~
◅ Saqi ft Diamonde ▻
◅ Geometrae ▻
◅ Luke Mandala as Mandala Effect ▻
◅ KR3TURE ▻
◅ Noetik ▻
◅ Siren & Seer ▻
◅ Illuminertia ▻
RSVP as 'Going' to the event at www.livingprism.us to stay connected on our updates.
Re:New 2022 Art by Autumn Skye
www.autumnskyeart.com
Bossanova Ballroom | 722 E Burnside St, Portland, OR
21+ event | Please bring ID
Coat check available | Re-entry all night
Tickets - renew2022.eventbrite.com
Re:New had sold out of tickets before the day of the event every year. We recommend that you purchase your tickets ahead of time if you wish to secure this journey with us.
⫷⋆⋆⋆⋆⋆⋆⋆⋆⋆⋆⋆⋆⋆⋆⋆⋆⋆⋆⋆⋆⋆⋆⋆⋆⋆⋆⋆⋆⋆⋆⋆⋆⋆⋆⋆⋆⫸
Re:New is also a fundraiser for Water 4 Life Global
Water 4 Life Global is a 501(c)3 nonprofit organization working on the ground in Guatemala to provide indigenous communities with access to clean water. Their clean water initiatives include the distribution of water filter technology, collaboration on biological water treatment plans, and contributions towards the reforestation of Lake Atitlán.
501c3: EIN # 83-2826655
Donate: Via the fundraiser tab below or at www.water4lifeglobal.org/donate/
Socials:
www.instagram.com/water4lifeglobal www.facebook.com/water4lifeglobal
⫷⋆⋆⋆⋆⋆⋆⋆⋆⋆⋆⋆⋆⋆⋆⋆⋆⋆⋆⋆⋆⋆⋆⋆⋆⋆⋆⋆⋆⋆⋆⋆⋆⋆⋆⋆⋆⫸
We strive to create loving and inclusive events. Re:New will be a safer space for people of all colors, ethnicities, genders, and sexual orientations. Please practice proper consent and be mindful of your friends and community.
⫷⋆⋆⋆⋆⋆⋆⋆⋆⋆⋆⋆⋆⋆⋆⋆⋆⋆⋆⋆⋆⋆⋆⋆⋆⋆⋆⋆⋆⋆⋆⋆⋆⋆⋆⋆⋆⫸
Updated Covid Guidelines :
Living Prism follows all state, county & city protocols. We have added a few more safety precautions for the event:
~ Masks are required for entry. We'll have free masks at the door and throughout the venue for those who may have misplaced theirs.
~ Capacity limitation. We are limiting the number of people and capping the event at a lower capacity to prevent overcrowding.
~ Temperature check at the door. Guests showing 100.4 degrees F or higher will kindly be asked to return home to rest and recover.
~ Air Purifiers around the venue. Bossanova Ballroom has installed air purifiers systems that are used in commercial cannabis growing facilities to keep the air free of bacteria and viruses. These purifiers kill the SARS Covid-2 virus.
Even though negative Covid tests or vaccine cards are not required for entry, we offer that you consider getting tested in the 48 prior to the event. Please consider washing or sanitizing your hands at the event periodically. We will provide hand sanitizers across the venue.
Regardless of all the above, please use your best judgment to make responsible choices for yourself. Please do not attend Re:New or other events if you are feeling sick, have a fever, or have symptoms of any illness.
Thank you. 💙
⫷⋆⋆⋆⋆⋆⋆⋆⋆⋆⋆⋆⋆⋆⋆⋆⋆⋆⋆⋆⋆⋆⋆⋆⋆⋆⋆⋆⋆⋆⋆⋆⋆⋆⋆⋆⋆⫸
Living Prism is dedicated to bringing music, movement, and art in unique ways. If you like this event, you will probably enjoy our other events. You can follow us on Facebook, Instagram & Twitterland, and can sign up for our newsletter here: http://eepurl.com/bCU9sH
⫷⋆⋆⋆⋆⋆⋆⋆⋆⋆⋆⋆⋆⋆⋆⋆⋆⋆⋆⋆⋆⋆⋆⋆⋆⋆⋆⋆⋆⋆⋆⋆⋆⋆⋆⋆⋆⫸
⫷ Dec 31, 2021 | NYE ⫸
~ 8pm-4am ~
8:00-9:10 • KÆLLUM
9:10-10:20 • Enigma Beats
10:20-11:30 • ĐÅR
11:30-12:40 • Lizzy Jeff
12:40-1:50 • Equanimous
1:50-3:00 • David Starfire
3:00-4:00 • Shelajit
⫷ Jan 01, 2022 | NYD ⫸
~ 8pm-3am ~
8:00-9:20 • Illuminertia
9:20-10:40 • Luke Mandala as Mandala Effect
10:40-11:50 • KR3TURE
11:50-1:00 • SaQi ft Diamonde / Siren & Seer
1:00-2:00 • Geometrae
2:00-3:00 • Noetik the Alchemist
⫷⋆⋆⋆⋆⋆⋆⋆⋆⋆⋆⋆⋆⋆⋆⋆⋆⋆⋆⋆⋆⋆⋆⋆⋆⋆⋆⋆⋆⋆⋆⋆⋆⋆⋆⋆⋆⫸
Be with you very soon... 💜