About this Event
Are you ready for a different kind of night out? Something a bit more interactive and fun? Welcome to Rendezvous at R. House: A Charm City Variety Show brought to you by Pariah Sinclair, R. House and Siren Pack Productions.
Join us for a theatrical evening of Burlesque, Drag, Comedy and Poetry featuring a cast of bold, quirky and provocative artists.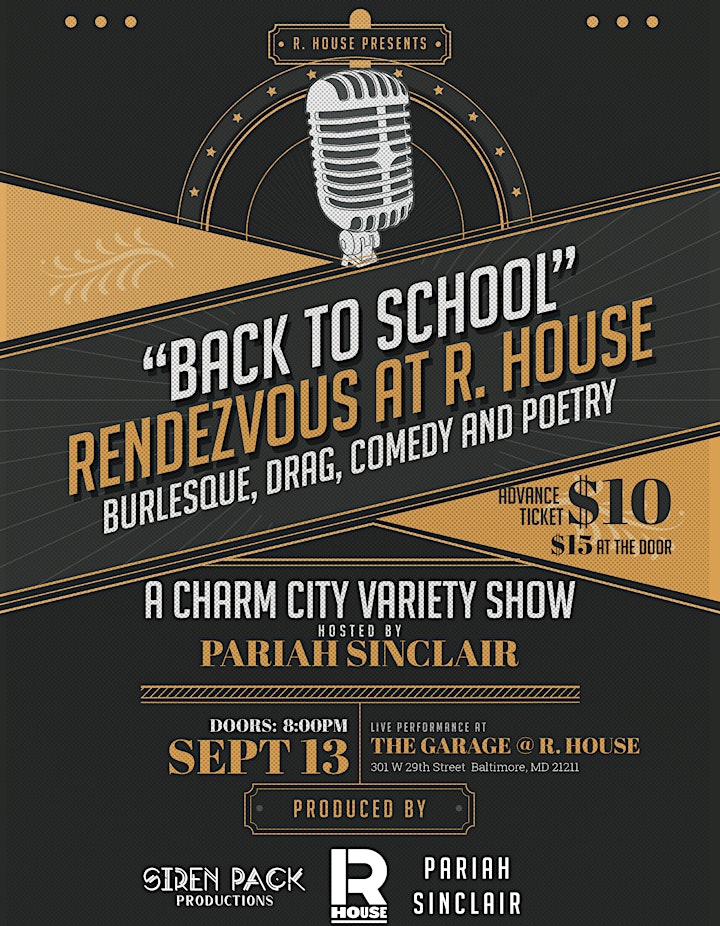 Inspired by dime museums, vaudeville and music hall entertainment with a contemporary and edgy twist, R. House is proud to present a new, experimental bi-monthly event full of surprise and delight.
Doors at 8:00pm | Show at 8:30pm
Prepare for thrilling performances from Pariah Sinclair, Violet Gray, Shawnna Alexander, Kara, Evon Michelle and more!
We highly encourage tipping our performers . If you like what you see, let us know! Please bring cash. We can make change for you. We've got singles!
Before the show or during intermission, swing by one of our 11 food stalls at R. House for dinner and enjoy drinks at r. bar!
Subscribe to our email list for first access to events & tickets: http://bit.ly/RHouseEmails
ABOUT R. HOUSE:
R. House is Baltimore's launchpad for outstanding food and creating community.It is the place to come together. It's a food hall, but more than that, it's a community. We believe in being neighbors, not guests; we see possibilities, not limitations. This is your gathering place, your kitchen table, your office, and your front stoop. This is your house, our house, R. House.
ABOUT THE GARAGE @ R. HOUSE:
The Garage at R. House is a 6,500-square-foot industrial-style space perfect for private and public events of up to 350 people. With exclusive r. bar beverage service and endless production possibilities, The Garage promises a memorable event setting.
Flyer design by Studio Creative Group