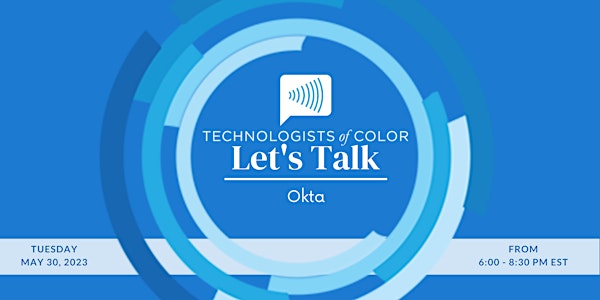 Render ATL Week: Let's Talk Okta - May 30, 2023
Have you been curious about learning about Okta? Join us Tuesday, May 30th to learn about how Okta is the leader in Identity Security.
By Technologists of Color
Date and time
Tuesday, May 30 · 6 - 9pm EDT
Location
Russell Center for Innovation and Entrepreneurship 504 Fair Street Southwest Atlanta, GA 30313
About this event
Join us for an exciting event during Render ATL week. We will have William Johnson, Senior Developer Advocate at Auth0 by Okta, for an exciting session that will introduce you to the world of Okta, the leading identity and access management platform.
In this session, you will learn about web authentication and browser based API's for passwordless authentication. William will explain how these features work, and how they can help organizations of all sizes improve their security and productivity.
Whether you're new to the world of technology, or looking to expand your knowledge of identity and access management, this session is for you. Join us and discover the power of Auth0 by Okta, and how it can help your organization thrive in the digital age.
See you there!!
PS: Parking is free
Main Building
We will be in Zone 4 of the main building.
Parking is to the left of the Main Buidling.
About the organizer
Technologists of Color is a group committed to building the African American tech community in Atlanta. Our primary goal is to connect tech professionals so that they can share knowledge, resources and opportunities. We also strive to inform and educate the community to help increase African American participation in the rapidly growing world of technology.
Find us on the web and social media...
Website: http://www.techsofcolor.org
Meetup: http://www.meetup.com/technologists
Twitter: @techsofcolor
IG: @techsofcolor
LinkedIn: www.linkedin.com/company/technologists-of-color/