Location
St Paul's Episcopal Church
166 High Street
Newburyport, MA 01950
Constantine Finehouse performs an all-Brahms program exploring pieces created after the composer's 15 year hiatus from writing for piano.
About this event
The title of this program refers to the rebirth of Johannes Brahms' interest in composing for piano, and features exclusively pieces from the second phase of the composer's career. Pianist Constantine Finehouse has had an intimate relationship with the music of Brahms over two decades of his international performing and recording career. Join us in Newburyport to hear Finehouse perform this magnificent music on St. Paul's Steinway concert grand!
In 1877 Brahms agreed to assist with the publication of the complete works of Robert Schumann and Frederic Chopin. This project brought him in close contact with his predecessors' creative spirit, especially in the realm of piano music, and forced him out of a 15-year-long hiatus from writing for the instrument, inspiring eight Piano Pieces, Op. 76. These works are permeated with Schumanesque quixotic shifts in mood, as well as aching melancholy and textural fluidity, so characteristic of Chopin's musical rhetoric and pianistic genius.
Few have described Piano Pieces, Opp. 118 and 119 more eloquently than Brahms' friend, the critic Eduard Hanslick, who called them "monologues that he conducts with himself and for himself on lonely evenings, in defiantly pessimistic rebellion, in brooding ruminations, in romantic reminiscences, at times in dream-like wistfullness."
Constantine Finehouse (full bio below) has presented the composer's works at Carnegie Hall (NYC), Mozarteum (Salzburg), and at numerous other venues from Saint-Petersburg, FL to Saint-Petersburg, Russia. In addition, Brahms' solo and chamber compositions have been prominently featured on Finehouse's many acclaimed recordings, with two upcoming albums dedicated exclusively to the composer, whose music ingeniously combines traditionalist and progressive elements, music's past and its future. Finehouse's rich pianism is, in many ways, an ideal match for dense textures and intricate polyphony of Brahms' musical language--and especially the brooding mood and darker timbral hues of the composer's later piano works.
Presented in partnership with St. Paul's Episcopal Church.
Schedule and Program
2:30 pm  Doors open for seating
3:00 pm  Concert begins
Johannes BRAHMS (1833-1897)
8 Klavierstücke, Op. 76 (1878)
6 Klavierstücke, Op. 118 (1893)
4 Klavierstücke, Op. 119 (1893)
BALLETS RUSSES ARTS INITIATIVE is a Boston-based non-profit cultural organization that fosters international creative exchange in the visual and performing arts and film, and connects communities in the US and Eurasia. BRAI carries out public programs throughout Massachusetts, the East Coast and internationally, and BR360 Member programs in the Boston area. www.ballets-russes.com
Nota Benes:
Doors open for check-in and seating at 2:30. Concert begins at 3.
All seating except FRONT ROW is unassigned, but seating is allowed only in designated areas, to ensure good spacing of attendees throughout the church.
Tickets cannot be refunded but can be transferred to a different attendee.
If space allows, limited tickets will be available at the door for $35. However, we recommend buying tickets online ahead of time wherever possible to improve visitor flow.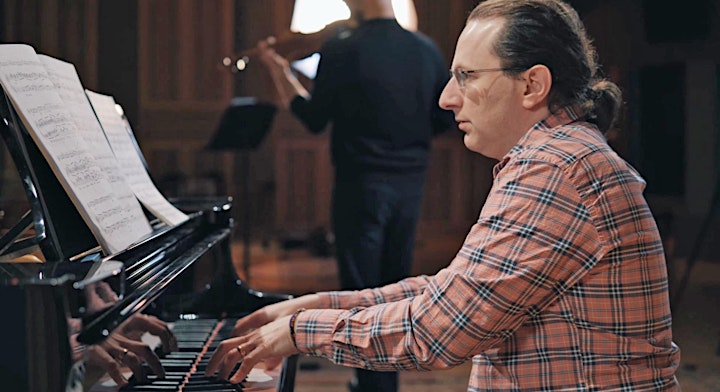 Pianist CONSTANTINE FINEHOUSE has performed extensively across North America and abroad, including in Salzburg, Trieste, London, Ghent, St. Petersburg and Odessa. His 2009 solo release, "Backwards Glance," interweaves works by Brahms and Richard Beaudoin. "The Bolcom Project", made in collaboration with his American Double partner, violinist Philip Ficsor, included an Albany Records two-CD album and a national tour. Fanfare praised the recording as "indispensable to any serious collector with an interest in later 20th-century duo repertoire for violin and piano." The American and European premieres of William Bolcom's Horn Trio, in collaboration with Ficsor and Steven Gross took place in the summer and fall of 2018. Recorded at the Martinu Hall in Prague, it was released on Naxos Records in December 2021, joining Finehouse's recording of Bolcom's piano solo works for Naxos. His new album "Rhythm and the Borrowed Past" with violinist, Daniel Kurganov, was released on Orchid Classics in November 2021, following their 2018 release "Between the Notes" on Spice Classics. Finehouse's latest album with Sebastian Baverstam features sonatas by Brahms and Shostakovich. During recent concert seasons, Finehouse has performed at the Mozarteum (Salzburg), Miaskovsky Hall (Moscow Conservatory), Merkin Recital Hall, Weill Recital Hall (Carnegie Hall) and Jordan Hall (Boston), as well as at Harvard, Yale, and Emory universities, and St. Vincent's and Elmira colleges, among others. The pianist holds degrees from Juilliard and Yale and teaches at New England Conservatory, also serving as Visiting Artist/Faculty at Westmont College, CA.