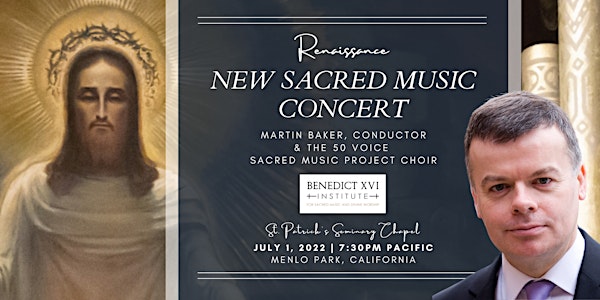 Renaissance! New Sacred Music at St. Patrick's Seminary Chapel
Event Information
Location
St. Patrick's Seminary & University
320 Middlefield Road
Menlo Park, CA 94025
Works by Six Living Catholic Composers with Martin Baker conducting the Sacred Music Project Choir
About this event
Don't miss this extraordinary opportunity in Menlo Park to participate in the ongoing Catholic renaissance in sacred music, this July 1 at 7:30 pm at the gorgeous St. Patrick's Seminary Chapel.
Martin Baker, past President of the Royal College of Organists, and former Master of Music at Westminster Cathedral will fly in from London to conduct the 50 voice Sacred Music Project Choir, featuring choral works by five up and coming American Catholic sacred music composers, from the Benedict XVI Institute's composer-in-residence Frank La Rocca to our youngest composer the 24 year-old Xanthe Kraft.
Composer Mark Nowakowski has created a violin and organ piece "Stabat Mater Dolorosa"
Music directors be aware: a free folio of these works will be available and the composers have agreed to waive the license fee in the event you would like your own parish choir to sing this music for the Mass.
Hospitality follows in the Seminary library, amid beauty ever ancient ever new.
Join us for a celebration of sacred beauty: the high Catholic sacred music tradition lives!
Program
Adoramus te, Christe – Daniel Knaggs
Ave Maria – Frank La Rocca
Bonum Est – Kevin Allen
Iubilate Deo – Massimo Scapin
Speravit anima mea – Xanthe Kraft
Stabat Mater Dolorosa for Violin and Organ -Mark Nowakowski
About the Composers
Kevin Allen is a highly regarded composer of opera, chamber and orchestral music. He has also developed a unique reputation as a composer of church music for the Roman Rite of the Catholic Church. Mr. Allen's works, sacred and secular, have been performed in churches and concert halls throughout the United States and Europe. Based in Chicago, he is the founding director of the Collins Consort, American Composer's Project, and Schola Immaculata. Mr. Allen is also the choirmaster of the Monastery of the Holy Cross in Chicago. He has also served as Director of Music for Saint John Cantius in Chicago.
Daniel J. Knaggs: "a rising star in the sky of serious, young American composers…" Chorzeit magazine. djknaggs@gmail.com
Among his extraordinary projects is the Ave Maria Project, which continue for 50 years, with a new Ave Maria composed by Daniel each year until 2054. Among the awards his compositions have won include the 2019 Noël Minet Prize at the Marktoberdorf International Chamber Choir Competition (Germany), and first prize in the 2012 David Maria Turoldo Composer Competition (Italy), the 2011 International Musica Sacra Competition (Poland), and the Indianapolis Symphonic Choir's 2010 International Commission Competition (USA).
For Benedict XVI Institute Daniel Knaggs has also created a new setting for the Good Friday motet Popule Meus which be paired with the late Renaissance Spanish composer Tomás Luis de Victoria's version of 1585, which will be performed in Lent 2023. Learn more at DanielJKnaggs.com
Xanthe Kraft: "In the crevices of hardship, beauty is found not only within this world, but surrounding, and sustaining it. Beauty makes me, and I make it known."
Xanthe Kraft is a composer from Spokane, Washington writing music for and from Liturgical worship, specializing in vocal and string writing. Coming from a piano background grounded in improvisation, she was the Artist-in-Residence at St. Gertrude's Monastery in 2019 where she composed the Mass of the Annunciation, a work inspired by Gregorian Chant and Celtic influences. Xanthe attended the European American Musical Alliance's Nadia Boulanger Institute for Composition in Paris as a 2017 fellow. In addition to directing and composing sacred works for Liturgical music, she composes narratives for strings and small ensembles depicting stories of the soul. Her work has been performed by worldwide leading ensembles in New Music, including the Mivos Quartet, Sound Energy Trio, and Ensemble L'Itinéraire. Her compositions have been featured in Dartmouth's New Music Festival, Dartmouth Digital Arts Exhibition, Winter Whingding, Spring Sing, Break-It-Down Boston, and at the Wheelock Conference. Learn more at https://axgkraft.wixsite.com/xanthekraft
Frank La Rocca (co-host) His Mass of the Americas is "Perhaps the most significant Catholic composition of our lifetime" according to Michael Olbash, director of sacred music St. John's Seminary in Washington D.C.
Frank La Rocca is Benedict XVI Institute's award-winning composer-in-residence, has garnered awards and grants from the National Endowment for the Arts, ASCAP Foundation, and the Ortus International Choral Prize, among others. He composed The Mass of the Americas as a twinned tribute to Our Lady of the Immaculate Conception and Our Lady of Guadalupe, a Reqiuem Mass for the Homeless, and the Missa Sancti Juniperi Serra celebrated July 1 at Mission Dolores Basilica. To hear his music visit FrankLaRocca.com
Mark Nowakowski creates music "that is at once fierce, haunting, and mystical" Gramophone Magazine.
Mark Nowakowski is a composer whose works represent a modern merger of bold expressionism and mystical contemplation, Slavic pathos and American individualism. His work has been commissioned and performed globally by such notables as the Kronos Quartet, the Cleveland Chamber Symphony, The Monteverdi Cello Octet, The Voxare Quartet, the FiveOne Experimental Orchestra, Three Notch'd Road, Stowarzyszenia Mozart, Vox Musica of Sacramento, the Choir of the Shrine of the Basilica of the Immaculate Conception, and the Cracow Brass Quintet. The son of Polish immigrants, Mark's music derives a great deal of its experiential and aesthetic influence from his bicultural experience. Philosophically and spiritually, he is deeply influenced by the long history of Catholic mysticism, and is always seeking the transcendent element in all of his work.
For Benedict XVI Institute's 2023 Lenten Prayer Service, Mark Nowakowski has created a new Ad Te Levavi to be paired with the 1593 motet by Palestrina. Hear more of his music at: https://www.naxos.com/person/Mark_Nowakowski/288845.htm
Massimo Scapin , Director of Liturgical Music at Canons Regular of St. John Cantius , is a composer, pianist, and conductor of both opera and the symphonic repertoire, composer and pianist.
He holds diplomas in piano and in choral conducting from the State Conservatory of Music in Perugia, Fellowship diplomas in orchestral conducting and in composition from the National College of Music in London, and the baccalaureate in religious sciences «magna cum laude» from the Pontifical Lateran University. Scapin played piano from age 8. He attended the Pontifical Institute of Sacred Music, where he took courses, among others, in gregorian chant with Giacomo Baroffio and composition with Domenico Bartolucci; the International Academy Mozarteum in Salzburg, where he studied piano with Sergio Perticaroli; and the Accademia Musicale Pescarese, where he studied conducting with Donato Renzetti.
Massimo appeared as guest conductor and pianist in Europe, Japan, Kazakhstan, Korea, and the United States. He was conductor at the Musical Theatre of Galaţi in southeastern Romania (2001-03) and at the Musical Theater of Karaganda in central Kazakhstan (2008). From 1996 to 2008, Scapin conducted the symphonic concerts of the Portuguese Cultural Institute in Rome, some of them recorded on 14 CDs, including his «Te Deum» for tenor, baritone, chorus and orchestra, on commission for the aforementioned Institute. From Christmas 1999 to June 2010 he worked as Assistant Music Director of the Sistine Chapel Choir and on the occasion of the Great Jubilee of the Year 2000, the Office of Papal Liturgical Celebrations commissioned him to compose and conduct music for the Mass celebrated by Pope St. John Paul II at Rome's Olympic Stadium for the Jubilee of Sports People. He was also a Vatican Radio commentator and entertainer. He became assistant professor in vocal literature and piano accompanying at the Catholic University of Daegu, in southeastern South Korea, in 2011 and director of music at the Archdiocese of Chicago in 2013. In October 2013 Massimo took the podium as associate conductor of the Karaganda Symphony Orchestra. From July 2019 onwards he was Resident Composer for the Sistine Chapel Choir.
Date and time
Location
St. Patrick's Seminary & University
320 Middlefield Road
Menlo Park, CA 94025