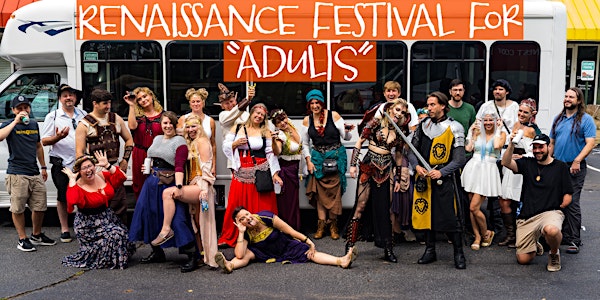 Renaissance Festival for "Adults" (3rd Annual)
The ultimate ADULT Renaissance Festival Experience!!! Bus, admission, food, drinks and friends included!
When and where
Location
Shezmu Cellars Winery & Taproom 562 Wylie Road Southeast #Suite 3 Marietta, GA 30067
Refund Policy
Refunds up to 30 days before event
Eventbrite's fee is nonrefundable.
About this event
9 hours 30 minutes

Mobile eTicket
Whether it's your first time or you're a seasoned veteran of Renaissance Faires, this will be your favorite Renaissance weekend yet! A few of the biggest problems when attending RenFest include safe transportation, staying hydrated, and assembling a group of friends. Let us handle all that!
This is our biggest year yet and we'd like to welcome our very special partners:
Monk's Mead - the official mead of the GA Renaissance Festival
Shezmu Cellars - Best of Georgia Wineries winner in 2020 & 2021
Georgia Beekeeper's Association - protecting Georgia's pollinators
Imagine meeting at a local meadery and enjoying a few drinks of mead, beer or wine while getting to know some like-minded people, all of whom are in costume just like you. After a bit, you grab a seat on a bus and continue pre-gaming for the 45 minute ride to the Renaissance Festival. Once you arrive at the festival, you are shown to a secluded clearing where there's places to store your belongings and convenient bathrooms for you and the group. After you're settled, a trumpet blows and a crier announces that lunch is served... there's turkey legs! After you've grabbed a bite to eat, a knight informs you that the soft drink station will be available all day so feel free to return as much as you like, but now we need to prepare for the Pirate Pub Crawl. "Oh yeah," you say, "I almost forgot I signed up for that!" With that, 30 of the most fun-loving people in the group make their way to the first of three pubs and private live performances, all with drinks included! After the pub crawl, you're feeling great and take a stroll around the festival grounds. At the end of the day, you board the bus (dang, that A/C feels good!) for a ride back to the meadery to begin the after party. "That's it," you think to yourself, "this is now the only acceptable way to do RenFest!"
Sound good? Grab your ticket while you can because we sell out each year! Be sure to add on the Pub Crawl because it goes the fastest. Get all the details below... there's lots of info here, so please read it all!
*** TICKET RATES INCREASE MARCH 20th SO DON'T WAIT! *** Split your ticket cost into four equal, interest-free payments by selecting the 4 payment option for payment method during checkout!
HERE'S THE PLAN
9:00am : Begin arriving at Shezmu Cellars or Monk's Mead
9:00am - 10:15am : Meet-n-Greet with other attendees (alcoholic drinks/snacks included)
10:15am : Board the bus and depart for GA Renaissance Festival (alcoholic drinks/snacks included)
11:00am: Arrive at GA RenFest and head to our private area
11:30am: Lunch is served!
12:00pm - 6:00pm : Enjoy the shows, vendors, joust, food, drink and games of the festival while always having our private area to store your things and free water, tea and lemonade to return to.
12:30pm : Pirate Pub Crawl (must have purchased Add-On!) Three taverns with free drinks and live shows just for us!
1:30pm: Costume Contest in the Jousting Arena
6:00pm : Exit the village (closed at 6pm) and regroup on buses (soft drinks/snacks included)
6:15pm : Depart the festival (soft drinks/snacks included)
7:00pm : Arrive at Departure Location for event end
7:00pm - Midnight: AFTER PARTY! Shezmu Cellars is open for more drinks, sobering up, ordering food, etc. HUZZAH!
WHAT YOU'LL STILL NEED:
Cash for spending at the RenFest. They have ATMs... but take your own cash. All food/drink vendors are cash only and many shops are too since cell service and internet is basically non-existent
Your best costume! It's officially Highlands Weekend (think Scottish/Irish), but any pirate, renaissance, cosplay or Halloween costume will do! Of course, costumes are optional, but if you're going to do it right... we recommend a costume!
HERE'S THE SPECIAL EVENTS THAT DAY:
It's OPENING DAY! The festival has just gotten started and the village of Newcastle welcomes you!
Costume Contest - 1:30pm at the Jousting Arena. Think you have the best costume in the village? Put it on display for all to see and maybe you'll win a prize!
*** TICKET RATES INCREASE MARCH 20th SO DON'T WAIT! ***
ADVENTURER TICKET Includes:
Admission into the Georgia Renaissance Festival
Private area with bathrooms and storage lockers
Unlimited water, tea and lemonade all day
Lunch catered by the Renaissance Festival (yeah turkey legs!)
An instant group of friends to enjoy the festival with!
DOES NOT INCLUDE BUS RIDE!
ROYALTY TICKET Includes:
Morning meet and greet with soft and alcoholic drinks included
A seat on the charter bus and transportation from Shezmu Cellars or Monk's Mead to RenFest and back... yes it's got a bathroom onboard!
Soft drinks, water and snacks while on the bus
Pre-game alcoholic drinks on the bus on the way TO the festival
Admission into the Georgia Renaissance Festival
Private area with bathrooms and storage lockers
Unlimited water, tea and lemonade all day
Lunch catered by the Renaissance Festival (yeah turkey leg!)
An instant group of friends to enjoy the festival with!
Shezmu Cellars Winery & Taproom is an urban winery producing local honey-wines (mead) while also pouring 30 taps of craft beer and over 25 wines from North Georgia wine country. Shezmu Cellars believes mead doesn't have to be a sweet dessert wine and focuses on producing sessionable dry meads served carbonated, nitrogenated, and still. Voted Best Winery in Georgia in 2020 and 2021 by the Georgia Business Journal, the Marietta winery is available as a venue for private events and hosts monthly art exhibits and comedy shows among the occasional themed party.
FREQUENTLY ASKED QUESTIONS:
What if it rains?
--- The show goes on rain or shine! We are hardcore like that. Honestly, your hosts go to Renaissance Faires all the time and some of the best days are the ones where it's pouring rain. The casual people go home and the real fun people are all huddled under awnings having the time of their lives!
Do I need to print my tickets?
--- No! We will be able to check you in electronically. And we will have paper tickets for you for admission to the RenFest
Is parking available?
--- Yes, there is plenty of free parking in the lot in front of the winery. There is also tons of free parking at the festival grounds if you chose to meet us there with the adventurer ticket.
Do I have to be 21?
--- No! But attendees must be 18 years of age or older and there is no discount on admission. Also, you'll be wristbanded as under-age during the morning meet and greet and bus ride. Don't worry though, we can remove the wristband once we are at the festival, we would never ruin your costume pics :)
Can I bring the kids who are under 18?
--- No... that's kind of the point.
Are there bathrooms on the bus?
--- YES, huzzah!
What is the refund policy?
--- Due to the very large fixed costs in advance of this event, we only offer refunds at least 30 days prior to the event. If you can't make it and it's too close for a refund, please contact us and we may be able to pair you with someone on our waiting list or issue you a credit for future events.