Description
Join us for our series, Stereotypes: Breaking the Mold, events that evaluate stereotypes and biases that we may have against others and how they separate us. These sessions are geared towards breaking down barriers, removing biases (that we may not even know we have!), combating microaggressions, and helping us understand how to become allies to others.
This month we will be exploring Muslim stereotypes. Join us and four panelists as they share stories about their lives (growing up, at work, and within the community) and answer your questions. Questions can be submitted through RSVP and will be asked within the session either anonymously or not.

Food, drinks, and networking provided.
Please Note:
IncludeSeattle's "Stereotypes: Breaking the Mold" events are not meant to speak on behalf of all people of specific cultures, races, ethnicities, genders, sexual orientations, ages, and more. These events are meant to provide authentic, enlightening spaces that provide value, enhance communities, and allow us to break down barriers.

Meet our Panelists!
Anab Hersi, Research Manager @ Pitchbook Data
Born in Somalia but raised in Seattle, Washington, Anab Hersi is passionate about empowering communities to understand and appreciate differences. After graduating with her Bachelor of Arts in Business Administration – International Business from Western Washington University, Anab worked in education before making the switch to pursue research in the private sector. Currently, as a Research Manager at PitchBook, she ensures to make time for her community by volunteering on UW Women's Center Making Connections Board Committee. Focused on unlocking young women's potential in STEM fields, the program is one she participated in as a high school student and which has shaped her commitment to giving back to the community. Anab is passionate about education, equality, women's rights and much more. During this past election, she volunteered for the Pramila Jayapal campaign to encourage more women of diverse backgrounds to pursue leadership in congress. On a personal note, Anab believes as individuals, we should constantly look for ways to keep improving and bringing happiness to not only ourselves but to those around us. Lover of walks around city parks, her favorite quote is by Ralph Waldo Emerson who said, "Few people know how to take a walk. The qualifications are endurance, plain clothes, old shoes, an eye for nature, good humor, vast curiosity, good speech, good silence and nothing too much."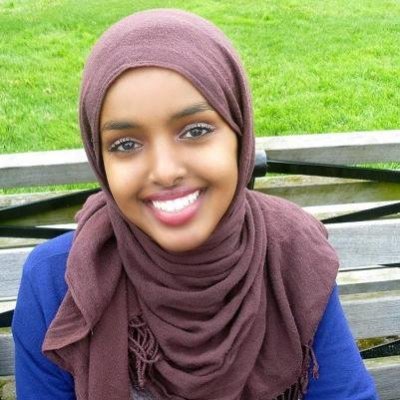 Salma Jibril, Patient Care Coordinator @ Swedish Medical Center
Salma was born in Mogadishu, Somalia and has been living in Seattle since the tender age of five. She
graduated from the University of Washington in 2012 with a focus on Public Health and English. Salma is currently a Patient Care Coordinator II at Swedish Medical Center, managing patients, providers, and external teams to get patients quality care and treatment. Salma also sits on the UW Making Connections Advisory Board, which is a college-readiness program serving local high school students. In her free time Salma enjoys writing, explring local eateries, and travelling the world. Fun fact: If she could do anything guilt free, it would be to eat good chocolate all day!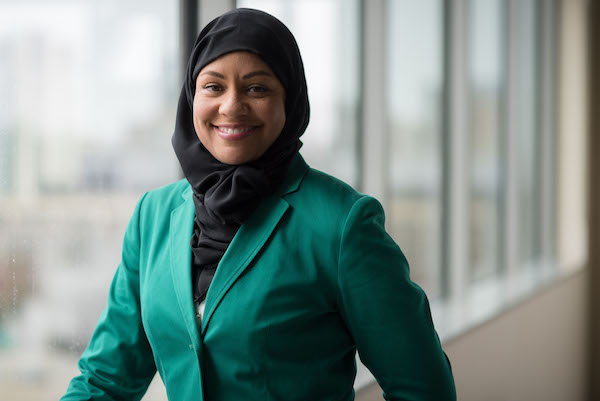 Kipepeo Brown, Director of Marketing @ Overlake Medical Center
Like most of us Kipepeo "Pep" Brown fills many roles. In her professional life she is the director of marketing, communications and community education & outreach for a Seattle area hospital, leading transformational initiatives for market share growth. Pep's career spans marketing, public relations, communications and brand development/management across myriad industries including international architecture and design firms, agencies, B2B and B2C companies. In her personal life and most relevant to this panel, she is a recent convert to Islam in the midst of a highly politicized, media-frenzied portrayal of Muslims around the globe. Additionally, Pep is an advocate for diversity in education and has volunteered and served on the boards of several non-profit organizations including The Martinez Foundation and currently, The Technology Access Foundation (TAF). She is a proud Husky and graduate of the University of Washington with degrees in communications and ethnic studies.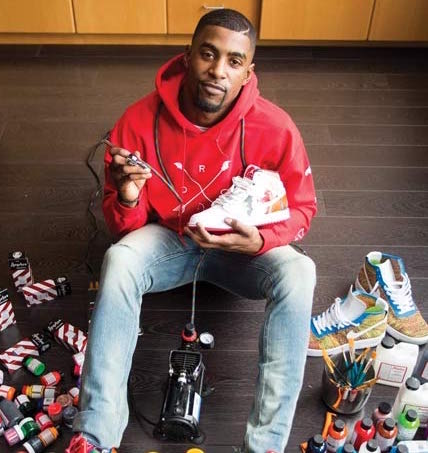 Z'heir Khali, Co-Founder Rvinbow Coalition Concepts
Z'heir Khali is a Seattle native and former high school and junior college football athlete and entrepreneur. He started Rvinbow Coalition Concepts about one year ago to customize and restore footwear, sports and motorcycle gear, and fashion apparel. Although the company provides creative services, it's vision is to provide for the community. Currently Z'heir often cooks meals to feed the homeless and ultimately plans for Rvinbow Coalition Concepts to have a storefront that also functions as a community place for artists and craftsmen to work, educate and train youth on creative trades. Z'heir is a revert to Islam.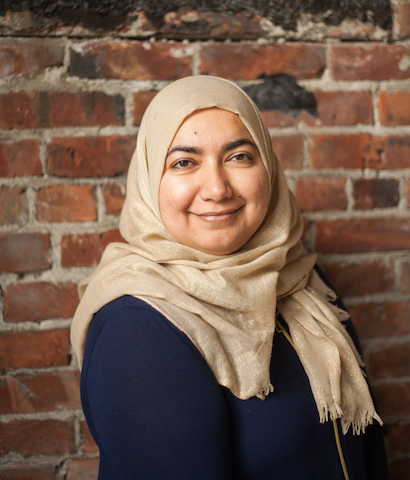 Sabika Makhdoom, Senior Database Administrator
In her tech life, Sabika Makhdoom is a Database Administrator dealing with mostly MySQL and other open source database systems. She enjoys problem solving and working with people.She wants to be part of making tech more inclusive and welcoming to all so we can focus on whats more important -solving difficult problems and making the world a better place through technological innovation. When she is not knee deep in data, she is usually engaged in artistic endeavors like fashion design or calligraphy.