Description
FORTUNE INTERNATIONAL SEMINARS
Presents:
REMOVING SELF IMPOSED BARRIERS
Featuring: Thomasema Pannell and Talisha Thomas
Best Selling Author Thomasema Pannell and the Queen of Etiquette Talisha Thomas will come together under one roof for a day you will forever remember. Thomasema and Talisha will share with you their dreams, gifts, passion, and most importantly their hearts with a message of "Removing Self Imposed Barriers" regardless of what life has given you, discover how to remove your negative self imposed beliefs, and learn strategies for re-programming your mind for positive growth.
Book signing, photos, and an opportunity to speak up close and personal with Thomasema and Talisha will be available.
---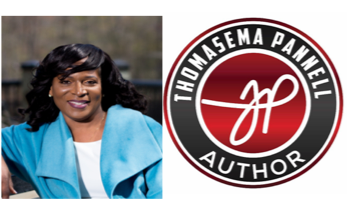 Thomasema Pannell was raised in Roosevelt, Long Island, New York since her birth.

Ms. Pannell was educated in the public schools in Roosevelt, New York. Ms. Pannell completed her Associate of Science Degree at Northern Virginia Community College, 1998 (General Studies); Bachelor of Science at National Louis University, 2001 (Business Management); Masters of Art at Central Michigan University, 2007 (Human Resources Management); and attended the University of Phoenix, completing two years Doctorate studies in Leadership Management.
Ms. Pannell is Retired, U.S. Army, after serving 20 Years of honorable service. She earned numerous awards and badges.
She is an Author, of two published books entitled: "Denton Place-Tables Turned, 2nd Edition" and "Denton Place-Letters from the Heart". Ms. Pannell is an active member of the National Association for the Advancement of Colored People (NAACP). Ms. Pannell was nominated and represents Lewis Chapel Missionary Baptist Church as the 2018 -2nd Runner up-Mother of the Year, Fayetteville Branch, NAACP, Fayetteville, NC. She was nominated and placed winner 2015/2016 NAACP-Mother of the Year, Fayetteville Branch. Ms. Pannell advanced to the North Carolina State Women of the Year competition and won 2nd Runner Up-North Carolina State Women of the Year (2015/2016).
Ms. Pannell is also an active member of The Order of The Eastern Star, Golden Link, Chapter #67, District 15 (Treasurer) and Sojourner Truth Tent #770, Fayetteville, NC.
For event details and updates please connect at the following websites:
www.thomasema.myecon.net
www.thomasemapannell.com
---

Talisha Thomas, owner of Building Business Etiquette conducts business as an etiquette and image consultant headquartered in Houston Texas with plans to expand worldwide. The goal of her company is to help teenagers, adults, and business owners gain professional, inner growth, and gain job knowledge in areas they wish to succeed.
Talisha has her degree studies from IAP Career College in Business Etiquette, International Protocol, and Image Etiquette. She also have a bachelor's degree in accounting. She studied at Prairie View A&M then later finish her degree at American Intercontinental University after she had her beautiful baby girl. She also is a member of the National Association of Urban Etiquette Professionals (NAUEP).
The business philosophy "Perfecting Purposeful People" is based on the belief that everyone has a purpose and must reach out to find their purpose. Her company offers a wide range of courses and programs that will make you stand out amongst others.
Talisha loves to volunteer her time helping others. She has help with the JASH organization, Caribbean business owners organization, Houston small business owners organizations. This is just a few of many.
---
VIP TICKET PACKAGE INCLUDES:
* VIP Seating
*Current book holders have VIP seating; please bring book
* Personally autographed copy of books
* Personal photo with authors/speakers
* Paid for lunch with authors and guest speakers
* Free 1 hour one on one coaching session valued at $500.00
** Name entered in a special one time drawing for a chance to win a 1 week family resort vacation valued at $2,800.00
"There is a mission in you and when you choose to accept it and go all out to accomplish you mission, goals, and dreams...not only will you change but you will change the world" -Scott D Fortune IV
---
Fortune International Seminars is commited to providing more value than what you invested.
* For event details and updates contact:
Fortune International Seminars LLC.
12725 W. Indian School Road Suite E-101
Avondale, Arizona 85392
Toll Free: 1-855-488-6307
E: support@scottdfortune.com
W: www.scottdfortune.com
"Go On, Go After It, Go Get It" -Scott D Fortune IV