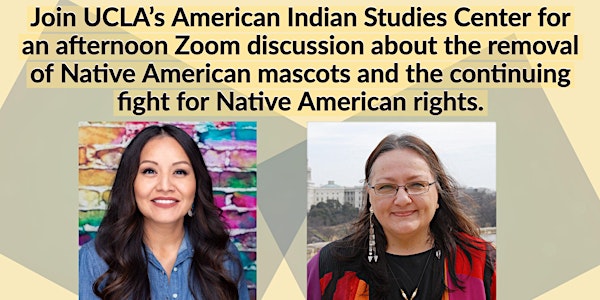 Removal of Native American Mascots and Fight for Native Rights.
Join UCLA's American Indian Studies Center for an afternoon talk focusing on the importance of teaching children about American Indians.
About this event
Join UCLA's American Indian Studies Center for an afternoon Zoom discussion about the removal of Native American mascots and the continuing fight for Native American rights.
Amanda Blackhorse (Navajo), and Suzan Shown Harjo (Cheyenne and Hodulgee Muscogee) will discuss their ongoing advocacy to remove stereotypical mascots in sports teams, schools and monuments. The talk will be moderated by UCLA American Indian Studies Center Director Shannon Speed (Chickasaw Nation).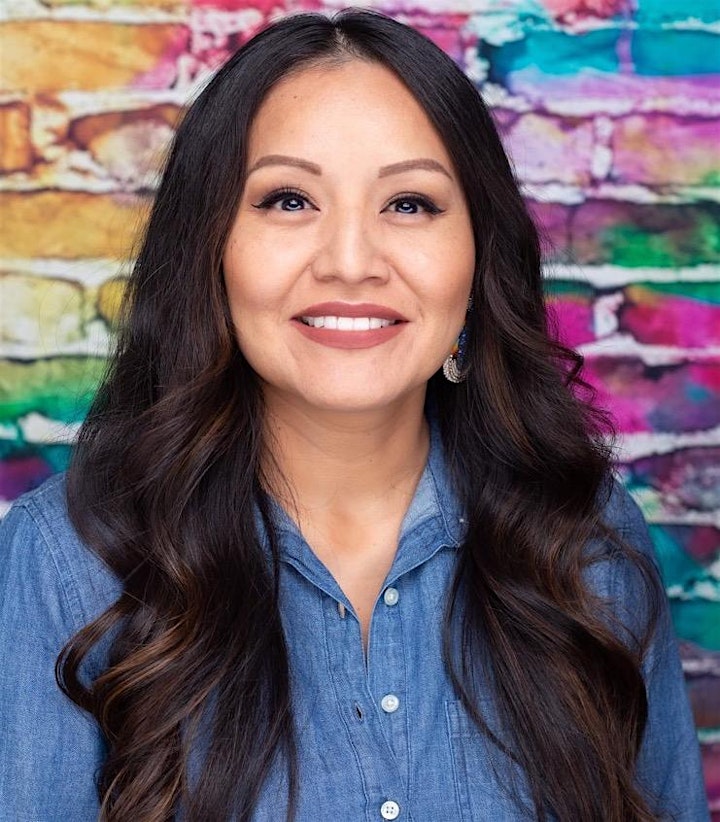 Amanda Blackhorse is Dine' and a member of the Navajo Nation. She is a licensed clinical social worker from Big Mountain and Kayenta,Arizona.
In 2014, Amanda and four other young Native American petitioners, organized by Suzan Shown Harjo and represented by Drinker Biddle and Reath won their 9 year long case before the Trademark Trial and Appeal Board under the US Patent Office in Blackhorse et.al vs. Pro Football. The petition aimed to cancel the federal registrations of the NFL team, The Washington R*dsk*ns. These registrations included the team's name and logo.
This unprecedented victory appeared to end an over 40-year battle against the R-word but over the next several years Pro-Football appealed and sued the Blackhorse group in federal court.
Unfortunately in early 2018 the Blackhorse case came to a close when the US Supreme Court struck down section 2a of the Lanham Act in a separate intellectual property case, Matal vs. Tam.
Amanda is founder of a Phoenix based group named Arizona to Rally Native American Mascots to spread awareness in Arizona about the harmful effects of offensive Native mascots and Native cultural appropriation. As an advocate against Native American mascots, Amanda speaks nationally about how colonization and historical trauma contribute to the legacy of Native American mascots.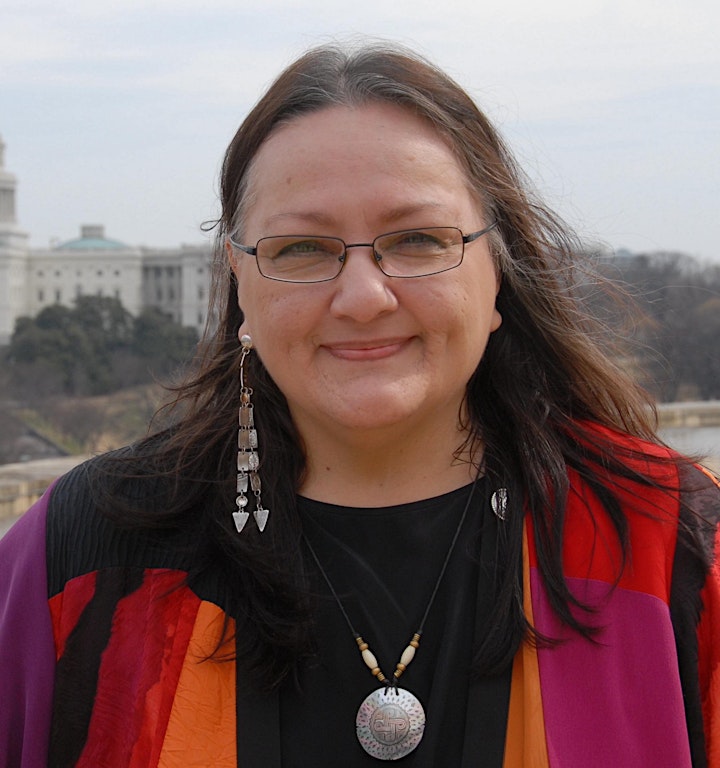 Suzan Shown Harjo (Cheyenne & Hodulgee Muscogee) is a writer, curator and policy advocate, who has developed landmark laws and led myriad campaigns for Native and Indigenous Peoples' rights. She has helped Native Nations to protect cultural, historic and sacred places, and to recover over one million acres of lands. President of The Morning Star Institute and former Executive Director of the National Congress of American Indians, she also is a poet, playwright and award-winning columnist for Indian Country Today.
Leader of many campaigns to end "Indian" stereotyping, mascoting and appropriating at the educational and professional sports levels, she is best known for her tireless work to eliminate the vile name and logo of the Washington football team, which announced it would end its R*dsk*ns identity in July 2020. Elected to the American Academy of Arts & Sciences in 2020, she is a Founding Member of its new Standing Committee on Anti-Racism.
In awarding her a 2014 Presidential Medal of Freedom, the United States' highest civilian honor, President Barack Obama said she has "fought all her life for human, civil, and treaty rights of Native peoples…her tireless efforts have protected Native culture, returned Native lands, and improved Native lives. With bold resolve, Suzan Shown Harjo pushes us to always seek justice in our time."
A Founding Trustee of the National Museum of the American Indian, she began coalition work in 1967 that led to the NMAI establishing act, repatriation laws and nationwide museum reforms it took more than 20 years to achieve. She wrote about that journey in It Began with a Vision in a Sacred Place (in Past, Present and Future Challenges of NMAI, 2011). The Institute of American Indian Arts and the NMAI honored her with a 2019 Symposium, where 14 writers presented papers that are being published in A Promise Kept: The Inspiring Life and Works of Suzan Shown Harjo (NMAI Press, Founders Series, 2021). Guest Curator of the Smithsonian Institution/NMAI exhibition (NMAI Museum on the Mall, 2014-2025), she also is Editor of the book that accompanied the exhibition (SI/NMAI Press 2014), both titled, Nation to Nation: Treaties Between the United States and American Indian Nations (Alliance of American Museums' 2016 Overall Award--Excellence in Exhibition).
An annual award—the Suzan Shown Harjo Activist for Systemic Social Justice Award—was named in tribute to her by NCORE (National Conference on Race and Ethnicity) in American Higher Education (2015). First to receive back-to-back residencies at the School of Advanced Research in Santa Fe (the 2004 Poetry Fellow and Summer Scholar), she was first to receive two Sovereignty Symposium Medals (Leadership, 2015; Honored One, 2016), the first woman awarded IAIA's Honorary Doctorate of Humanities (2011), the first Native woman Montgomery Fellow (1992) and the first Vine Deloria, Jr. Distinguished Indigenous Scholar (2008).