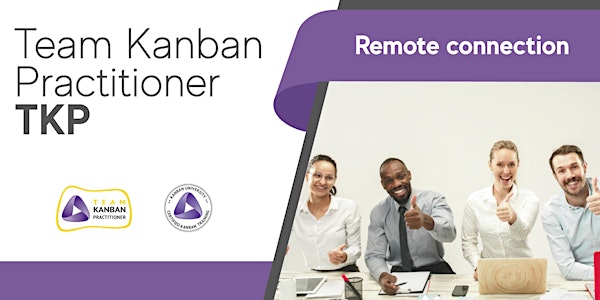 REMOTE | Team Kanban Practitioner (TKP)
Learn the basics of the Kanban Method visualization of different types of work and associated risk.
Refund Policy
Contact the organizer to request a refund.
Eventbrite's fee is nonrefundable.
About this event
Are you new to Kanban? Either if you are a team leader, a project manager or a Scrum Master looking for different easy to improve your team practices; or a team member that has been included in a SAFe or Kanban implementation, the Team Kanban Practitioner (TKP) class is the right first step in your Kanban journey!
Learn the basics of the Kanban Method visualization of different types of work and associated risk and improve the visibility, flow and or predictability of your team by Designing and implementing a Team Kanban task board.
Learning Objectives
During this one-day interactive and engaging course, you will learn the basics of visualizing different types of work and associated risk. You will learn how to design and implement a Team Kanban board.
In this program, you will learn what the Kanban Method is, the principles and practices of the Method, and how you can build your Kanban proficiency by:
Understanding core concepts of the Kanban Method.
Understanding work item types and identifying risks associated with them
Understanding the value and benefits for each on the "alternative path to agility"
Learning the 3 Change Management Principles and the 6 General Practices of The Kanban Method.
Experiencing the benefit of WIP limits to improve flow
Building a higher level of quality through the use of a Team Kanban
Understanding the variety of Team Kanban board designs and styles
Selecting the Team Kanban board design that is best suited for your context
Designing a basic Kanban board
Benefits
Attendees will become familiar with the Kanban Method and will be able to start implementing their learnings right after the training. They will be able to:
Understand work item types and the risks associated with specific work items.
Recognize a variety of different Team Kanban board designs and styles and choose the design that is best suited for their context.
Design and implement a basic Kanban board.
The Kanban Method provides pragmatic, actionable, evidence-based guidance for successful evolutionary change. It starts with what you do now and respects current roles, responsibilities and job titles, and encourages acts of leadership at all levels.
Class Agenda
This 1-day class is divided into learning modules as follows:
Introduction to Kanban
Principles & Practices of the Kanban Method
Meanings of Kanban
Basic Kanban concepts
Overview of 7 Kanban Cadences
Daily Stand-up Meeting
Replenishment Meeting
Board designs (including Personal Kanban)
WIP limits
Batching and Flow
Types of Risk
Commitment and Replenishment
Kanban board design exercise
Preview of what's next...
Service delivery workflow Kanban
Proto-Kanban versus full Kanban System
Benefits of extending Kanban up/down workflow
Team Kanban Practitioner (TKP) Certification
Successful completion of this course meets the requirement for the Team Kanban Practitioner (TKP) status designation indicating competency in visual management for improved collaboration and Team Kanban concepts based on the Kanban Method.
Participants will receive:
A certificate of completion issued by Kanban University — recognized globally as the leading certifying body for Kanban professionals.
A digital copy of the book "Kanban: Successful Evolutionary Change for Your Technology Business" by David J. Anderson.
Cancellation Policy
Refunds are available up to 7 days before the course starts. After this date, attendees will be entitled to credit to change their training session to any other date or training from Transformation Experts.