Playing Lean is an award winning board game that teaches Lean Startup in a fun and engaging way!
About this event
Playing Lean is the board game where players face the hard choices of innovation without getting out of the building.
It's our "flight simulator" for Lean Startup and innovation, the safe place where thousands of entrepreneurs have learned to fly without risking their life savings or the future of their workplace.
Now, you can experience all the benefits of the game in a digital format - from the comfort of your home!
Combining the game in a workshop format is a great way to kickstart your learning about Lean Startup and innovation. You get to play a game, have a lot of fun and still call it work!
After the workshop, you have an overview of the method, and a handle on the most important concepts. Playing Lean creates experiential learning, the kind you do not forget easily!

The workshop will be held using Zoom and Mural. You do not need to have a Mural account to join. All information on how to join the event will be sent to you in an email the day before!
Number of seats is limited to 16 to ensure the best learning experience.
This 4-hour long workshop consists of three parts.
Part 1: Executive Summary
To kick off the workshop, we'll give you the executive summary of Lean Startup:
What is the Lean Startup and why it is relevant now?
The five principles of entrepreneurship
The four stages of innovation
Part 2: Playing Lean 2
The Playing Lean 2 board game comes with the Hospitality scenario which we have been using in the previous online sessions, but for this one we will be diving into a new scenario - Social Media Scenario!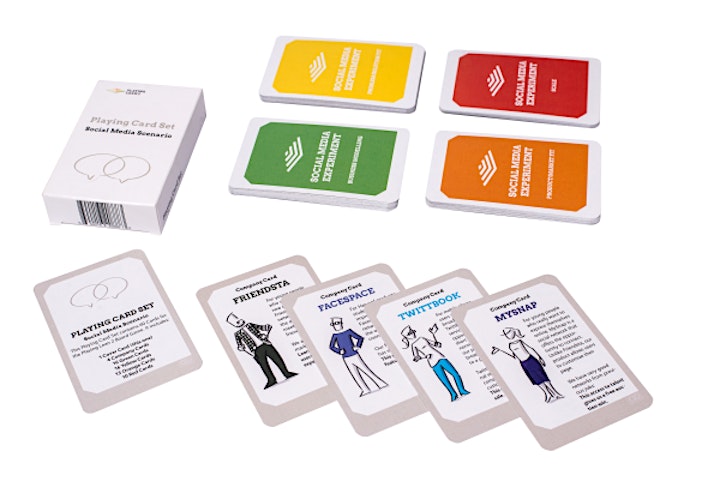 Teams take charge of one of four startups that compete for the lions share of the emerging social media platform market: FaceSpace, Friendsta, TwittBook and MySnap. Can you build a new product that the customers want, faster than your competitors?
During the game, teams will do experiments, add features to the product, build the company and win new customers.
The Lean Startup approach is at the heart of the game, and every experiment will introduce new concepts and vocabulary that the game facilitator will go through.
Part 3: Retrospective
When the dust settles, we debrief. We evaluate how each team performed and the choices that were made during the game. What would you do differently?

For Startup founders who would like to learn from experience trainers about Lean startup methodology and how to start their business in Lean Startup way.
For Intrepreneurs, individuals who would like to change how products are built and sold inside of established companies.
For Professionals working on innovative ideas or developing their projects, who want to learn about Lean Startup methodology, and how to use it to boost their odds of success.
No prior knowledge of the Lean Startup is needed to play the game! If you don't know anything about Lean Startup, you will learn a lot by playing the game. If you know something, you will learn something extra.

"Playing Lean is a well thought out tool to introduce Lean Startup concepts into new environments, allowing players to realize in a fun way how to "think Lean"."
Jorge Castellote, Transformation& Innovation Leader, Entrepreneur
"Playing Lean is an excellent game to create an understanding of the essence of Lean Startup, provide a basis for good discussions and make theory into practice."
Casper Lund, Growth Advisor
"People who are interested in Lean Startup and who don't want to read the book by Eric Ries, companies at the start or in the middle of a transition benefit most of playing the game because they can use it as something to reference."
Bert Heymans, Business Analyst

Workshop will be held by Playing Lean co-creator Bruno Pešec.
Bruno Pešec helps business leaders innovate profitably. He is the rare innovator who can claim that he's worked on a regulation-defying freight train and an award-winning board game. In addition to his corporate experience with brands like DNV GL, DNB, and Kongsberg, Bruno runs a community of entrepreneurs of several thousand members.