Remote gut health: steps to long-term wellbeing builds awareness around irritable bowel syndrome & its treatments in the digital world.
About this event
In celebration of IBS Awareness Month, the Virtual IBS Summit 2021 shines a light on the broad array of aspects in the treatment of irritable bowel syndrome and how it has changed in light of the sudden movement towards a remote life.
🎟 🎟 🎟
THIS IS A 2-DAY EVENT RUNNING ON 20 & 21 APRIL FROM 5-9 PM GMT (12-4 PM EST). YOUR TICKET IS VALID FOR AND COVERS BOTH DAYS .
🎟 🎟 🎟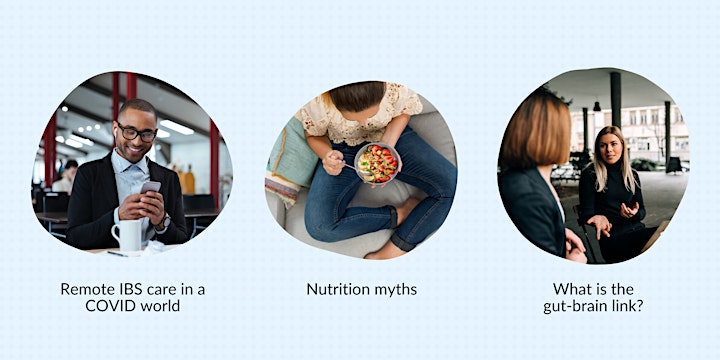 DAY 1 | Tue, Apr 20
12:00-1:00 PM EDT | 17:00-18:00 BST
Remote IBS care in a COVID world: leading your way through chronic illness management
With the healthcare system under immense pressure, chronic GI conditions have sunken down the priority list. From diagnosis to maintaining life with a chronic condition, we discuss how to get the most of every physician visit. Get the confidence to lead the conversation with your doctor and help them provide the best care for you - useful additional resources available.
1:00-2:00 PM EDT | 18:00-19:00 BST
Nutrition myths: creating a relationship with food you deserve.
Finding the right balance for your nutrition can be a challenge, but your relationship with food doesn't have to be hard. With a few tweaks and an individual approach, the balance between a healthy and delicious diet is easy to get right.
2:00-3:00 PM EDT | 19:00-20:00 BST
What is the gut-brain link and how can it help individuals understand and manage their IBS?
Managing IBS goes beyond treating the physical symptoms. But how do you address the root causes within mental wellbeing? We explore the different therapies recognised by the NHS as effective methods of managing IBS.
3:00-4:00 PM EDT | 20:00-21:00 BST
Patient discussion group: The poo taboo
Opening up the communication about digestive conditions: how to start the conversation with your friends and family and stop feeling ashamed.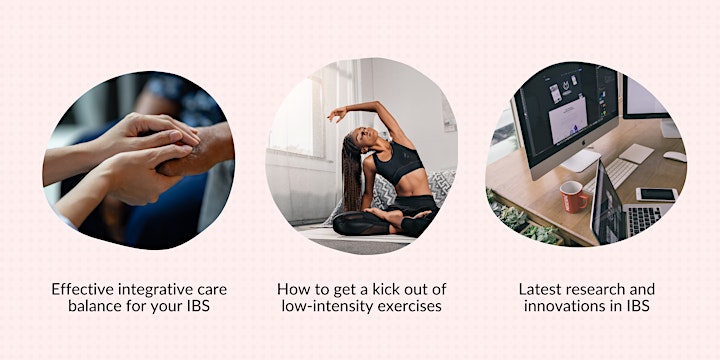 DAY 2 | Wed, Apr 21
12:00-1:00 PM EDT | 17:00-18:00 BST
The right care at the right time: effective integrative care balance for your IBS
There are plenty of therapies for IBS out there, but the key to effective treatment lies in an integrative care approach. We explore the best ways to approach integrative care for IBS, how different types of care work together and, most importantly, how to find the right balance between them that works for you.
1:00-2:00 PM EDT | 18:00-19:00 BST
How to get a kick out of low-intensity exercises. Learn the basics and join a live yoga class
Though sports may seem like a bad idea when you have IBS, the right level of activity can do just the trick. Discover what exercises work better with your symptoms and what can help, and join a live yoga class for IBS symptom relief.
2:00-2:40 PM EDT | 19:00-19:40 BST
Latest research and innovations in IBS: is digital the way forward?
From microbiome testing to the latest diagnostics for IBS, we explore the most innovative solutions on the market that improve access to effective care for all.
2:40-3:30 PM EDT | 19:40-20:30 BST
Technology and Innovations within Gut Health: panel with startups and open Q&A
3:30 -4:00 PM EDT| 20:30-21:00 BST
Summit highlights and closing remarks
🎤 🎤 🎤
ABOUT ORGANISERS
Bold Health
Bold Health is a leading digital therapeutics company empowering people to transform their gut health through a suite of effective evidence-based digital solutions. Our digital therapies leverage the most efficacious psychological & behavioral approaches for digestive health relief by restoring the gut-brain link, through virtual care programs proven to dramatically reduce symptoms and improve wellbeing.
IFFGD
The International Foundation for Functional Gastrointestinal Disorders (IFFGD) is a nonprofit education and research organization dedicated to improving the lives of people affected by a chronic gastrointestinal disorder. Founded in 1991, IFFGD helps improve care by enhancing awareness, improving education, and supporting and encouraging research into treatments and cures for chronic digestive disorders.
The IBS Network
The IBS Network is the UK's national charity for Irritable Bowel Syndrome (IBS), offering information, advice and support to patients with IBS and working with health care professionals to facilitate IBS self management.