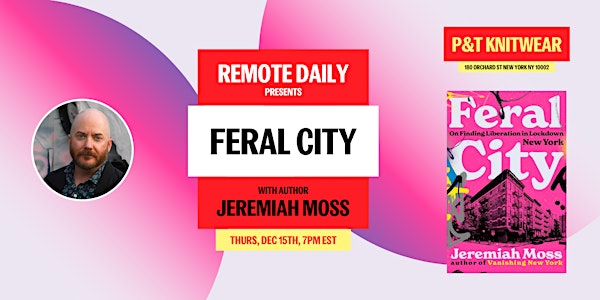 Remote Daily presents FERAL CITY, with Jeremiah Moss
An interview with author Jeremiah Moss on his second book, FERAL CITY, moderated by Remote Daily host Felix Zeltner
When and where
Location
P&T Knitwear Books & Podcasts 180 Orchard Street New York, NY 10002
About this event
P&T Knitwear is pleased to partner with Remote Daily and welcome Jeremiah Moss for a reading & discussion of his second book, Feral City (W.W. Norton), a genre-bending journey through lockdown New York! "A captivating chronicle driven by keen wit, a strong sense of place, and a clear love of a city's old soul," (Kirkus Reviews starred review) Feral City offers an exhilarating, intimate look at a city returned to its rebellious spirit while examining what happens when an entire social class abandons a metropolis.
Jeremiah will be interviewed by Remote Daily Zoom talk show host Felix Zeltner. The show will include live music with Eleanor Dubinsky and Dario Acosta Teich, mindfulness led by meditation and yoga expert Jade Alexis, and a 45min interview + 15min audience Q&A.
AVAILABLE TO SHIP MOST PLACES
The pandemic lockdown of 2020 launched an unprecedented urban experiment. Traffic disappeared from the streets. Times Square fell silent. And half a million residents fled the most crowded city in America. In this innovative and thrilling book, author and social critic Jeremiah Moss, hailed as "New York City's career elegist" (New York Times), explores a city emptied of the dominant class—and their controlling influence. "Plagues have a disinhibiting effect," Moss writes. "As the normal order is suspended, the repressive force of civilization lifts and our rules fall away, shifting the boundaries of society and psyche."
In public spaces made vibrant by New Yorkers left behind, Moss experienced an uncanny time warp. Biking through deserted Manhattan, he encountered the hustlers, eccentrics, and renegades who had been pressed into silence and invisibility by an oppressive, normative gentrification, now reemerging to reclaim the city. For one wild year the streets belonged to wandering nudists and wheelie bikers, mystical vagabonds and performance artists working to disrupt the status quo, passionate activists protesting for Black lives—along with the everyday New Yorkers who had been pushed to the margins for too long. Participating in a historic explosion of activism, resistance, and spontaneity, from queer BLM marches to exuberant outdoor dance parties, Moss discovered an intoxicating freedom. Without "hyper-normal" people to constrain it, New York became more creative, connected, humane, and joyful than it had been in years.
Moss braids this captivating narrative with an account of his renewed sense of place as a transgender man, weaving together insights from psychoanalysis, literature, and queer theory. A kaleidoscopic vision of a city transformed, Feral City offers valuable insight into the way public space and the spaces inside us are controlled and can be set free.
AVAILABLE TO SHIP MOST PLACES
PRAISE FOR FERAL CITY & JEREMIAH MOSS
"In its gentle way this is the most radical book I have read in a long time. It's a tale of daily resistance. There could be another world, and Feral City in all its thoughtful scrappy investigative feeling is a utopian map for a future I would want to inhabit. It's composed uncannily, yep, rhizomatically, out of Jeremiah Moss's own hands-on evocation of home, the disordered place where we're playing and marching." — Eileen Myles, author of For Now and Chelsea Girls
"The saddest and the most exhilarating book you will read this year. It is an epic of a liberated city, a philosophical investigation, a love poem addressed to at least a million New Yorkers, and a hex flung at those zombies Moss calls the 'hyper-normals." — Lucy Sante, author of Maybe the People Would Be the Times and Kill All Your Darlings
"Jeremiah Moss grapples with what happened when the private sector left the city at the height of the pandemic, and the people who share public space were left behind. Feral City asks the most complex questions: Who is the center of our culture? Who just owns the apparatus? What confrontations are necessary for our integrity as a collective? This story is a memory, a documentary, a personal journey, a political manifesto, a searing critique, a human embrace." — Sarah Schulman, author of Let the Record Show
AVAILABLE TO SHIP MOST PLACES
This is a free in-store event with limited amphitheater-style seating
We encourage all guests to wear masks.
The talk will be followed by a book signing. Books signed at P&T Knitwear events must be purchased from P&T Knitwear. If you would like a signed copy and cannot attend the event, we're happy to take your pre-order. We ship most places!
ABOUT THE AUTHOR
Jeremiah Moss is the acclaimed author of Vanishing New York. Winner of a Pushcart Prize, his writing has appeared in n+1, the New York Times, The New Yorker, and the Paris Review, among others. Moss is the pen name of Griffin Hansbury, who works as a psychoanalyst in Manhattan.
MORE ON REMOTE DAILY — YOUR OASIS OF INSPIRATION WITH LIVE MUSIC, MINDFULNESS AND STELLAR CONVERSATIONS!
Since March of 2020, Remote Daily has brought people together virtually for a one-of-a-kind interactive talk show on Zoom. Launched as a space to tackle the challenges of working remotely during Covid-19, Remote Daily found a safe space to learn and foster understanding for each others' experiences. Over time, music and mindfulness became a steady part of the hour, as well as world-class guests, from investor Mark Cuban to NASA astrophysicist Michelle Thaller to rapper Kosha Dillz.
Remote Daily now hosts virtual talk shows for teams, organizations and industries, helping them to build spaces for real talk, to experience live art and mindfulness independent of location and life situation, and to find belonging and connection.