Trends and Transformation in Entertainment
About this Event
In response to your requests, Remote Control is back for our new series of live video presentations. RC2 will share insights and work from some of our industry's brightest creative and technology minds. Trends and transformations are taking shape - and our guests will be joining you to explore more, dig deeper and share their lessons learned during this remarkable year.
Made possible through the generous support of HP, NVIDIA, MeetMo.io, NAB Show and Computer Graphics World.
**EVENT PLATFORM LINK TO BE EMAILED TO REGISTRANTS**
EVENT DATES:
March 11th, 2021 from 11amPT to 1pmPT
March 18th, 2021 from 11amPT to 1pmPT
March 25th, 2021 from 11amPT to 1pmPT
Each date will feature live presentations and demos from experts in virtual production, remote production tools, XR and VR technology, VFX and 3D techniques, and emerging trends in media and entertainment. Join us live and have your questions answered by those who are pioneering new ways to collaborate and innovate in 2021.
AGENDA FOR EACH DAY COMING SOON!
Sign up for the free ALL DATES pass and receive your entry to all upcoming sessions.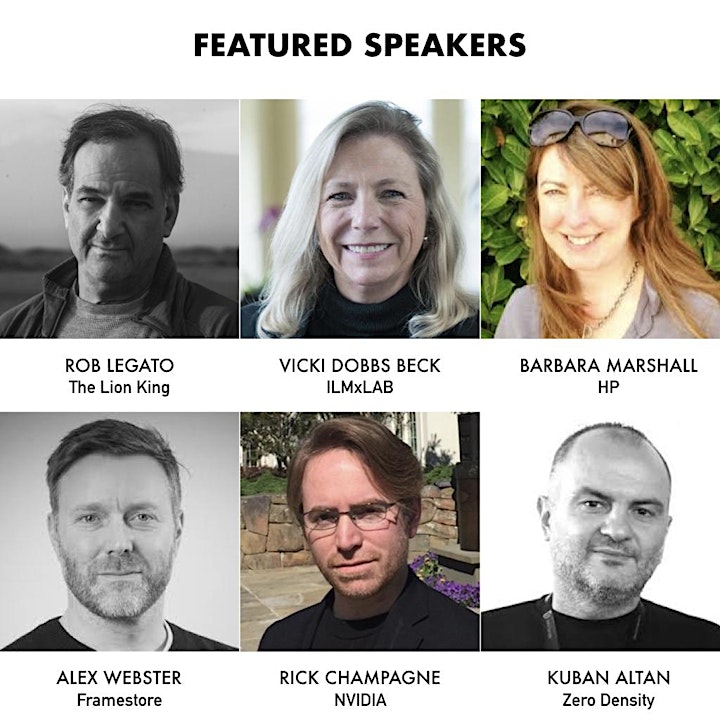 ----------------------------------------------------------------
Past Remote Control online events include an international group of speakers from such organizations as ILMxLAB, Discovery, Google Cloud, Animal Logic, Stargate Studios, Amazon Web Services, Digital Domain, the NASA Jet Propulsion Lab and many others! See below for recordings of our last live broadcasts.
Virtual Production Workflows & Insights
Broadcast on September 17th, 2020
In this episode, our host Buzz Hays of Google Cloud Platform curates a discussion on virtual production featuring top content creator Matt Workman of Cinematography Database and hears from a panel of experts with the Producers Guild of America on how virtual production is being used today. Moderated by Jenni Ogden, the panel includes industry vets Christina Lee Storm of Netflix, John Canning with Digital Domain, and producer/cinematographer Kathryn Brillhart.
Connecting Creativity to the Cloud
Broadcast on September 24th, 2020
We're joined in this episode by experts in remote collaboration with the cloud. The first discussion is moderated by Eric Iverson, CTO of Amazon Web Services, and explores that rapid adoption of remote workflows with Vicki Dobbs Beck of ILMxLAB, Dave Ward of PacketFabric, David Benson with Bebop Technology and Saker Klippsten of Zoic Studios. Next, early adopters of cloud deployment include Rob Goldheim and Wayne Caffrey with Discovery and they join our host Buzz Hays (Google Cloud Platform) to discuss how they achieved cloud migration over numerous networks. Finally, Buzz provides his thoughts on staying creative while working remotely and tips you can use to increase your productivity and engagement.
Virtual Stage Essentials, Mobility & Safety
Broadcast on October 1st, 2020
Sam Nicholson, Stargate Studios , and Michael Mansouri with Radiant Images join our program live from their studios in this episode to demystify virtual sets and how productions are capturing final pixel on set with LED walls and even 4K TVs. Armed with BTS from popular shows, they'll reveal how they did it. For our second presentation, we welcome Gary Radburn of Dell on hand to show the very best in cloud computing, VR and AR, and advise you on how to remain productive and efficient in the next normal. Finally, Ramy Katrib and Andrea Aniceto-Chavez from Digital Film Tree demonstrate SafetyViz and how this technology is being used to safely return to media production.
Return to Production with New Tools, Techniques & Workflows
Broadcast on October 8th, 2020
In our final installment for 2020, Darin Grant CTO of Animal Logic rolls out his studio's plan for staff returning to premises and how his Sydney and Vancouver locations have gone back to work safely. Next, the teams from Sohonet and Moxion.io, led by Chuck Parker and Hugh Calveley respectively, demonstrate in real-time a creative workflow for sharing and reviewing content in the cloud. We wrap up the series with Emmy winner Sasha Samochina from NASA Jet Propulsion Laboratory on how imaging is advancing exploration of our solar system. And finally a glimpse behind the scenes on how this broadcast was achieved with MeetMo.io.