Description
We will hold our annual Spring Bash on April 15, 2017. Tim Smith from the Discovery Channel TV Show Moonshiners will return to do a meet and greet. Tim will also be signing bottles.
NO MOONSHINE WILL BE AVALIABE TO PURCHASE AT RVFRD. PLEASE PURCHASE YOUR BOTTLES TO SIGN AT THE VA ABC STORE IN BEALETON OR ANY VA ABC STORE.
Free Tastings will be available. Come out and try Tim's Climax Moonshine, Climax Fire No.32 and Climax Wood Fired Whiskey.
The crew from the Hunt Channel tv show Buck Obsesion will be here also!!!
We will have a silent auction, bake sale and helicopter rides. Multiple vendors will be on display.
Helicopter Rides will be at the Remington Car Wash located at 107A S James Madison Street in Remington.
The Gun Raffle will start at 11:00 am. You do not need to be present to win. Gun will not be available to pick up onsite. If you win you will be given a form with what gun you won. You will need to go to Clark Brothers Gun Shop in Opal Va. to pick up your gun. YOU WILL NEED TO PASS A BACK GROUND CHECK.
If you are interested in a vendor spot and would like to sign up online, please click on the ticket link above.
If you would like to mail your app along with a check, please click on the link below. Make checks payable to Remington Vol. Fire and Rescue.
CLICK IMAGE TO INLARGE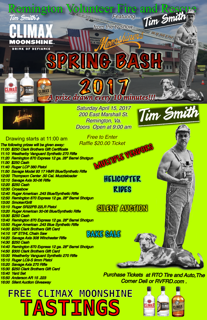 Date and Time
Location
Remington Volunteer Fire and Rescue Departmen
200 E Marshall St
Remington, VA 22734