REMINDER: RSVP FOR NATIONAL SECURITY POLICY: WHERE DO WE GO FROM HERE?

Thursday, December 4, 2014 from 6:30 PM to 9:00 PM (CST)
Event Details
NATIONAL SECURITY POLICY: WHERE DO WE GO FROM HERE?
The National Security Society will launch this important policy conversation with its upcoming panel, "National Security Policy: Where do we go from here?" Our panelists with a military and/or national security background will discuss the future of national security policy and policy solutions geared toward advancing American strength and security as the presidential election cycle begins.
PANELISTS:
PETE HEGSETH: Pete Hegseth serves as Chief Executive Officer for Concerned Veterans for America and is a Fox News contributor. Prior to joining CVA, Hegseth was Executive Director for Vets for Freedom from 2007-2011, growing the Iraq and Afghanistan veterans organization to over 95,000 members. An infantry Captain in the Army National Guard, Hegseth returned from a deployment to Afghanistan in 2012, where he was the senior counterinsurgency instructor at the Counterinsurgency Training Center in Kabul. Pete previously served in Iraq with the 3rd Brigade of the 101st Airborne Division for their 2005-2006 deployment, serving as an infantry Platoon Leader in Baghdad in 2005, and as a Civil-Military Operations officer in Samarra in 2006. He also served in Guantanamo Bay for a year with his National Guard unit. Pete holds two Bronze Stars and a Combat Infantryman's Badge for his time in Iraq and Afghanistan. Hegseth appears regularly on Fox News Channel as a contributor—including weekly segments on FOX & Friends and The Kelly File. He has appeared on numerous CNN, MSNBC, The Blaze, and C-SPAN programs. He has written multiple columns in the Wall Street Journal and Washington Post; and is a frequent contributor to National Review Online. He is a Senior Fellow at the Center of the American Experiment and a Term Member of the Council on Foreign Relations. Pete graduated from Princeton University in 2003 and completed a Masters in Public Policy at Harvard University's John F. Kennedy School of Government in 2013.
AMIR GHARBI: Amir Arnold Gharbi served as a US Army captain in Iraq and Afghanistan. Gharbi is a graduate of the United States Military Academy at West Point where he studied international relations and was commissioned as a Second Lieutenant in 2004. He qualified as a UH-60 Black Hawk helicopter pilot and led an aviation platoon of 40 soldiers with the 3rd Armored Cavalry Regiment based in Fort Hood, TX. In 2007, he was the Operations Officer for a development-oriented 83-person interagency Provincial Reconstruction Team in Afghanistan's Ghazni Province. Gharbi finished his eight years of active duty service with the 12th Combat Aviation Brigade in Ansbach, Germany, and deployed to Iraq in 2010 with that unit. Amir's military decorations include the Meritorious Service Medal, Combat Action Badge, and Aviator Badge. Amir used the GI Bill to earn a Master in Public Policy at Harvard University's John F. Kennedy School of Government in 2014. He currently works as a civil servant in Minnesota and volunteers as a Special Deputy with the Hennepin County Sheriff's Office. Amir and his wife Carolin have three children – Michelle, Amelia, and Henry.
RANDY SUTTER: Richard "Randy" Sutter is a retired Air Force lieutenant colonel, whose career involved testing of unmanned aircraft and cruise missiles and program management of airborne communications and surveillance radar upgrades.  Upon his Air Force retirement in 1991, Randy served as the lead engineer for the surveillance radar upgrade of the NATO fleet of Airborne Warning and Control System aircraft.  In 2002, he accepted a position as a program manager for a major defense contractor.  Over the past 12 years, he has led production programs building and delivering specialized reliable electronic equipment for high performance aircraft and missile systems.  Randy and his wife Barbara Sutter reside in Bloomington.
CLICK HERE TO OPEN THE EVENT INVITATION BELOW: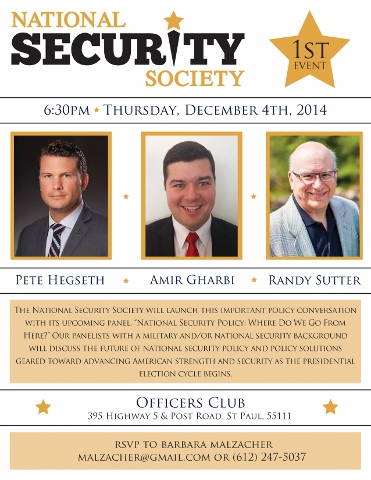 When & Where

Officers' Club 934
395 Highway 5 & Post Road
St Paul, MN 55111


Thursday, December 4, 2014 from 6:30 PM to 9:00 PM (CST)
Add to my calendar
Organizer
National Security Society
REMINDER: RSVP FOR NATIONAL SECURITY POLICY: WHERE DO WE GO FROM HERE?