Reminder: Launch of EUROBAT Election Manifesto Event - 19/02/2019
Description

Dear, Brussels, 04/02/2019
EUROBAT, the Association of European Manufacturers of Automotive and Industrial Batteries, has the pleasure to invite you to the presentation of the European battery industry's « Election Manifesto 2019-2024 ».
During the event, we will look ahead towards the next European Parliament and European Commission term and debate the policy needs of the European battery industry to keep contributing to jobs, growth and innovation in Europe.
Details in terms of programme and timing, are the following:
Location: Residence Palace, Rue de la Loi 175, 1048 Brussels (map)
Date: Tuesday, February 19th 2019 from 17.30 – 21.30h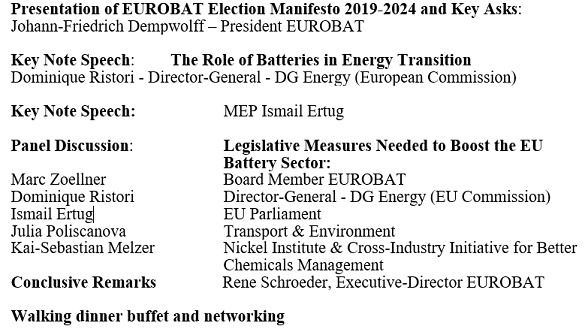 For more information, feel free to mail us on gmeylemans@eurobat.org
Looking forward to seeing you and a constructive discussion on the 19th of February.
Kind regards
Rene Schroeder
Executive-Director
EUROBAT