Remembrance Ride for Officer Destin Legieza.
About this event
Remembrance Ride for fallen Officer Destin
Legieza of Brentwood Police department.
Officer Destin Legieza was killed in a crash by a
drunk driver June 18, 2020. Legieza was a
third-generation law enforcement officer. The
Spotted Shark Foundation created a
Remembrance Ride for Officer Destin Legieza,
donations will benefit his memorial
marker/bench in Brentwood, Tennessee.
Motorcycles will meet at Crusty Grunt Cycles,
3710 John Lunn Rd, Spring Hill, TN.
Registration starts at 8am and Kick Stands up-
10am. Come take a beautiful scenic ride with us
in honor of fallen Officer Destin Legieza. We
kindly ask for vehicles to hold rear of ride.
Coffee and donuts will be provided by local
businesses. Due to Covid rules and
regulations, we ask for everyone to book online
in advance. Your tickets/ wrist bands will be
provided by The Spotted Shark Foundation day
of event. Hope to see everyone there!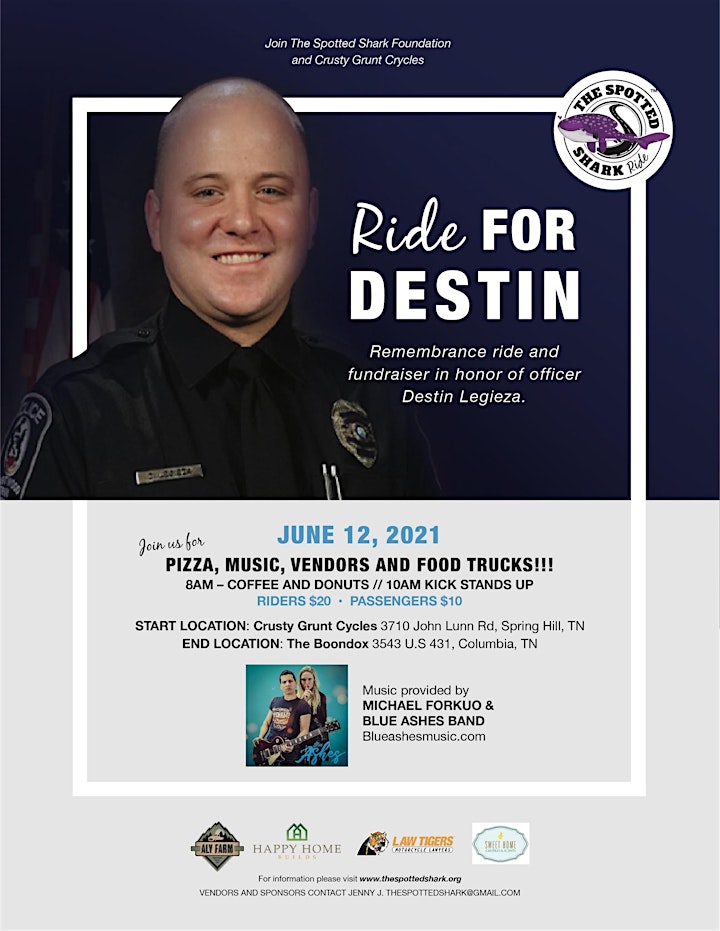 Organizer of Remembrance Ride for Officer Destin Legieza Memorial Marker/Bench