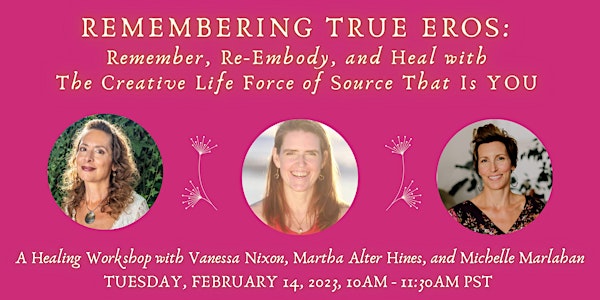 Remembering True Eros
Remember, Re-Embody, and Heal with the Creative Life Force of Source That is YOU
Date and time
Tuesday, February 14 · 10 - 11:30am PST
Refund Policy
Refunds up to 30 days before event
Eventbrite's fee is nonrefundable.
About this event
Join us on February 14, 2023, 10-11:30am PST!
Celebrate Valentine's Day in a way that feels truly soul nourishing for you.
Feel nurtured, deeply loved, in touch with the love and life of Source itself that is YOU!
Join Martha Alter Hines, Vanessa Nixon, and Michelle Marlahan for a special workshop to remembering, re-embody, and heal with the true essence of Eros, the archetype, energy, and asteroid.
This year, the asteroid, Eros, plays a powerful role in the astrology setting up the next several decades.
JOIN US TO:
Learn About The Powerful Opportunities for Healing and Transformation We Have This Year and Moving Forward
Feel Yourself Come Fully Alive
Remember What It Means That You Are a Literal Being of the Life Force of Source Itself
Experience the Healing That Happens When True Eros Flows In and As You
In this Live and Recorded 90 MINUTE WORKSHOP, you will:
1) Learn about the Archetype and the Astrology of Eros, the God and the Asteroid.
2) Be Held By the Spirit World in a Channeled, Guided Experience of Remembering the True Essence of Eros as YOU.
3) Enjoy a beautiful sacred movement practice to tap into creative, source energy to set our intentions and embody them in a state of self-love.
4) Experience the medicine of loving self-regard and tender gestures of care as we move through yoga shapes that help us remember our Life Force.
Join us live and/or have the recording indefinitely!
LEAVE THIS WORKSHOP FEELING:
A New Sense of Understanding of the True Essence of Eros
Connected to the Calm Pulse of Energy and the Rich Resource of Life Force of Source That Is You
Deeply Loved By Yourself, By the Spirit World, and By Life Itself
Surrounded By Loving Community
Connected With Your Innate, Divine Wisdom
Calm, Alive, and Ready to Move Into Your Life Rejuvenated and Inspired
This workshop also comes with 20% off any one on one personal session with Martha and 50% off a personal session with Vanessa.
Joining this workshop also gives you access to Martha's new online Living the One Light community forum to connect with other like minded souls.
Frequently asked questions
Do I need to be there live?
About the organizer
Martha Alter Hines, MSW has an extensive background as a clinical social worker, psychotherapist, and body worker. In 2018, she had a significant spiritual experience in which she was asked to shift her life path to incorporate her clinical skills as well as her awareness of and connection to the spiritual world. She is channeling a series of eight books, three of which are published. Each are reminders that we are beings of the divine, the cosmos, the Earth, and the All That Is. Martha now works one on one and in groups to support us all to remember the divine being that we are, the divine wisdom that is innate in us, and to thrive in that divinity, to heal ourselves, to heal our world, and to come back into the wholeness that we are. Find Martha at https://livingtheonelight.com/