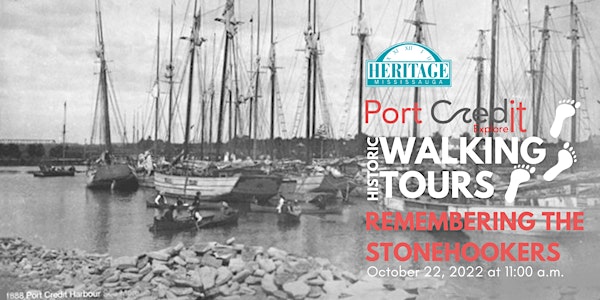 Remembering the Stonehookers of Port Credit Historic Walking Tour
Remembering the Stonehookers of Port Credit Historic Walking Tour
When and where
Location
Port Credit Lighthouse 105 Lakeshore Road West Mississauga, ON L5H 1E9 Canada
About this event
Join us on October 22, 2022, at 11:00 a.m. at the iconic Port Credit Lighthouse as we embark on a journey back in time to when the historic Stonehookers worked the shores of Port Credit.
Every town has its own unique story to tell. For Port Credit, that story is about the Stonehookers. These were the men (and even one woman) who set out from the village's harbour, one hundred years ago, in search of a prized commodity. Their stories are not about shipwrecks and adventure, but of the teamwork and perseverance needed to make a living from the lake, and the dedication to make their hometown thrive.
The tour is 90 minutes so please dress for the weather.
There is no fee to take the journey, we just ask that you tip your tour guide, Historian Richard Collins.
Port Credit BIA is pleased to work in partnership with Heritage Mississauga to continue to bring these magical history tours to Port Credit.
Don't forget to register for our other upcoming tours:
Port Credit Cemetery Tour: October 23, 2022 at 11:00 a.m.
Haunted Lighthouse: Tales of Sunken Ships: October 29, 2022 at 6:00 p.m.
Photo credit: Mississauga South Historical Society (Harold Hare collection)