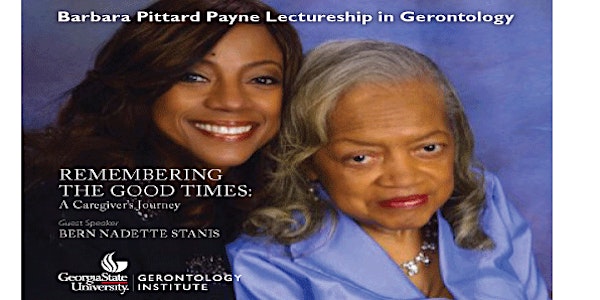 "Remembering the Good Times: A Caregiver's Journey" Barbara Pittard Payne Lectureship in Gerontology
When and where
Location
Georgia State University 100 Auburn Avenue Centennial Hall Atlanta, GA 30303
Description
Barbara Pittard Payne Lectureship in Gerontology
"Remembering the Good Times: A Caregiver's Journey"
Speaker: Bern Nadette Stanis, best known as Thelma Evans from "Good Times."
Date: Wednesday, March 22, 2017 at 6:00 p.m.
Bern Nadette Stanis is the Alzheimer's Association National Spokesperson. Bern Nadette Stanis is best known as the quick-witted, savvy, original "It" girl, Thelma Evans, from the groundbreaking sitcom, "Good Times." Today, Bern Nadette Stanis travels the world as the author of three books. Her most recent work, The Last Night: A Caregiver's Journey, profiles the walk of a loving daughter with a beloved mother diagnosed with Alzheimer's.
The lecture is FREE and open to the public. We welcome and encourage you to share this announcement with others and to invite guests.
Parking will be available at the 75 Piedmont parking Deck located off of J.W. Dobbs Avenue and surrounding parking lots.
RSVP via Eventbrite
For more information, please contact us at gerontology@gsu.edu or 404-413-5210.

Thank you,

The Gerontology Institute
404-413-5210
Email: gerontology@gsu.edu
Website:http://gerontology.gsu.edu/