Remembering Samuel Coleridge-Taylor (15 Aug 1875 - 1 Sept 1912) - an African British musical genius & pan-Africanist

Friday, September 21, 2012 from 6:00 PM to 8:30 PM (BST)
Event Details
BTWSC in association with
BritishBlackMusic.com/Black Music Congress,
and Samuel Coleridge-Taylor 100PM Collective
cordially invite you
to a family-friendly 2012 African History Season event
hosted by Cllr James Allie

Remembering Samuel Coleridge-Taylor
(15 Aug 1875 - 1 Sept 1912) - an African British musical genius & pan-Africanist

An audio-visual presentation
on African British history & music*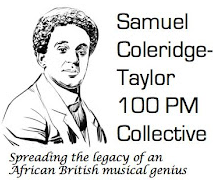 What: A power point assisted presentation on Samuel Coleridge-Taylor, (SC-T) the African British classical music composer and Pan-Africanist, by Kwaku.  The presentation will provide a synopsis of SC-T's life, work, and legacy, and enable the audience to hear bits of his work. This will be followed by a Q & A

When: Friday September 21 2012, 6-8.30pm
Where: Brent Town Hall (Committee Rooms 2/3), Forty Lane, Wembley, Middlesex HA9 9HD 
Cost: Free
To RVSP, book or for more information: Awula Serwah, btwsc@hotmail.com
http://sct2012brent.eventbrite.com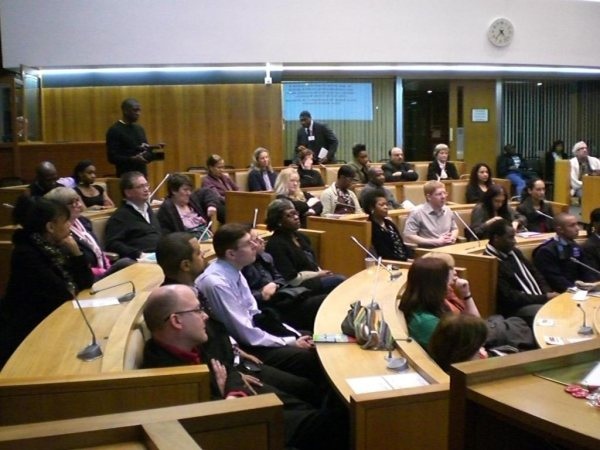 Audience at Kwaku-led 'Messrs Samuel Coleridge-Talor & Courtney Pine' presentation at Harrow Civil Centre in 2010
*UK-based music industry and history consultant Kwaku will lead a Powerpoint-assisted presentation on the life of Samuel Coleridge-Taylor (SC-T), one of Britain's favourite composers of the early 20th century, and introduce some of his works, including 'Hiawatha's Wedding Feast', which at one time vied with 'Messiah' and 'Elijah' as one of Britain's most popular choral composition.
SC-T, born of Sierra Leonean/English parentage, was feted internationally. He made three successful tours in the US, where he became the first African to conduct an all European orchestra and was invited to meet President Theodore Roosevelt in the White House. SC-T was proud of his African roots, and tried incorporating African themes within classical music. He was a member of the African Association, which organised the 1900 Pan-African Conference in London, where SC-T met WEB Du Bois, who had an influence on the composer. The dire circumstances of  SC-T's estate partly led to the formation in 1914 of Britain's Performing Right Society (PRS), which collects royalties for composers and music publishers.
The presentation will be followed by a Q&A session during which SC-T's life as an African living in England at the turn of the 20th century, a pan-Africanist, and his relationship with Du Bois, will be explored.  The event will be introduced by Cllr James Allie.
Have questions about Remembering Samuel Coleridge-Taylor (15 Aug 1875 - 1 Sept 1912) - an African British musical genius & pan-Africanist?
Contact BTWSC
When & Where
Brent Town Hall (Committee Rooms 2 And 3)
Forty Lane
HA9 9HD Wembley
United Kingdom


Friday, September 21, 2012 from 6:00 PM to 8:30 PM (BST)
Add to my calendar
Organizer
BTWSC
Photography & Videotaping Notice

This event may be photographed, and/or videotaped on behalf of the organiser for display, distribution, and broadcast, including on television and the world wide web.

By attending or participating in this event, you are giving your consent to be photographed and/or videotaped and waiving any claims regarding the use of your image or contribution.

No videoing allowed without the prior and express permission of the organiser.
BTWSC is a Brent-based, pan-London not-for-profit voluntary organisation. It uses the creative arts to develop the potential of youth and adults. It is also engaged in raising aspirations and promoting social inclusion. BTWSC's core projects are centred around music industry, event planning, and music technology courses; writing workshops and writing competitions; ceremonies recognising unsung people; and family and community cohesion projects. For more details: www.BTWSC.com  in association with:
Samuel Coleridge-Taylor 100 PM Collective (SCT100PM Collective or just the Collective; ^Post Mortem) is a London, UK based initiative.  You can contact us via editor@BritishBlackmusic.com. The SCT10PM Collective is a BritishBlackMusic.com/Black Music Congress initiative, led by Kwaku, and supported by Kienda Hoji, Commercial Music BA director Kienda Hoji at University Of Westminster, plus various Collective members. For more details: http://www.sct100pmcollective.blogspot.com/p/about-uscontact.html
BritishBlackMusic.com (BBM) is an online resource providing information about music, music business, and music business education with a bias towards British and black music. Its off-line activities include cultural industries research, consultancy, music business courses, and it organises seminars, conferences, and the Black Music Congress (BMC) debates. For more details: http://www.britishblackmusic.com/index.php?option=com_content&view=article&id=5&Itemid=36
Remembering Samuel Coleridge-Taylor (15 Aug 1875 - 1 Sept 1912) - an African British musical genius & pan-Africanist