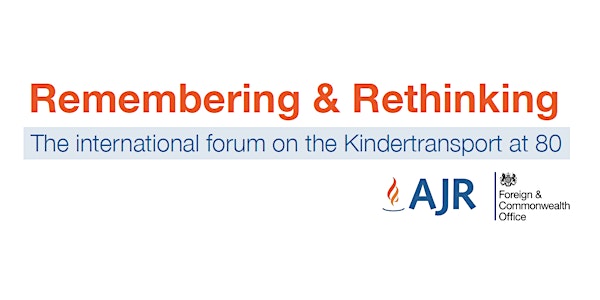 Remembering & Rethinking: The international forum on the Kindertransport at 80
When and where
Location
Lancaster House Stable Yard London SW1A 1BB United Kingdom
Refund Policy
Contact the organizer to request a refund.
Description
The Association of Jewish Refugees (AJR), in partnership with the UK Special Envoy for Post-Holocaust Issues, The Rt Hon. The Lord Pickles, will host Remembering & Rethinking: The international forum on the Kindertransport at 80 in London from 15-16 April 2019 to mark the 80th anniversary of the Kindertransport. The forum will combine commemoration, learning and practical action in relation to contemporary refugee issues.
PRELIMINARY PROGRAMME (subject to change)
Monday 15th April
08.45 – 09:30 Registration and coffee
09.30 – 09.45 Welcome & introduction, Michael Newman, Chief Executive, The Association of Jewish Refugees (AJR)
09.45 – 11.15 The Kindertransport in context – policy and memory (Chair: Alex Maws, AJR)
Teaching, Learning, and Remembering the Kindertransport, Dr Andy Pearce, Centre for Holocaust Education, University College London
British policy and the immigration of unaccompanied refugee children, Dr Louise London, Pears Institute for the study of Antisemitism, Birkbeck Colleg
Never look back? The History of Kindertransport Research and Commemoration, Dr Andrea Hammel, Aberystwyth University
11.15 – 11.30 Coffee break
11.30 – 12.15 In conversation, Hella Pick CBE, journalist (Interviewer: Dr Bea Lewkowicz, AJR)
12.15 – 13.15 The archival record of the Kindertransport (Chair: Michael Newman, AJR)
The Children's Transports from Vienna, and the Children Left Behind, Professor Paul Weindling, Oxford Brookes University
Stories from the archives: uncovering the experiences of the Kindertransport children in World Jewish Relief's documents, Debbie Cantor, World Jewish Relief
A New Life: The Experiences of Kindertransportees Settling in Britain as Shown in the Archives of The Wiener Library, Dr Barbara Warnock, Wiener Library
13.15 – 14.00 Lunch
14.00 – 14.15 Commemorating the 80th Anniversary of the Kindertransport, The Rt Hon James Brokenshire MP, Secretary of State for Housing, Communities and Local Government
14.15 – 14.45 Kinder in the AJR Refugee Voices Testimony Archive, Dr Bea Lewkowicz, AJR (Q&A moderator, Michael Newman, AJR)
14.45 – 15.30 Lesser-known histories, part 1 (Chair: TBC)
The resilience of the refugee: How do Kindertransport memoirs complicate understandings of 'resilience'? Stephanie Homer, School of Advanced Study, University of London
'From Hitler to Hi-de-Hi'? The role of the Dovercourt Holiday Camp in the first months of the Kindertransport, Mike Levy, Anglia Ruskin University
15.30 – 15.45 Coffee break
15.45 – 16.15 Preserving memory through education (Chair: Alex Maws, AJR)
Teaching about the Kindertransport in British schools, Clementine Smith, Holocaust Educational Trust
The 'Virtual Journey': Teaching about the Kindertransport using a digital learning resource, Louise Stafford, National Holocaust Centre and Museum
16.15 – 16.45 National cultures of remembrance (Chair: Michael Newman, AJR)
The legacy of the Kindertransport in Germany, Ambassador Michaela Küchler, German Foreign Office Special Representative for Relations with Jewish Organisations, Antisemitism, Antiziganism and Holocaust Remembrance
Britain's responsibility to remember, The Rt Hon. The Lord Pickles, UK Special Envoy for Post-Holocaust Issues
16.45 – 17.00 Day 1 wrap-up/summary, Dr Toby Simpson, Wiener Library
18.00 – 20.00 Reception at the Austrian Residence, 18 Belgrave Square, London SW1X 8PQ
Tuesday 16th April
08.00 – 09.00 Breakfast meeting for the children and grandchildren of Kinder
08.45 – 09:00 Registration (for day-2 only attendees) and coffee
09.00 – 09.15 Welcome & introduction, Alex Maws, AJR
09.15 - 10.00 Kindertransport remembrance: Austrian and German perspectives (Chair: David Herman, AJR)
The German government's expulsion of a generation from 1938-39, Lisa Bechner, Kindertransport Organisation Deutschland
Passing on the memory of the Kindertransport stories: Museum zur Erinnerung' Für das Kind – a Project funded by the National Fund, Milli Segal, Kindertransport Museum, Vienna, and Hannah Lessing, The National Fund of the Republic of Austria for Victims of National Socialism
10.00 - 11.15 Intergenerational responses: the children of refugees (Chair: Danny Kalman, AJR Kindertransport Group)
'Visions of the Kindertransport' (exhibition) and 'My Knees Were Jumping; Remembering The Kindertransports' (film), Melissa Hacker, Kindertransport Association (KTA)
'Kinder' (film), Janet Eisenstein, Co-writer/Executive Producer
'Suitcase' (theatre), Jane Merkin, Producer
11.15 - 11.30 Coffee break
11.30 - 12.45 Lesser-known histories, part 2 (Chair: Dr Bea Lewkowicz, AJR)
Unravelling the story of Truus Wijsmuller, Pamela Sturhoofd & Jessica van Tijn, including Q&A with Rabbi Harry Jacobi
A filmmaker's journey exploring the story of the last Kindertransport boat from Poland, Alan Reich, including Q&A with Sir Eric Reich
12.45 – 13.30 Lunch
13.30 – 14.00 Second generation: Mixing the personal and professional, Professor Sir Simon Wessely, Kings College London (Q&A moderator: Gaby Glassman, AJR Trustee)
14.00 - 15.00 Roundtable discussion: The contemporary relevance of the Kindertransport (Chair: Rabbi Alex Goldberg, Trustee, René Cassin)
Barbara Winton, Sir Nicholas Winton Memorial Trust

Rosie Rooney, Safe Passage UK

Abdulazez Dukhan, Syrian Refugee

Sir Erich Reich, AJR Trustee

Video message from Lord Alf Dubs
15.00 – 15.15 Coffee break
15.15 – 16.00 If Not Now When? Kinder Voices and Today's Global Refugee Crisis, Mark Hetfield, HIAS (Q&A moderator: Melissa Hacker, KTA)
16.00 – 16.30 Commemorating the Kindertransport at the UK's new memorial and learning centre, Asa Bruno, Director, Ron Arad Architects Ltd. (Q&A moderator: Alex Maws: AJR)
16.30 - 16.45 Day 2 wrap-up/summary, Dr Gideon Reuveni, University of Sussex
16.45 - 17.00 Closing remarks and ways forward, Michael Newman, AJR
Exhibitors
The Council of Christians and Jews
Wiener Library
Scottish Jewish Archives Centre
The Holocaust Exhibition & Learning Centre
Insiders/Outsiders Festival
Holocaust Educational Trust
Manchester Jewish Museum
National Holocaust Centre
Jewish Museum London
Safe Passage UK
World Jewish Relief
Holocaust Memorial Day Trust
Aims of the international forum
Rethinking the historical narrative – With the UK engaging in a government-led process that will shape Holocaust memory for the next generation and beyond, the forum will provide a platform for scholars whose work highlights the refugee experience in all its historical complexity, helping to establish its central place in the British narrative.
Putting 'remembering' into practice — The present day refugee crisis represents a clear example of how an understanding of the events of the 1930s and '40s can and should inform policies and attitudes today. The international forum will address the contemporary relevance of the Jewish refugee experience and hear the voices of experts in the topic.
Highlighting good practice – The AJR is the UK's largest dedicated funder of Holocaust educational and remembrance programmes. In this capacity, we promote innovation and impact-led programming within Britain's leading Holocaust education and remembrance organisations and beyond. The forum will be an opportunity for institutions to network and showcase their output for the benefit of both domestic and international counterparts.
Target audience & content
The conference aims to build bridges between scholars, educators, practitioners, policy makers and those who may have a more personal or tangential interest in the subject. Participation is particularly encouraged amongst:

Academics/scholars

Survivors/refugees, including Kinder and their descendants

Teachers

Holocaust remembrance/education sector stakeholders

Stakeholders working on contemporary refugee issues

Journalists

Parliamentarians

Diplomats
Registration
Two days: £60 / £40 with concessions (Students, AJR members)
Single day: £40 / £30 with concessions