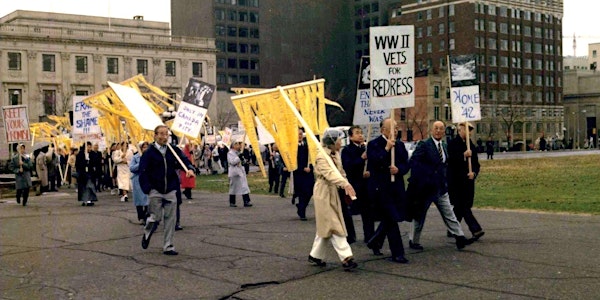 Remembering Redress by Those Who Were There
A celebration to acknowledge and thank those who stood with Japanese Canadians in our fight for redress for WWII injustices
When and where
Location
Church of the Holy Trinity 19 Trinity Square Toronto, ON M5G 1B1 Canada
About this event
Please join us for a special celebration to acknowledge and thank those who stood with Japanese Canadians during their times of trial (internment, property theft, exile and dispersal). As well, we will recognize the courageous support of individuals and groups that made the historic achievement of federal Redress possible.
Our main speaker is Ed Broadbent, former MP and former federal leader of the NDP, and our MC is Shin Imai, well known human rights lawyer. Other speakers are John Brewin, former MP and son of Andrew Brewin of the Cooperative Committee on Japanese Canadians; Justice Maryka Omatsu, co-chair of the current B.C. Redress Steering Committee of the National Association of Japanese Canadians; and Joy Kogawa, noted author and social activist.
This is a unique opportunity to meet and mingle with people who made a real difference, and for in-person conversation with them.
All are invited to attend in the spirit of thankfulness underlying this event. There will be: a potluck supper; musical performances by William Aide, Bruce Tatemichi and Mauro Belloto; and a selection of books by Japanese Canadian authors for sale.
When: Saturday, October 5, 5:30 to 9:00 pm (doors open 5:00 pm).
Where: Church of the Holy Trinity, 19 Trinity Square, Toronto (near the Eaton Centre; exit the main mall from the west doors just south of Nordstrom). Wheelchair accessible venue; paid parking available nearby at City Hall or the Eaton Centre. Closest TTC access via subway (Dundas Station or Queen Station's north exit) or either the Dundas or Queen streetcars.
For more information, please contact: JCforsocialjustice@gmail.com
To make a contribution to the potluck, please contact Danielle: dkoyama.jcsj@gmail.com
Ben McNally Book Table featuring works by Leslie Shimotakahara, Mark Sakamoto, Lynne Kutsukake, Kerri Sakamoto, Joy Kogawa, and Kyo Maclear.
Sponsored by: Church of the Holy Trinity; Japanese Canadians for Social Justice; St. Andrews Japanese Anglican Congregation; We Should Know Each Other; Nikkei Voice; and the Japanese Canadian Cultural Centre.