Remember, Recover, Reclaim with Dr. Estella Habal: Resilience and Relevance
Please join us for Resilience and Relevance: A Discussion on the 1968 San Francisco State Strike and the 1969 College of Ethnic Studies
About this Event
Please join us in our third discussion in the Remember, Recover, Reclaim series, hosted by Dr. Estella Habal. This series remembers our Filipino-American community members who labored, organized, worshipped, danced, lived and died in San Francisco's Manilatown neighborhood and beyond. This program recovers these stories to reclaim our heritage.
Our November 21st program will discuss the little known but salient and pivotal role of Filipino American students in the most successful campus strike in United States history and the creation and growth of the discipline of Ethnic Studies and the first College of Ethnic Studies in the nation. We will be speaking to leaders who protested, built the curriculum and fought to maintain it.
Joining Dr. Habal will be a founding member of SFSU's Pilipino American Collegiate Endeavor (PACE) and the longest serving Judge of  the Superior Court of San Francisco County, The Hon. Ronald Quidachay, Author and Federal Demographer Juanita Tamayo Lott , San Francisco State University Professor of Asian-American Studies Daniel Phil Gonzales, and Ethnic Studies students Sheryl Fontanilla and Marielle Concejo.
We look forward to having you join us for this FREE Family-Friendly program.
Image: November 2018 - Ethnic Studies Leaders at the 50th Anniversary of the Black Student Union / Third World Liberation Front Strike. Third from right: Carolyn Sideco; on right: Tracey Noriega. Photo Credit: Rita Takahashi
Our Host
Estella Habal, PhD. Dr Habal is an Original Defender of the International Hotel, a San Jose State University Professor Emerita, and author of the definitive book on the International Hotel Eviction, San Francisco's International Hotel: Mobilizing the Filipino American Community in the Anti-Eviction Movement.
Our Guests
The Hon. Ronald Quidachay received a bachelor's degree from San Francisco State College in 1970 and was a founding member of PACE. Judge Quidachay was the first Filipino-American appointed to the bench in Northern California and was the longest-serving judge of the Superior Court of San Francisco County. He was also a founding member of the Filipino Bar Association of Northern California and served as President of the California Asian Pacific Islanders Judges Association.
Author Juanita Tamayo Lott is a retired federal demographer/statistician. With Ron Quidachay and Dan Gonzales, she participated in the 1968 San Francisco State College Strike and the planning group for the School of Ethnic Studies. Her latest book is Golden Children: Legacy of Ethnic Studies (SF State, Eastwind Books of Berkeley). The Juanita Tamayo Lott Collection resides in The LIbrary of Congress.
Professor Daniel Phil Gonzales became an active member of PACE while an undergraduate student at San Francisco State College and ultimately became a fully tenured professor of Asian American Studies at San Francisco State University. He was an activist during the Third World Strike and helped lay the strong foundation for the College of Ethnic Studies while pursuing his BA at SF State and then completing his Juris Doctor at Hastings College of Law. He is the recipient of numerous awards for his decades of work on behalf of the Asian American community.
Sheryl Fontanilla (she/her/hers), a Filipina San Francisco native, is a senior at San Francisco State University pursuing a degree in Asian American Studies. With her passion for social justice, community empowerment and equity for all, she currently interns at the Manilatown Heritage Foundation, a place whose mission aligns with her own beliefs. Sheryl is a Production Intern with Manilatown's video production leg, Manilatown Media.
Marielle Concejo is Manilatown Heritage Foundation's Executive Associate and a Production Intern with Manilatown Media. She is a San Francisco native who recently graduated from California Polytechnic State University with a B.S. in Anthropology and Geography and a minor in Psychology. Coming from a PWI (predominantly white institution) Ethnic Studies had a major impact on her consciousness as a community member.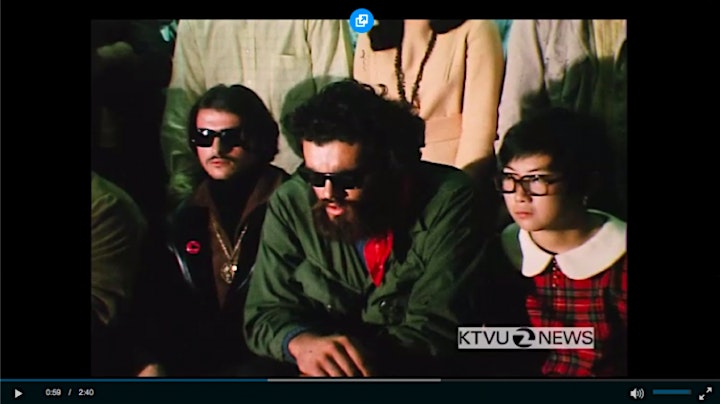 November 1968: Black Student Union / Third World Liberation Front Central Committee Members, Tony Miranda, Roger Alvarado and Penny Nakatsu. Courtesy of Juanita Tamayo Lott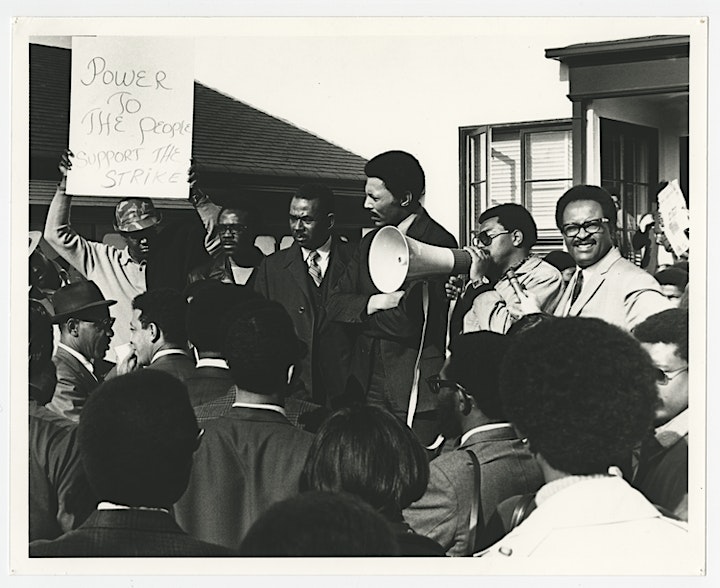 December 1968: Community leaders support the Strike: Dr. Carlton Goodlett, Ron Dellums, Benny Stewert, BSU and Ben Williams, reporter. Courtesy of Juanita Tamayo Lott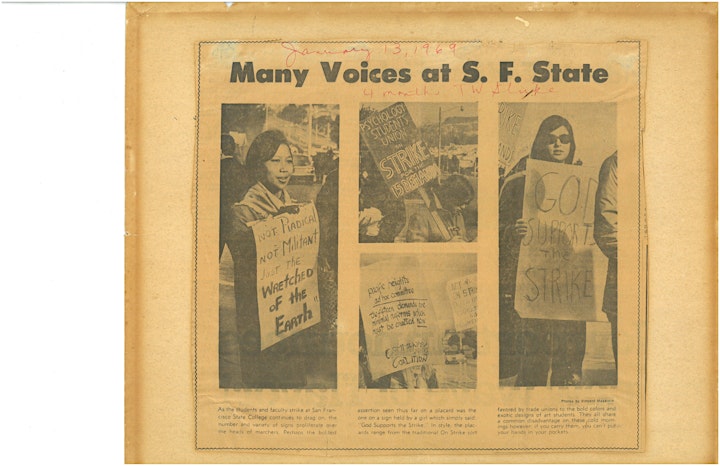 January 9, 1969: San Francisco Chronicle article featuring Juanita Tamayo and others. Courtesy of Juanita Tamayo Lott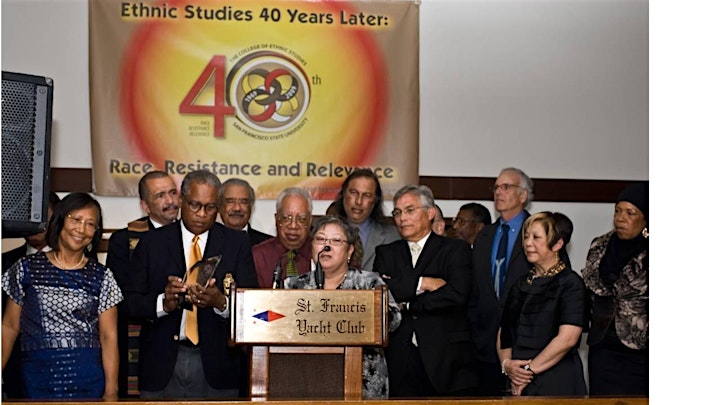 2009: 40th Anniversary Celebration of the Founding of SFSU's College of Ethnic Studies. Juanita Tamayo Lott at the far left and Ron Quidachay with arms folded, with Penny Nakatsu at the podium and other Strike and Ethnic Studies students and faculty leaders. Courtesy of Juanita Tamayo Lott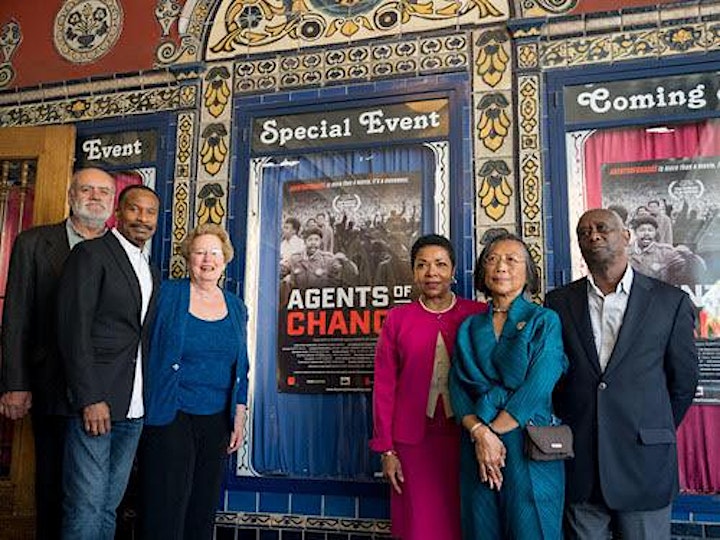 May 2016: Agents of Change Documentary Premiere at the Castro Theater. Roger Alvarado, Co-Directors Frank Dawson and Abby Ginsberg, Ramona Tascoe, Juanita Tamayo Lott,and James Garrett . Courtesy of Juanita Tamayo Lott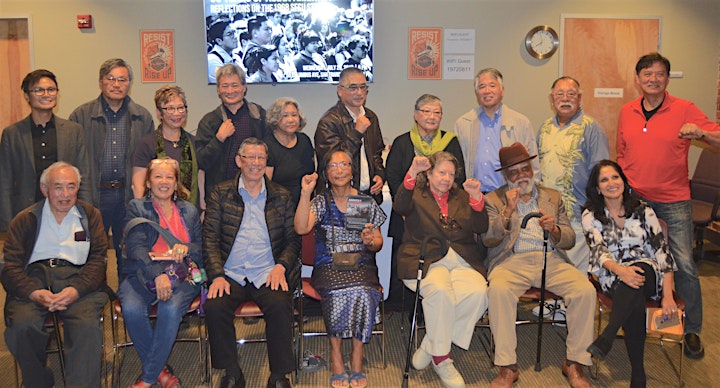 July 2018: Third World Liberation Front Strikers representing San Francisco State College, UC Berkeley. Photo Credit: Asian Law Caucus