About this Event
R.E.M. Tribute - Mermer
Anyone familiar with R.E.M. knows of their stellar list of world class recordings. From Chronic Town to Collapse Into Now They have thrilled listeners from the early 80's to the 2010's. Anyone fortunate enough to have seen them live, however, knows another side of this pop rock quartet, namely a high energy concert that left it's audience fully satisfied and thrilled... Introducing M.E.R.M.E.R ( read forwards or backwards ) a tribute band that capture's the hard hitting power of those great RE.M. concerts of the 80's, 90's and 2000's and brings them to a venue near you! Please contact us and let us know where we can bring this exciting show to you or contact you local music venue and request M.E.R.M.E.R....WELCOME TO THE OCCUPATION!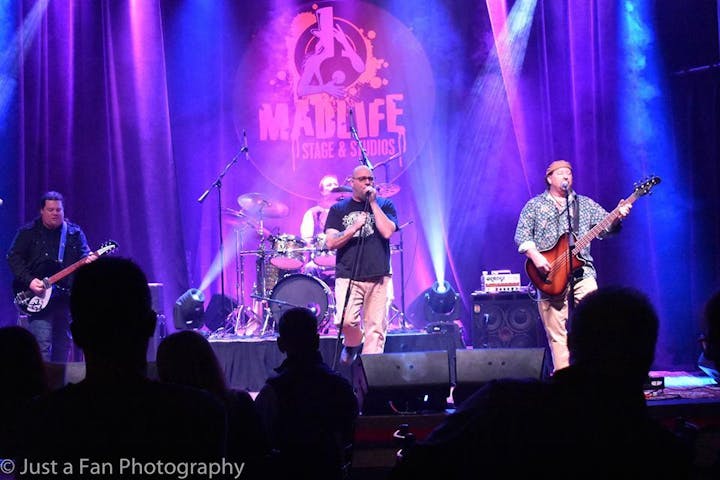 VENUE INFORMATION:
All ticket holders are able to order food and drinks during the event. Standing Room Ticket holders generally place their orders with the venue bar staff. Main Floor Reserved Table and VIP Balcony Table ticket holders are served by MadLife's friendly wait staff throughout the event.
Refer to the seating map below for a layout of the venue for this show. Please note the table arrangement is subject to change and not all tables may be available.
If You Wish To Select A Specific Reserved Table:
Holders of VIP Balcony and Main Floor Reserved Table tickets have the ability to select any available reserved table from the moment their tickets are purchased, up until 30 minutes BEFORE doors open to the event (i.e. if doors are at 6:30, cutoff time for selecting a reserved table would be at 6:00). Tables can be selected EITHER at the Box Office or by contacting the Box Office during its hours of operation at (678) 384-2363 ext. 1. Please note that tables cannot be selected online for this show and if you do not select a table, MadLife will select one for you. Selecting a table is not required, but is an option available.
For any wheelchair or ADA needs, please contact the Box Office in advance of the event at (678) 384-2363 ext. 1.
Please Note: Ticket Prices May Increase At Any Time
For any other questions regarding the event or tickets, please contact the Box Office during its hours of operation at (678) 384-2363 ext. 1.
Box Office hours of operation are Wednesday-Saturday 5:00 PM - 9:00 PM.