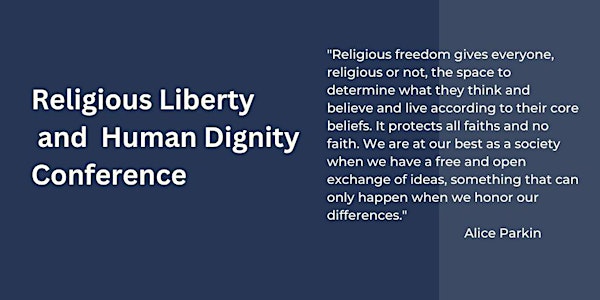 Religious Liberty and Human Dignity: The Promise of American Pluralism
An evening of dialogue and instruction with religious freedom expert Hannah Smith, followed by a multi-faith panel discussion
Date and time
Thursday, June 1 · 6:30 - 8pm EDT
Location
Belk Chapel at Queens University 2287 Radcliffe Avenue Charlotte, NC 28274
About this event
1 hour 30 minutes

Mobile eTicket
We invite you to attend Charlotte's first annual Religious Freedom Conference. The purpose of this free event is to discuss the parameters of religious freedom according to the US Constitution, its current landscape locally and nationally, and why positive interfaith relationships play a critical role in supporting and strengthening our communities.
Religious liberty expert Hannah Smith will be the guest speaker. Following her remarks, Ms. Smith will moderate a Q&A panel discussion with four Charlotte-area religious leaders.
We all have an important role in promoting mutual respect, courteous dialogue, and compassion in our community. These values form the foundation of a civil society. Please join us as we come together to explore what people of faith and goodwill can do to develop empathy, respect differences, and effectively work together to preserve and strengthen each other's and our own rights to religious freedom.
Keynote Speaker and Panel Moderater: Hannah Smith is a religious liberty advocate who clerked for US Supreme Court Justices Clarence Thomas and Samuel Alito. Hannah received The Center for Constitutional Studies' James Madison Award, BYU's Alumni Achievement Award, and JRCLS's Women-in-Law Leadership Award for defending religious liberty and advancing the contributions of Mormon women to the law. She is the National Coordinator of Religious Freedom Alliances as well as a Senior Fellow at the International Center for Law and Religion Studies. She also serves on the Board of Directors for the Religious Freedom Institute in Washington DC. She has spoken at regional religious freedom conferences in Texas, Arizona, Nevada, and California.
Hannah helped secure SCOTUS victories in Hosanna-Tabor v. EEOC (2012); Burwell v. Hobby Lobby (2014); Holt v. Hobbs (2015); and Zubik v. Burwell (2016). She has contributed to 25 SCOTUS briefs and has represented Anglicans, Assemblies of God, Baptists, Catholics, Hindus, Hutterites, Jews, Lutherans, Mormons, Muslims, Russian Orthodox, Santeros, and Sikhs.
Hannah testified before the Senate Judiciary Committee regarding Neil Gorsuch's religious freedom jurisprudence and before the House Judiciary Subcommittee on the Constitution on religious freedom matters. She has briefed policymakers on religious freedom at the White House, US Capitol, State Department, Heritage, EPPC, Federalist Society, ABA, National Constitution Center, and Newseum.
Hannah's television, newspaper, and radio appearances include CNN, MSNBC, Fox News, C-Span, WSJ, Washington Post, AP, Forbes, NPR, and BBC. She's been on podcasts hosted by the National Constitution Center, Bloomberg BNA, and Federalist. Her opinion-editorials appear in US News & World Report, NY Daily News, Daily Signal, Fox News, NRO, SCOTUSblog, and Deseret News. She has also addressed audiences at Harvard Law, Princeton University, Stanford Law, Columbia Law, Penn Law, Georgetown Law, BYU Law, and Central European University.
Hannah graduated from Princeton University (majoring in the Woodrow Wilson School) and BYU Law School (Order of the Coif). She was Law Review Executive Editor and research assistant for the International Center for Law and Religion Studies.
Hannah's private practice at Williams & Connolly and Sidley Austin in Washington D.C. included the cert petition in Corporation of the Presiding Bishop v. First Unitarian Church (2003) and matters for BYU, The Church of Jesus Christ of Latter-day Saints, and the Archdiocese of Washington DC.
Hannah's featured in the videos: "Preserving Religious Freedom" and "Religious Freedom—Making a Difference." She has book chapters in "Why I Believe," "Lengthening Our Stride: Globalization of the Church," and "Lawyer Leaders."
Hannah served a full-time volunteer mission in France and Switzerland. She and her husband John live in the DFW area with their 4 wonderful children.
Panelists:
Father Peter Ascik is a priest of the Diocese of Charlotte. He currently serves as pastor of Saint Mary Help of Christians in Shelby and Christ the King Mission in Kings Mountain. He is also director of the Office of Family Life for the Diocese of Charlotte, which coordinates and supports marriage, family, and pro-life ministry. Father Ascik holds a Master's Degree in chemistry from the University of Georgia and a licentiate in moral theology from the Pontifical Alphonsian Academy.
Imam John Ederer studied formally at Islamic American University in Michigan and the Diwan Center in Egypt where he attained a degree of mastery in Arabic. He spent five years studying classical texts with prominent scholars in Egypt and Kuwait. He was blessed to attain a license in the memorization and recitation of the Quran while in Kuwait as well. Imam John worked with the Islam Presentation Committee and the Ministries of Justice and Religious Affairs while in Kuwait promoting religious, both intra- and inter-faith dialogue. He returned to America in 2009 to start his career as a full time Imam at the Islamic Foundation of South Florida, later moving to his current role as the Imam of the Muslim Community Center of Charlotte.
Rabbi Lexi Erdheim, a native of Livingston, New Jersey, attended Barnard College, where she majored in religion. As a student, she served as the co-director of the Columbia/Barnard Interfaith Collective, an organization focused on creating interfaith understanding and dialogue on campus, and interned for World Faith, an international interfaith organization aimed at fostering dialogue through action. She received her rabbinic ordination and nonprofit management degrees from Hebrew Union College in Los Angeles in 2019. Before joining Temple Beth El in 2022, she served as a rabbi at Congregation Gates of Prayer in Metairie, LA where she oversaw young adult engagement and social justice programming.
Rev. Dr. Rodney Sadler is an ordained Baptist minister, receiving his ministerial degrees from Howard University School of Divinity, and Duke University. He is an Associate Professor at Union Presbyterian Seminary in Charlotte, where he leads the Center for Social Justice and Reconciliation, and teaches courses in biblical languages, Old and New Testament interpretation, wisdom literature in the Bible, the history and religion of ancient Israel, and African American biblical interpretation. Dr. Sadler has written several articles and books on such topics as the intersection of race and scripture, the enactment of justice in society based on biblical imperatives, and the development of African American biblical interpretation in slave narratives.
Co-Sponsors:
International Center for Law and Religion Studies
The Church of Jesus Christ of Latter-day Saints