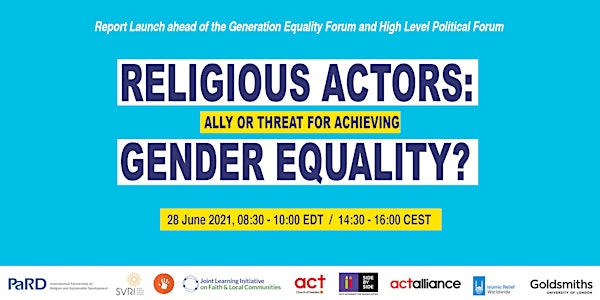 Religious Actors: Ally or Threat for Achieving Gender Equality?
Report Launch ahead of the Generation Equality Forum and High Level Political Forum
About this event
Opening remarks, Khushwant Singh, Head of Secretariat, PaRD
Launching new report, Dr. Nora Khalaf-Elledge, Fellow, Joint Learning Initiative
Looking Back to Look Forward: The Role of Religious Actors since the Beijing Declaration
Panel
Zainah Anwar, Co-Founder, Musawah
Karin Ericsson, Programme Specialist Gender Equality, Sida
Umyra Ahmad, Advancing Universal Rights and Justice Coordinator, AWID
Dr. Nontando Hadebe, International Coordinator, Side by Side
Moderator: Shahin Ashraf MBE, Head of Advocacy, Islamic Relief Worldwide
With live illustrator and Q&A.
La interpretación en español está disponible para esta sesión.