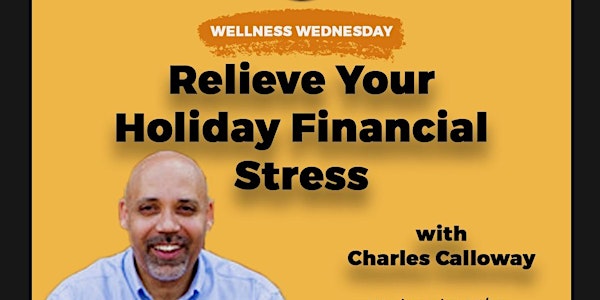 Relieve Your Holiday Financial Stress
A Darkness RISING Project Wellness Wednesday Workshop to set you up for financial success, even during the holidays. And yes, it's FREE!
About this event
Join us for RELIEVE YOUR HOLIDAY FINANCIAL STRESS with Charles Calloway!
DATE: Wednesday 12/16
TIME: 6pm EST
DEETS: Virtual event on Zoom. You will receive a Zoom link the day before the workshop.
CLASS DESCRIPTION:
Worried about getting through the holidays? Not sure how you're going to make it work financially? We know this can be an incredibly stressful season, especially in the midst of a pandemic.
Charles will provide "Top Tips for Relieving Holiday Financial Stress"
ABOUT CHARLES:
As a Financial Advisor, Charles Calloway has served families and small business owners for over 25 years. In the past, he has owned an Ameriprise Financial Advisory Practice and currently owns a Primerica Advisors Practice in Raleigh, NC.
Many financial professionals aren't interested in working with the middle class. Charles Calloway and his team have been committed to helping Main Street families save and invest in their future since 1988. Through their How Money Works materials, he teaches families how they can achieve a better financial future – no matter their economic background.
ABOUT DARKNESS RISING:
Darkness RISING is a 501(c)3 nonprofit created to help those in the Black community begin conversations with their family, coworkers, and friends about their mental health and emotional well-being. We accomplish this by partnering with mental health providers and/or mental health educators to create events, seminars, and sessions where the intersection between mental health education and the arts collide.
Learn more + Resources: Darknessrisingproject.org
Connect: @darknessrisingproject