Description
For the love of beer & Greer!
Join your fellow beer lovers to sample craft and premium beers from local breweries. Plus tasty eats, and music keep the party going all afternoon!
*You must be at least 21 to enter — strictly enforced.
General Admission: $25, includes admission to the event, complete access to all of our pouring palate pleasing samples, and the first annual commemorative cup for your personal use during the event. You must be at least 21 to enter — strictly enforced.
As with all sampling festivals, rare and popular samples seldom make it to last call. We suggest prompt arrival to make sure you get the really good stuff.
*Designated Driver: $10, includes admission & turn in your wristbands at the end of the event for a commemorative cup. Must be 21 to enter.
*After March 27th, all prices will go up to $35 at the entrance.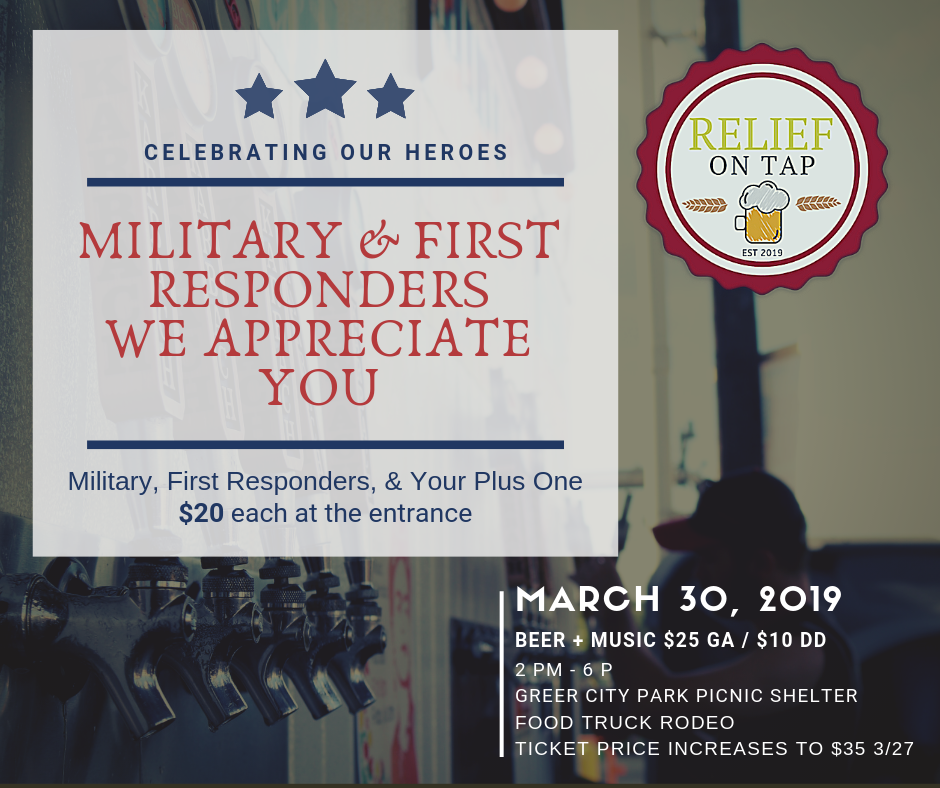 If you are unable to come but would like to support the mission of Greer Relief, please consider making a donation: Donate. All proceeds stay local and support the mission to provide services to eliminate poverty by helping neighbors overcome barriers for success.
Check out the line up!
unConvential. unTypical. unUsual.
We LOVE Thomas Creek. While they've been sinking the status quo since 1998, we've been workin with them at events since the Wing Fling! Come out, sample their latest and greatest, and see why Thomas Creek is special to the Upstate!
Yee-Haw Brewing
fun & balance
They provide a mix of the finest ales and lagers, whichever flavor fits your fancy, order it LOUDLY! Visit their new brewpub in the heart of Greenville!
Ciclops Cyderi & Brewery
Making Absurd the Norm
They don't take themselves too seriously, but their beers and ciders are something to be taken seriously. They do the unusual and it comes out right. So come out on March 30th and check out their samples at Relief on Tap!

Quest Brewing Company
QBC's unique and innovative beers will leave a lasting impression you. They constantly seek experimentation with new ingredients and different styles to meet your ever-expanding palate.
Sierra Nevada Brewing Co.
Brewing exceptional ales & lagers in the Appalachians, come visit their newest brewery in Mills River, North Carolina and see first-hand how determination and a pioneering spirit can lead to incredible adventures.
Blue Ridge Brewing
Born in the foothills of the Blue Ridge Mountains, they've been paying homage to the simple creed to provide the very best for over 20 years. Come by #ReliefonTap and see what they have been up to #hereinGreer!
Benford Brewing
Brewed in 30 barrel batches on a small farm from pure well water tapped into the water table to three known springs is the key to brewing their great beers. Benford beers are brewed with only natural based ingredients staying true to brewing traditions.
John Emil
American Roots & Blues Musician
Routinely taking the lost art of slide guitar in a new direction, Emil has created a unique style all his own by integrating country blues, folk, bluegrass and lush Hawaiian sounds into his repertoire. Check out his unique sound!

HORNS BBQ
Heavy On Really Nice Smoke
They are a group of BBQ enthusiasts who like to cook, eat, and help others less fortunate. They have come out to help Greer Relief since Sooie't Relief and continue to go above and beyond helping our neighbors in need.
Interested in getting your business in front of this desirable crowd? Let us customize a sponsorship package for you! Please email events@greerrelief.org. Check out our per-determined Sponsorship Opportunities! Funds raised through Relief on Tap help achieve our mission and stay right here in our local community.
Are you a brewery interested in participating? We would love to see you there! Click here for the online registration form.
Worried about the weather? We've got ya covered! Scott at Greer Event Rentals is on standby with a tent to keep our spirits high.
FAQs
What can I bring into the event?
You may bring pretzel necklaces, but coolers and pets are not permitted.