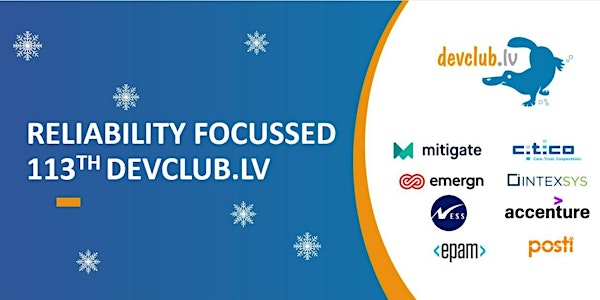 Reliability focused 113th DevClub.lv
.
When and where
Location
Doma laukums 2 2 Doma laukums 1050 Rīga Latvia
About this event
Hi!
The 113th DevClub.lv event is already next week! Christmas time comes with its changes as we also move to a new place for this time. Our speakers will introduce and look a bit deeper into SRE and discuss their experience with Toyota Way.
You are welcome to Reliability focused event on Thursday – 8th December 18:30 at EPAM Systems office - Doma laukums 2, LV-1050, Rīga, Latvija, 2nd floor.
Unfortunately, Covid-19 is spreading therefore we ask you – friends, please, be nice and responsible and if you have any Covid-19 symptoms or symptoms of any other contagious illness, please be cautious and take all needed safety measures and instead of attending the event, please, watch this time recording of the event published afterward.
Agenda for Reliability focused 113th DevClub.lv
Aliaksandr Savitski from EPAM Systems will speak about "Site Reliability Engineering core pillars and how to benefit from them."
Anyone may apply SRE as a set of principles and practices. Even with no Site Reliability Engineer, a team can use its concepts and processes to help increase reliability and shift the focus to user satisfaction. So, I will share SRE's core pillars and how you may benefit from them regardless of your role and position.
(Language – English)
Tags: SRE, DevOps, System Engineering
Aliaksandr Savitski is a System Engineering Team Leader in the Google Cloud Platform discipline at EPAM. He has 15 years of experience in tech and switched roles from a Support and then Systems Engineer to IT Manager and Head of Operations. Now Aliaksandr enhances the Google Cloud practice at EPAM and advocates SRE to the tech community."
Akbar Doolosbekov from Ness will give a talk: "SRE Practical Implementation".
Many big and small organizations have started to realize just how crucial system and application reliability is to their business. How to build an SRE team and implement processes? What actually do Service Agreement indicators mean, and how to define them?
(Language - English)
Tags: Reliability, Management
Akbar is AWS certified Senior Solutions Architect at Ness and helps customers with various migration and adoption projects. He pays a lot of attention to details and has a very responsible approach to implementation.
Jekaterina Pundani from Visma Labs SIA will give a talk "How to improve product quality, managing Major Incidents in Toyota Way".
In this talk, I will share how we improved the quality of our product and significantly decreased number of production incidents by using the Major Incident process. We will have a look at the Toyota process of handling defects that we used for inspiration and how we implemented it in our product. I will share how we handle incidents when they arise and, most important, how we work with improvements to ensure not only that issue will be fixed fast and will not appear again, but also that we are prepared better for any similar major incident in the future.
(Language - English)
Tags: Major Incidents, Continuous Improvement, DevOps, Agile
Jekaterina is Development Manager at Visma responsible for the large legacy product going through a transformation to a modern and highly reliable solution. In a free time like to learn new technologies, read, code, and play board games.
Videos from previous events you can find at our homepage and our YouTube channel. The best way to be informed about new videos is to Subscribe to our YouTube channel.
We - Nine Brains also offer regular Scrum courses (with certification) - both in the usual format, when the course takes place over 2 days (CSM, CSPO), and also in a new format, when the course is divided into eleven 90-min sessions (CSM, CSPO, A-CSPO ). And, of course, we can also organize In-house any of the Scrum courses. Contact us to get to know more!
Mitigate is a team of passionate custom software developers. We specialises in tailored made software for medium and large enterprises, we are very strong at developing Backend, Front-end solutions and Mobile applications, as well as developing UI&UX.
We are hiring:
Contact us if interested!
C.T.Co employs over 650 employees, and this number keeps growing each year! We are always in search for experienced professionals, as well as young talents who are ready to grow their expertise and join our friendly company!
At the moment we are actively looking for DevOps Engineers, Test Engineers, Java Developers and many other IT specialists.
Take your career to the next level! Join C.T.Co.
Take your career to the next level!
Emergn is a global digital business services firm on a mission to improve the way people and companies work. Forever. Every day, across the world, our teams are pioneering faster, better ways to bring our clients' most exciting ideas to life. Want to join us?
INTEXSYS is a large-scale E-Commerce developer supporting online sales of over $500M/year. INTEXSYS works on the USA market as well as develops top online stores locally. With over 80 employees in Riga, INTEXSYS is growing and always has challenging open positions.
Top picks for today:
- Senior Front-end Developer (React)
We promise – it will never be boring!
Did you know that Ness Digital Engineering is a strategic partner of AWS, Azure, Confluent, Snowflake and Salesforce. Within a team in Riga, we have a deep expertise in Cloud Engineering, Data & Analytics, UI/UX and Machine Learning. We are looking for great minds and smart self-starters who thrive in an open-ended environment and take ownership in delivering quality results.
- Software Engineer - Data Integration
Did you know that Accenture Baltics has more than 200 Java developers onboard? Our Clients are agile, ambitious, and future-oriented – they focus on Cloud, Microservices, AI, etc. We support and encourage our employees' growth in moving towards excellence with trainings, mentoring, exciting work tasks, and a decent compensation package! Contact us - maybe this can be your future workplace!
EPAM is a team of 61,600 technologists, strategists and designers in over 45 countries. EPAMers help leading brands transform their business through our engineering expertise, design thinking and business consulting. We foster creativeness and unconventional ways of doing things welcoming like-minded professionals. Our newly opened office in Latvia is growing fast and offering myriad challenges for you to explore.
- Lead System Engineer/Solution Architect
Posti is a modern delivery and fulfillment company. Our HQ is in Helsinki, Finland. Software development center (Posti Messaging Latvia) established in Riga in 2010 to develop group products.
We are currently looking for a Test engineer (preferably with Robot framework skills) to join the team, do you have someone in mind?
Thanks to our sponsors for supporting DevClub.lv events: