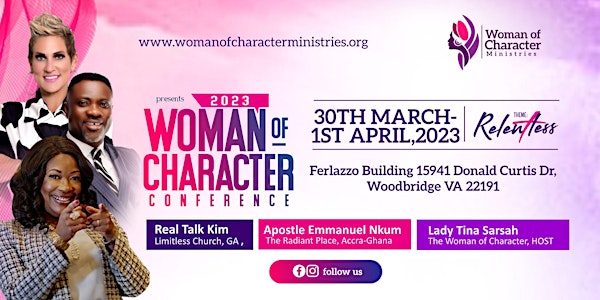 RELENTLESS
THIS CONFERENCE WILL UPLIFT, TRANSFORM, DEVELOP, TRAIN, AND ENHANCE ALL THAT GOD HAS IN STORE FOR YOU IN A PLACE THAT IS SAFE.
By WOMAN OF CHARACTER MINISTRIES
Location
FERLAZZO BUILDING AUDITORIUM 15941 DONALD CURTIS DR. WOODBRIDGE, VA 22191
About this event
1 day 20 hours

Mobile eTicket
HEY RELENTLESS WOMAN!
You are beautiful inside and out, with the heart of a dreamer and the determination of a warrior. Life hasn't been easy on you, but you tie up your hair and smile because you handle everything.
There's a fire in you that needs to be ignited.
There's a power in you that is strong enough to light up the darkest of days.
Let God turn your scars into beauty.
You will leave this conference with a renewed sense of hope and the strength to live up to your true potential.
Bishop Kimberly Jones, also known as Real Talk Kim, travels the world fulfilling her passion and purpose of loving people back to life. She is a mother, pastor, entrepreneur, mentor, motivational speaker, entertainer, and five-time best-selling author. She is using her influence to mentor people all over the world through her mentorship program, RTK Inner Circle, and her latest mentorship program, RTK Trailblazers, for women and men in ministry.
Pastor Kimberly is an advocate for God's House of Grace, a 6–8-month Christian Discipleship Training program for people with drug, alcohol, or emotional issues. God's House of Hope is an in-house residential program for both women and men in Nettleton and Kilmichael, MS.
Real Talk Kim has a successful weekly podcast and has appeared on Dr. Oz, Preachers of Atlanta, Chatter Talk Show, BET, Nightline News, and numerous podcasts, webinars, and radio programs.
Real Talk Kim is a true worshiper after God's own heart, a testament of God's redemption plan in action. She is the senior pastor at Limitless Church in Fayetteville, GA, and is the proud mother of two sons, Morgan and Lyncoln.
Apostle Emmanuel Nkum is the President and Founder of the Radiant Place. He is an apostolic covering to several ministries around the world, as well as a United Nations Representative in charge of Peace keeping by Word. He is also the National Coordinator of Association of National Gospel Assemblies (A.I.G.A) with their headquarters in DE SOTO Missouri U.S.A.
Apostle Emmanuel Nkum is also the CEO of the League of Professionals, President of Strategic Advance Leadership Training (S.A.L.T), President of Nkum's World Outreach, and CEO of Widows and Orphans Forum (WORFO)
He is an apostle by calling and a pastor by heart. He is an evangelist by passion; a prophet by divine empowerment, and a teacher by revelation.
He is married to the beautiful, Mrs. Awura Adjoa Nkum, with 3 lovely children.
Tina Sarsah is a first lady, a wife, a mother, and the founder of the Woman of Character ministries. She has a flair for inspiring women to get through difficult times in their lives while deepening their relationship with God, and she does it her way. Tina believes women's conferences not only serve a vital role in a woman's life, but they can also help build a woman's faith and empower her to reach her community for Christ.
Lady Tina has been married to her lovely husband, Pastor John Sarsah, for 16 years, and together they have three children: Beulah, John Jr., and William. She enjoys being around family whether that be her immediate family or Christian family.
Agenda
6:00 PM - 9:45 PM
Thursday March 30
---
6:00-6:30pm: Conference opening // 6:30 – 7:00pm: Doors Open// 7:00 – 7:45pm: Worship// 7:45 – 8:00pm: Welcome & Announcements // 8:00 – 9:15pm: Nightly Speaker // 9:15 – 9:30pm: Offering, Announceme...

8:00 AM - 11:30 AM
Saturday April 1 - Morning Session
---
8:00 – 8:30am: Doors Open & Registration// 8:30 – 8:45am: Prayer // 8:45 – 9:00am: Welcome & Announcements // 9:00 – 9:30am: Worship // 9:30 – 9:45am: Introduction & Ministration // 9:45 – 10:45am: M...

11:30 AM - 12:00 PM
Lunch Break
---
Food Tracks - Interested vendors should email womanofcharacterm@gmail.com
12:00 PM - 3:30 PM
Saturday April 1 - Afternoon Session
---
12:00: Doors Open // 12:00 – 12:30pm: Worship// 12:30 – 12:45pm: Ministry Announcements // 12:45 – 1:00pm: Introduction & Ministration // 1:00 – 2:00pm: Main Speaker // 2:00 – 2:15pm: Altar Call // 2...

6:00 PM - 10:30 PM
Friday March 31
---
6:00-7:00pm: Cocktail, Connections & Networking session// 6:30 – 7:00pm: Doors Open// 7:00 – 7:45pm: Worship// 7:45 – 8:00pm: Welcome & Announcements // 8:00 – 9:15pm: Nightly Speaker // 9:15 – 9:30p...

Frequently asked questions
IF I AM NOT READY TO TRAVEL, CAN I PURCHASE A VIRTUAL EXPERIENCE REGISTRATION?
WHEN WILL I GET INSTRUCTIONS ON HOW TO ACCESS THE VIRTUAL EXPERIENCE?
WHAT KIND OF TECHNOLOGY IS REQUIRED TO ACCESS THE VIRTUAL EXPERIENCE?
IN LIGHT OF THE CORONAVIRUS, WHAT ARE THE SAFETY MEASURES FOR THE RELENLESS WOMAN CONFERENCE?
About the organizer
A WORLD TRANSFORMED BY WOMEN LIVING VICTORIOUSLY WITH CHRIST!