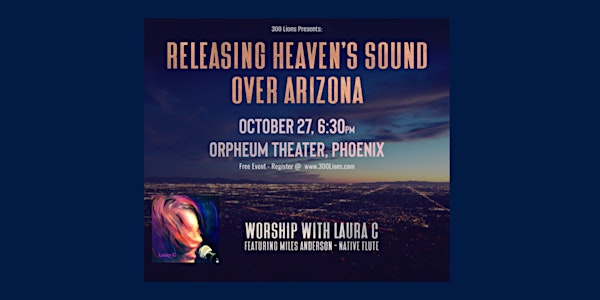 Releasing Heaven's Sound over Arizona
The body of Christ to join together in unity for powerful worship and intercession over Arizona for righteousness & truth in our state.
When and where
Location
Orpheum Theatre Phoenix 203 West Adams Street Phoenix, AZ 85003
About this event
Our organization, 300 Lions, is bringing you an amazing night of powerful worship for God to bring righteousness and truth into our state. We are wanting people from all over Arizona, who love Jesus and want to gather in agreement on behalf of our great state and what God wants for Arizona. We believe God desires to unify the body of Christ in Arizona to agree for HIS will in our state. Please share with others and sign up for your free ticket!
Registration is required for this event, as we will be checking registration upon entry. It will be held in Downtown Phoenix at the Orpheum Theater. We have absolutely fabulous musicians to lead our worship, Laura C Music and Miles Anderson. You do not want to miss out on participating with these amazing musicians, us and the Lord in what He wants to do and release over Arizona.
This is event is free with registration, while seats are available. If you desire to support us and this event, Please feel free to donate, it would be a tax deductible donations as 300 Lions is a Faith Based Organization that is a Private Ministerial Association (508c1a)***.
Please go to our website www.300Lions.com to make a donation.
We have VIP seating we are reserving for each person who makes a donation of $100 or more. We will send a private email with that special ticket once we receive the donation. Everyone who donates will receive a receipt for tax purposes.
We look forward to seeing you there!
***Our organization, 300 LIONS, is a Private Ministerial Organization for the purpose of allowing maximum freedom and self governance, per our rights in the constitution. We felt lead by the Lord to set up our organization in this way. Because we are in the private domain, the purposes of our media and events is for members or potential members only. By registering and joining in the event, you are acknowledging your agreement with our member agreement. That does not mean you have to become a member, but that for the day of the event, you are agreeing to membership rules. https://300lions.com/pma-private-ministerial-association/
God has asked us, 300 LIONS, to participate with HIM to bring godly influence back into the governmental mountain. Our country was founded on these foundational Biblical values and a strong moral code. I believe the Lord wants us to participate with Him in His plans for restoration in this area.