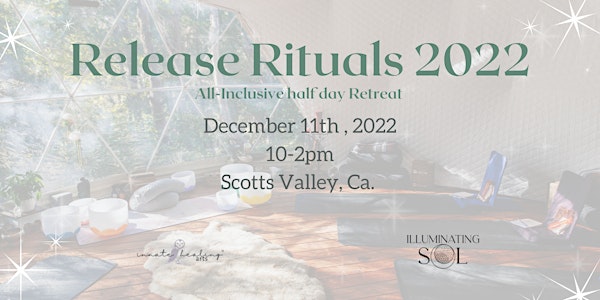 Release Rituals 2022
A day of embodiment practices and rituals to release this past year and that which no longer serves you.
Refund Policy
Contact the organizer to request a refund.
About this event
A cozy geo-dome( Ohm Dome) nestled in the Redwoods of the Santa Cruz mountains has been created as a sacred space for you to gather with a small group and experience simple yet effective practices and rituals in the art of letting go.
Being able to RELEASE the things that have been accumulating within that are not serving you is a form of self-care that is often overlooked, yet is SO important. Being able to release the mental, emotional, physical & spiritual tensions and stresses keeps us vivacious and strong. It's like an energetic shower that washes away all the grime.
There are simple and effective rituals that you will learn, practice, and be able to take with you to use at any time. As we approach the end of 2022, it is VITAL to cleanse and release so that you can make space for all the new dreams, visions, and goals you want to create for 2023.
We will begin the morning with a Yoga flow & Sound healing, followed by our Release Rituals and a homemade nourishing farm to table like lunch.
All you will need will be included. All you need to bring is yourself, and maybe a friend to join you 😉
We hope you will say yes to joining us. 🙏🏼